After that first exciting submission Venture into the World Of Professional Whipping and Mistresses in General I then resolved to do more and more; as much as I possibly could in fact; That was; if my money and time and circumstances would permit me…
Now, what age would I be now? About 24, I suppose.
Well, after that I went on holiday with a friend to Torquay and we both met two very nice girls in our Hotel and subsequently started dating them.
 My friend's girlfriend didn't last very long with him but mine became regular and lasted a bit longer.
 I used to visit her every Sunday In Kent taking the train from Birmingham. It didn't last that long for me either however because she bought a car and subsequently dumped me. I didn't blame her though. The Journey was a long one from Birmingham and was doomed to fail.
My journey into Submission in London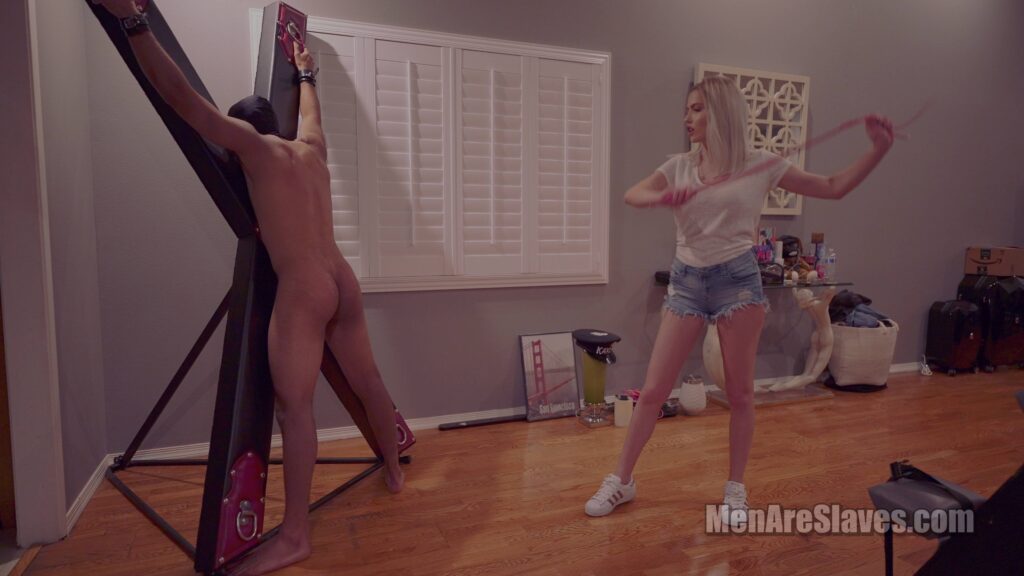 Next, I would continue my devotionals by visiting London again and started my visits by phoning the Telephone Box Card Ads in London.
 One Mistress that comes to mind was a Mistress whom I am sure was the same Mistress that a celebrity was said to visit when he was exposed in Popular Sunday Newspaper.
 As soon as I entered her Flat The Lady immediately introduced me to her dungeon and told me to strip and wait for her. It was dark and I was told to stand in front of this Mirror with my hands upon my head.I waited and waited and no one came. I pleaded for her to come to me out loud and became anguished and stressed but then after a while, The Mistress entered. She made me stand and bend over and lean against a wall and I was whipped very smartly with a cane. It hurt like hell but didn't last long. As I was late for my train I excused myself a bit early and left to go home but was satisfied if not exactly completely. That completed the second one…
 Later on, I visited a Mistress in Leytonstone and she subjected me to my first fisting experience. It was very 'nice' but not quite what I wanted. I was always more of a whipping/cp devotee myself, and this sort of thing was ok but wasn't really quite my thing.
New submission experiences closer to home!…
From then on I decided to try some Mistresses closer to home. One was in Wolverhampton and I turned up on a bright sunny day at her maisonette. It was proven to be problematic right from the start as there was a Window Cleaner outside doing the Windows and I felt very nervous and insecure. As it happened I did actually call at The Mistress's Flat and was invited inside.
This Beautiful Lady asked me straight away if I had seen or spoken to anyone as I entered the building, and I answered 'No' but then I told her about the Window Cleaner cleaning around the Block and I politely asked Her if I could wash my face in her bathroom as I was very hot. She kindly agreed and It was only then that I truly noticed how very beautiful she was. She wore a print dress within some handcuffs attached to a waist cord behind her back. At that, I rather 'chickened out' and asked to leave because of the Window Cleaner; which was the main problem but I was just too nervous anyway by this time.
 Later one I went to an older Mistress in Winson Green Birmingham and she subjected me to my first 'strap on. Again it was ok but not what I wanted.
 I then went on to try Balsall Heath but that place was mainly just hookers and I went there out of desperation went and spoke to one who was displaying herself in a Window. Then, I asked her if she did whipping but she only wanted to thrash me with a belt. I declined because I knew she was just going to do that and that was all.
   There was no equipment and nothing else to interest me either so I went out as to leave.
   She actually tried to stop me by standing in my way in the door and was shouting out to someone out the back to help her restrain me.
  I was far too strong for her and just pushed her out of my way and ran as fast as my legs would carry me down the street with her shouting abuse at me.
and new disappointments!
Another incident, sometime later in London, was almost a carbon copy of the former, when I decided to visit a  different Mistress from a Phone Box Card.
When I was admitted inside her Flat and shown to her dungeon I  decided to decline her services, but she then became very aggressive and practically assaulted me on the spot so again I ran again down the stairs and was quickly out on the streets again. 
Another Lucky escape I thought!
Later on, I tried another desperate venture and I went to a Hooker by the Cricket Ground in Birmingham.
 She was a very unappealing 'Mistress' and very 'unprofessional and not at all to my liking. I did stay and submit myself but she only wanted to subject me to being stood upon.
I absolutely hated this as it made me feel like my legs were breaking so again I excused myself, paid her, and left.
Then, I went to a Lady in Harley Street once who was a beautiful olive-skinned Lady and she subjected me to being stretched on a rack. ( Not my thing again) ( You don't often get much of a choice in situations like these).
 A while later I decided to visit Manchester after contacting this Mistress through a contact Magazine. She called herself 'The High Priestess' which appeals to my love of ritual.
After I went in and paid and subjected myself to her on a sort of flat padded bench It then turned out that she was not alone, and again I was not altogether happy with the situation. She got me to lie on this padded bench and applied some nipple clamps to me at once.
Although I had experienced this form of torture before and had then stood up to it very well, these particular clamps proved highly excruciating and I just couldn't stand it any longer so again asked to leave.
 "I have only just started"; she exclaimed, but she was otherwise quite nice.
Part of the problem there was me because I had been having some stressful altercations with a colleague at work and the whole thing was praying on my mind. 
However, more and more encounters with new Mistresses to try to find the One!
In Birmingham again; this time in Wandsworth I went to two other Mistresses on different occasions of course, and had some very nice experiences with both.
 The one was a Lesbian Mistress and she was an expert on the rack. The other was an expert Mistress in whipping and general domination, who asked me if I would like to be a live-in slave. I said that  I would very much like to but my work and family situation sadly prohibited it. 
Another time I experienced an attendance at a very and expert Famous Birmingham Mistress's establishment who was quick to give me my first lesson in Water Sports….And a  very thorough drenching I had too!
   I then went to another very lovely Mistress in Birmingham who was a very beautiful Men's Magazine model named 'Shivani'. She was an absolutely stunning Indian Lady whom I visited on about 4 occasions before, but I sadly lost track of her later on after I had a couple of bereavements to add to my life's misfortunes. I still miss Her even now.
  She was the only one who allowed me cunnilingus and this was where I actually managed to bring her to orgasm.
I was so absorbed in following her strict instructions at this time that her orgasm happened to me totally unawares and I only knew that it occurred because she told me afterward.
  After all this, I began to attend numerous Femdom Events and these were far more to my liking.
 I met the very same Indian Lady there again and she indulged me a good hard whipping where this time, I can still recall that it brought me to my own delicious orgasm. Orgasm during the act of being whipped.
Indeed what an absolute joy that was!
My first Femdom event!
My very first Femdom event of all these events that I ever went to happened in Birmingham at The Imperial Hotel which no longer exists and there I simply enjoyed the event.
Later on, I found another Venue in Kidderminster called simply.
"The Events". These proved to be very satisfactory and I enjoyed many a happy whipping there but they were always something of a curtailed item for me because;( by then I was married), and had to be home by twelve. ( Just like Cinders).
  When all event avenues had closed and I had nowhere else to go I decided to become a Video slave for Cruella Magazine. I am featured in a still in Cruella 5, and I still own a copy of the magazine but sadly I never got to see the Video.
  Later on, I went as a slave in a Video for an Offshoot Company of Cruella but that was nowhere as nice as the Cruella one.
  Interspersed with these Videos was another venture to a club called;  "Club Severine". I am sure that I saw a Professional Mistress there whom I recognized from the many Mistress Websites at the time.
 A Beautiful Mistress called Zena came over to me as I was sitting down with another guy and took me in hand straight away. ( I love it when they do that ).
 She called for me to buy her a  drink which I did and then she got me to kneel and hold her handbag while she left her friend watching me and making sure I didn't move.
It turned out that she was a Burlesque dancer and later on she allowed me to help her tighten up her corset prior to her going on stage.
 Afterward, she took me to the shower area where she urinated all over me and into my mouth. Wonderful!
Then, later I became an online slave!
Beyond these two videos, there was a break-off a few years and I became an online slave for a Mistress who used me to adorn her website. I was also a close friend of a submissive Lesbian who shared both my confidence and my love of the Superior Female.
 The online Mistress 'Vi' was rather unusual insomuch that she was too far away to visit and was married so she started to give me daily rituals and Mantras to abide by and I must admit I got very quickly addicted and obsessed by them. This Mistress 'Vi' herself terminated me when she wisely grasped that I was losing my own self-control and that it could only lead to sorrow. I was lucky there too.
   I still regularly see this close Lesbian friend of mine even now. She was my friend even at the time of doing these online Rituals that she too spotted how addicted I was becoming and warned me to beware.…
She was searching for a Dominant Woman herself,(as she was submissive) and when I told her about my online engagement and rituals to this Mistress she declared that I was getting not just a little but very obsessed indeed.
I still see this Lesbian friend of mine who but sadly she fell on hard times when a girl she went to live with on Jersey, (whom she unwisely trusted),  began to truly dominate, intimidate, threaten, control, and rob her which caused her some trauma because she often held onto to my friend's passport and credit cards and took control of her money..and life.
Finally, I became a member of the "Slave-selection", dating website!
My ongoing searches have led me on here to 'slave selection and I just love this website but have not exactly found anyone myself as yet. 
I do have my eye on one particular Lady here on 'slave-selection' that I must confess has attracted me greatly but sadly she has shown no interest in me at all so far; So I must humbly resign myself to her decisions and respect be the First and Highest Priority.
Many would-be-slaves are quick to forget that Extremely  Important Premise as they selfishly search for a Mistress' attention. That's not for me at all.
I would far rather that the Mistress simply 'take' me and Press me to obey….After all … That is true Dominance at its best, is it not?.
  It came to my mind recently that many a Domina and Mistress always expects a male submissive to make the first advances, and that is fine except;  wouldn't it be right and just nice once in a while, if a Mistress would simply 'take' her slave and compel or seduce him to where she wants him to go; and thereby bridge those gaps of fear hesitation and doubt.
A man becomes a slave unwillingly; at first; and only by seduction becomes more and more willing to surrender.
      He Values a Mistress far more when she asserts her rights to rule rather than when those powers are simply given to Her without his struggle.
Yours Truly.
Roger P.