My Pegging Fantasy Becomes a Reality
It was Wednesday afternoon. I was at work when I received a call from my girlfriend demanding to know 'WHAT THE FUCK ' Femdom strap-on pegging stories were, I must have forgotten to clear my history. Later, I returned home to the silent treatment which would last until Friday night when everything would change for us as a couple. I came home after a few drinks to discover my partner on the couch wrapped in a blanket. As soon as I sat on the couch she was up and away to the bedroom. Great I thought, another night on the couch.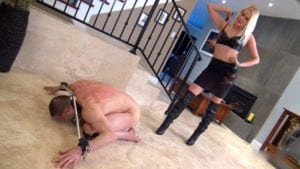 After 5 minutes I heard a shout demanding I go to the bedroom as I entered I saw my girlfriend standing there in a pair of thigh-high boots and a leather corset. Between her legs was a 7-inch black strap-on cock. She told me to take my clothes off and crawl to her and suck her dick. I had never seen her so confident, demanding, and sexy. As I got to my knees to suck my girlfriend off she grabbed my hair and forced her dick down my throat. I couldn't take it all at first but as her thrusts grew I took it deeper and deeper no longer gagging.
The New Mistress
My new mistress removed her new dick from my mouth and slapped me telling me to get on the bed and lie on my back. She stood between my legs and produced a bottle of lube. She poured lube on her hands and squeezed on my now rock-hard penis and started to massage it as the excess lube ran down between my ass cheeks. Slowly, she started to lube my asshole to relax me. She took me right to the edge and just as I was ready to cum she stopped and started to rub her own cock with the lube. While she was bending me over, she pressed the head of her dick a couple of inches inside my anus so I could feel the burn.
She inserted her big black, cock a few inches slowly at first. Each time she always told me how much she loved feeling my full-length slide into her. Now I'm taking all of her big black dick. She's telling me she loves the look in my eyes as she starts to pound my tight ass. The sense of burning I felt at first is being replaced with an overwhelming sense of pleasure. I'm screaming for more! I want it harder! Then she comes and falls on me. She tells me to finish myself off as I cum she wipes it with her hand and forces me to lick every last drop.
This was how I lost my anal virginity and became my Mistress's Bitch!