The Day I Met the Goddess That Controls My Cock
I signed up for online dating at Slave Selection, almost like signing up for my last chance to really be myself. Before, I went on dates with a few girls from other sites, and it wasn't good. I was just not into it. The truth is I am submissive and I need a Mistress. I was about to quit when I saw her profile. Gorgeous. Two or three messages in, we found out that we live extremely close to each other. I met her at a bar in Boston. She walked up to me sitting at the bar wearing a black dress and high heels. The fact that she isn't wearing any underwear and her nipples protruded gently from the dress was noticeable. We greet each other and I slide a key over to her. She tells me that she needs to check that I installed the cock cage correctly. She slides her hands down my pants to feel the hard plastic cock cage on my chastity belt.
Whispering, she asks if it turns me on knowing that she controls my cock. She says she is horny and hopes I don't get too excited in the cock cage because it's small. After, she buys us drinks with my money and later decides to take us to my house.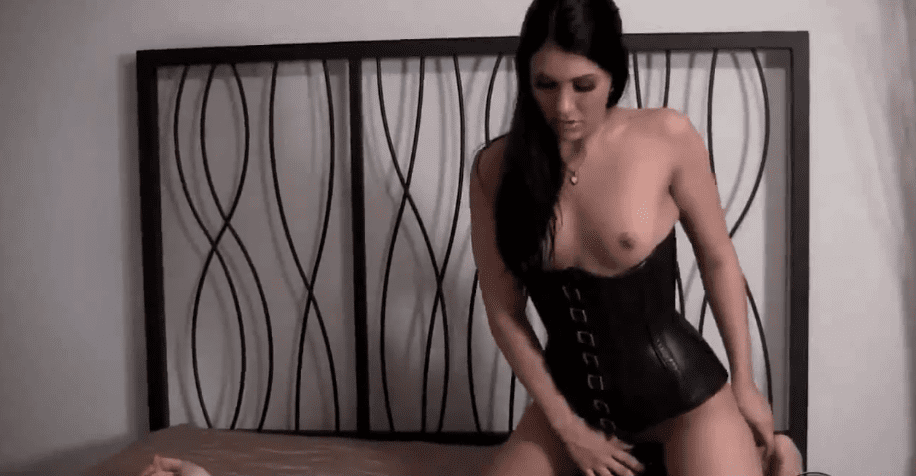 She is In Complete Control
We exit the bar and She pushes me against the wall. Then, she grabs my balls and tells me she is in charge tonight. She whispers in my ear with her hands on my cage,
"Are you getting a hard-on?  That would be too bad with your cock locked up in a cage."
She comes in close and we kiss. I can feel the hard plastic on the top of her pussy and she starts to get a little wet. At that moment she realizes how much she likes being in control.
We decide to leave and go back to my place. I made sure my place was clean for her arrival. She orders me to strip naked for an inspection of my body. Then, she continues to tease me by rubbing her body on me. She keeps asking me if I want to fuck her. I respond,
"Of course I do Mistress."
She asks me if I fantasized about this moment and I say
Then, she looks at my cock cage and calls it pathetic.
She says,
"Maybe if it weren't so pathetic, I might let it out"
And she flashes the key. Quickly, she licks the outside of the cage and says,
"Don't you wish I would take you out and suck you off?"
She puts the cock cage in her mouth and notices how my cock is struggling to get hard. I say,
"Of course Mistress, please let me out."
"Your Cock Is Staying In Its Cage!"
She gets angry, grabs my balls, and says,
"These are mine and I make the rules."
She turns around and grinds a little more to see if she can get my cock harder inside the cock cage.
"Don't you wish I would just take it out of its cage and let it feel my wet pussy and cum inside of me?"
Laughing, she says
"Well that's not going to happen, we are going to fuck tonight, but not like that."
I say,
"Mistress, what do you mean?"
"Shut up and lay on the bed face-up", she ordered.
I listen and she gets wetter thinking about what she is doing to me. All the control she has. She takes a shirt and ties and restrains me to the bed. I am helpless and tied down now wearing nothing, but a plastic cock cage. She teasingly and slowly gets undressed and reveals her perfect body, her nipples are rock hard and protrude gently. Her body is toned and tanned with large natural breasts and a firm and large butt. She is so fit; I can feel my cock getting hard again in my cage. She is truly a Goddess and comes over to the bed, crawls on top of me, and is sliding her tits along my body.
The Goddess Continues to Tease Me With Her Body
I can feel her hard nipples slide slowly down my body. She gets her face near mine and French kisses me letting my cage rub against her clit. My skin feels like lightning as it is truly humiliating being naked and restrained on my own bed with this gorgeous woman inches away. I want her. I want to be inside of her and the thoughts race through my head. My cock engorges and strains against its restraints; this is unimaginably painful and she shows me the key and asks me if I would like to get out of my cage and feel the soft insides of her cunt.
I say,
"That would be wonderful Goddess, just what I always wanted."
She then asks what I would be willing to do to get out. I then say,
She says,
and laughs,
"You are fucking pathetic."
She teases me more. Her body is so gorgeous. She grinds on me and grabs my head and grabs my chastity belt and makes me look down as she forces it into her pussy. Rubbing the cage on her clit and says,
"Oh that feels so nice, it's too bad you have this plastic cock cage keeping your dick from getting hard at all, look!"
She forces my head to look down,
"Your cock is filling that cage, it's pretty pathetic that you can't get hard like a real man, slave."
Her body weight presses on top of me as she holds my balls and moans in my ear,
"This must be terrible torture to only be able to get me off with this silly little plastic cock cage. Should I take it off and let you fuck me like a real man."
"Yes, Mistress," I reply.
A Forced Face sitting And A Strap-On Dildo
"Not a fucking chance," she says.
She then reverses positions sticking her cunt in my face and making me lick her dripping wet cunt. Then takes my cock cage in her mouth and I can feel the heat of her mouth. She sees my cock growing inside its cage.
Teasing me, she says,
"Don't you wish you could feel my mouth around your cock, that I could suck your cock, just like a real man?" "Ahhhhh, keep that tongue in there,"
She grabs my head pressing it into her cunt and she climaxes quickly from knowing I am her slave and she holds total power in this relationship.
"You said you would do anything, slave," she says
She, then, goes over to the counter and gets a strap-on dildo, lubricates it and tells me to get on all fours, and says,
"You wanted to fuck, here is your chance."
I say,
"Not like this Mistress."
She says
And, she slaps my ass, saying,
"This is how we fuck, I am going to stick this in your ass, don't get too turned because all of this is for my pleasure."
She whispers in my ear and orders me to say,
"Goddess, please fuck my ass with your cock."
I respond,
"Goddess please, fuck my ass with your cock."
She then put me on my back, takes the dildo, and teases my ass taking the tip and swirling it around my anus. Looking into my eyes just as she sticks the strap-on into my ass she says,
"What a little pervert" and laughs.
Then she moves the rest of the strap-on dildo inch by inch into my ass while she watches my face become white. I make a horrified expression of utter embarrassment and humiliation.
"Pathetic Little Cock, I Own Your Orgasm!"
As she slowly goes balls deep into my tight little ass, she whispers in my ear,
"I am inside of you."
She fucks me roughly and I can hear the plastic of my cage smacking her stomach as she strokes.
"Is that the sound of your pathetic little cock,"
My cock is actually bulging in its cage!
"I hope this isn't getting you too turned on. Your cock has nowhere to go".
She continues to fuck me and kiss me deeply. Looking deeply into my eyes, she says,
"I own your cock and your orgasm. You better ask permission if you feel like you need to cum."
I say,
Her breasts lie lightly over my chest and her hard nipples rub my skin. She asks me if this is how I like to get fucked and I say that I am a good little slave. She asks me if I want to orgasm. I say,
"Please my Goddess, please let me out of this chastity cage. My cock is so hard and it hurts.
"Your cock is making me so hard!" "If you are going to cum you are going to cum like a slave," she said.
She reaches towards the bed, grabs a vibrator, and puts it on my chastity belt and her clit. She flips me over and I can see my dick bulging from the cock cage. Quickly she says,
"You sick little pervert, it looks like you enjoy this; I am never going to let it out of that cock cage."