Chapter 1:  FEMDOM Hypnotism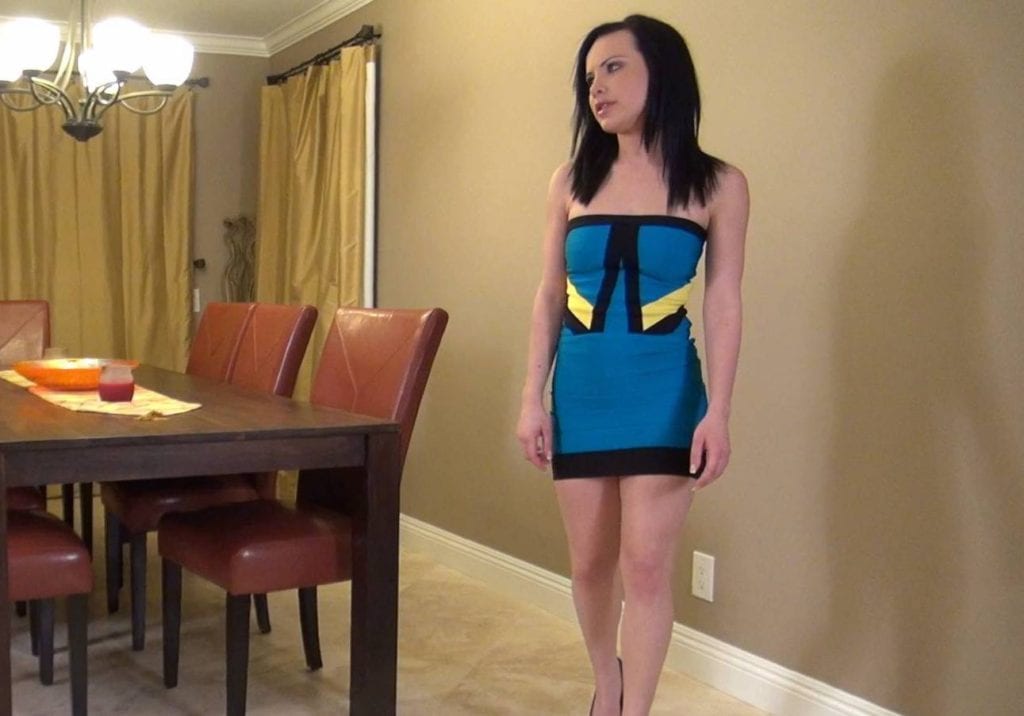 When I arrived Matt was working at his desk, as usual.  As I was entering, I was wondering if he had any idea what was about to happen.  How his entire world as he knew it would be turned upside down with my femdom fantasy, and that he would be forced to make a very difficult decision.  Today was the day I had been waiting for.  And I have been waiting for a long time.  I had been helping Matt with some massage therapy for several weeks now.  On each visit, I got deeper into Matt's subconscious mind.  I knew I had to take it slow, especially when I was taking on such a huge task.
– Hello Matt, how's your day so far?
– Oh, Hello there, I guess good.  I managed to clean out my inbox, so I hope we can get some time alone today.
– Great, I'd like to give you an extended session.  We have a lot of stuff to deal with today.
– Well, come over here then so we can get started.
– Hey, did you see that show last night about the guy that could make people do all kinds of things?
– No, what do you mean?
– It was this guy.  He sort of could get into people's heads and make them do things they never had before.  It was like they never realized their potential until he opened up their minds.
– Like hypnotism, or?
– Sort of, but different.  It was more that he just expanded on things that were already there.
– I tried hypnotism once.  I'm not sure if you know, but when I was younger I was a heavy smoker.  Like so many others, I wanted to quit, and I failed one method after the other.  So at the time, I tried this fail-proof hypnotic program.
– So it worked?
– No, it failed like all of the others.
– Yeah, but I don't see you smoke anymore.  So what happened?
– Well, eventually I did manage to quit, and I have been off them for 5 years now.  I was always so worried that I would gain weight and blow up.
– No – no, you look so trim and fit.
– Well, thank you.  But anyway, I did learn something about hypnotism when I was going through the program.
– What, that it didn't work and in the end, you had wasted another paycheck.
– That too.  But, I also saw that there was some possibility behind it.  It taught me to relax and allow my senses to be more in tune with my body.  I still use some of that those techniques today.
– Wow, I never knew.
– So, I guess to answer your question, I didn't see that show.
– It was so interesting.   He showed how your every day life is so controlled by your subconscious habits.  It was this girl that every day when she woke up did exactly the same routine every day.  He was able to change that whole routine without her even realizing what was happening.
– I'm not sure if I believe in that.  I think a person have to have some kind of consent before they allow anything to change their thought process.  I also don't think a person can stay under any influence for more than a couple of minutes.  As soon as the guys leaves, the spell will be broken.
– Oh, I don't agree.  I think that if enough time is invested to gradually change the behavior, it could become almost permanent.
– I would love to meet this people so I could prove them wrong.
– So you think you got resist any kind of suggestions?
– Yeah, as long it was something I did not agree with.
– Let me ask you a question.  Do you have a standard routine when you get dressed for work?  Like laying your clothes out ahead of time, or just going what you feel like at the last moment.
– I won't lay anything out, but I typically know exactly what I will wear as I open the closet.
– What about today.  I have to say, you look very sharp today.  As a matter of fact, I can't recall you ever wearing this before.
– Thank you.  I'm not sure.  This morning I can't really say what came over me.  Do you think there is something wrong?
– No, not at all.  You do look both professional and masculine at the same time.
– Thanks.
– Would you be surprised if I told you that I had a part of your dress decision today.
– What?
– Yes, at our last session I planted an idea in your head for our next meeting.
– Now I think you going a little too far.  There is no way.
– Will you believe me if I tell you what I planned for you?
– Go ahead, little Miss Mind Control.  What did yo plan for me?
– Hey, don't ridicule me.  At least not before you can see for yourself.  Maybe then you believe me.
– I still don't understand.

– Oh well.  You may not ever understand, but you will believe.  Remember, I put the ideas in your head last time I was here.
– Well I don't know what you did it.
– Of course not.  That is the point, silly.
– So enough.  Tell me what you claim me to wear today.
– Well, it is not what you wear.  I wanted to make sure you would not doubt me.  So it is what you are NOT wearing.
– What the hell are you talking about?
– You are not wearing any underwear today.  You are going commando.
– Now, you completely lost it.  Why in the world would I show up for work with no underwear?
– Because it's sexy, because it's daring, because it's so not you, but most important because I told you to.  If you don't believe me, I suggest that you check it out for yourself.
Matt leaned back in his chair, and I could see him pulling his zipper down.
– I don't know how this did happen.  I never left my house like this before.
– It's OK.  It's actually perfect.
– I'm still completely surprised.  I never ever done anything like this.
– Can't you see.  It wasn't you.  It was me.
– No, it can't be. How in the world could it have been?
– Trust me, it was all me.  I wanted to see if I can get you to do something for me without knowing.  And I can see that I succeeded.
– I'm not sure if I believe you.  And if I did, why?
– Oh let's just called a first little test.
– Nonsense, and by the way I can dress any which way I like.  So let's get on with business.
– Sure.  Why don't you come over to the sofa and make yourself comfortable.
Matt stood up from behind his desk and walked over to the leather couch that was nicely positioned by the window.  He walked behind the couch and looked out through the huge panorama window.  I followed him and said:
– I love this view. You can see almost the entire city on a clear day like today.
– Yes, isn't it beautiful.
Matt stepped over the couch and lowered himself down to a sitting position.
– Why don't you start with my neck.  I had so much stress today, and I'm glad I scheduled you for the afternoon.  Such a perfect way to finish off the work week.
As my fingers touched his neck, I could feel the tension.  I started out slow, and moved over the entire neck.  After awhile I put a little more pressure on, and I could feel the muscles relax.  I also noticed that Matt's breathing was picking up.  Perfect, I though to myself.  We are almost there.  I slowly let my fingers wander up through his hair and around his ears.
I made sure I returned to the neck before he even noticed.  For every time, my excursions became longer and more daring.  Matt was now in very comfortable state, where he didn't pay to much attention to anything around him.  As I wanted him to become fully relaxed I kept going for a couple of more minutes, before I started my next phase.  At last I knew Matt was ready for me.  I started to whisper very softly in his ear.  I kept repeating a short message how he could completely relax and just let me take care of him.  As his breathing begun to synchronize with my voice and my fingers, I knew he was falling deeper in to my control.  So far so good.  Now it was time to plant some of my ideas into his brain.  My first task was to make him addicted to smell and taste of the juices from my count.  I put my left hand up under my skirt and let my fingers up in my already wet vagina.  It felt good so I let my fingers play for sometime before I pulled my hand back up again.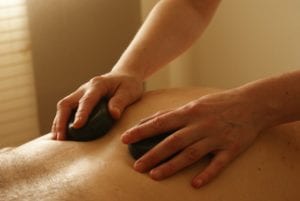 While my fingers were still wet I moved them up around Matt's face and started to gently spread it over his lips and under his nose.  At first he didn't even react. But then I could hear his breathing, and soon his body could not resist to react to being aroused.  I made me so happy to see Matt in this position.  I kept going for good 20 minutes to make sure he was completely entranced.  When I believed it was safe to stop, I started to slow down and move my fingers away.  Matt's body reacted immediately to bring my fingers back.  I gave him some additional touches but then I abruptly pulled my hands away.
– Matt, I said.  How was that feeling?
– Great, but why did you stop?
– So you like it.  I tell you what, I like it too.
– Don't stop then.
– Oh, I'm sorry.  I didn't realize I did.  So you want more?
– Yes, please.
– OK, I will give you more.  Just remember this smell and taste,  Isn't it good?
– Fantastic.
– It is.  What if told you that could get this everyday for the rest of your life.  Would you like that?
– Oh yes.  I would love that.
– I can help you with that.  But first tell me how badly you really want it.  You see, I can make this happen, but as easy I can deny it as well.
– I want this.  I do want it bad.  Please, don't take it away. 
– Wow, so you really want it. You crave it?  Maybe you are addicted to it?  Is that so, Matt?
– Yes!  I'm totally addicted.  I don't want you to stop.  Please don't stop.
I kept going for a minute or so, before I very gradually slowed down and eventually came to a stop.  I could see how Matt was moving around to try to find my magic fingers.  I continued to massage his neck, but kept my hands and fingers away from his face.  As I gradually stopped my massage, I could see that Matt was regaining his normal state of mind. And then almost as a flick of a switch, Matt looked up at me.
– What happened?
– Oh, don't worry, I think you just feel into a deep relaxed state.   Are you awake now?  You have to believe, I did not try to hypnotize you.  As a matter of fact, I neither believe in that nor do I have the skill to do so.  Do you want me to continue working on your neck?
– Yes, I'm fully awake.  But it felt like I was dreaming, but I can't remember.  I had such a wonderful experience.  I do recall this delicious taste and smell, but I cannot put my finger what it was.  Can we just take short break before you start?
– Sure, no problem.  Let's change the subject.  By the way, what are your plans for the weekend?  Do you have anything exciting going on?
– No, not really.  Probably just staying home to decompress, relax and get ready for next week.
– That's a shame.  A young, successful and incredibly handsome man like you should be living the high life.
– Well, once I'm away from here, I'm really a much more modest and quiet person.  I enjoy not being the one that makes the decision all the time, if you know what I mean.
– Sure, like now right.  You just lying back and letting me do the work.
– That is very nice.  But the best thing is not the fact that you do the work and I relax.  I'm not afraid of making an effort and help out.  I know this may sound strange, but, it is such a fantastic and liberating sensation to let someone take charge of everything.
– So you say that you actually prefer not to be the one in control.
– Yes, isn't it strange.  I sometime have fantasies of losing my power entirely, and be completely in hands of another person.
– Interesting, I said.  But inside I already knew this.  I was happy that Matt come so far already.  It shouldn't take to much to push him over the edge.
– So is there someone in your life.  Someone you seeing?
– No, it's not even that I don't trying.  I just can't find any girl that even looks interesting.  I'm not sure if I'm too picky, or what?
– Oh, no.  You should not settle for second best.
– I just can't get comfortable when I'm alone with a woman, if you know what I mean.
– Sure, but women can be pretty strange, too.
– Yeah, but when I'm with you I am so at ease.  I just don't understand it.
– Well.  I'm here for you.  And I'm glad you feel OK.  Especially, since that's my objective.
– Marie, can I ask you a personal question?
– Absolutely.  Go ahead.
– You always say so many sweet things about me.  And you always make me feel so special.  How do you think I look?  Am I ordinary looking, better or worse?
– Neither, I quickly responded.
– What do you mean?
– Matt, you are a catch.  If we weren't working together, I would hit on you.
– But, but, I never knew that.
– Well. like you I have never been able to accept just basic.
– So how do you find the special then.
– Well, it's difficult.  Once you find someone you believe can be that special, you need to be very patient but also persistent.
– So have you ever found anyone?
– Yes.  There are always potential candidates, but I have so many criteria I need met before I am sure.  And in the end, they always find a way to disappoint me.
– Criteria.  So you are very selective then?
– Yes, I am.  There are basic criteria such as appearance, character and life situation.  But then there are deeper levels where I am looking for certain compatibility.
– So what would be a good match for you?
– Well, it would is very important to me that the person is totally comfortable in my presence.  Someone that would trust me completely.  For example, how do you feel when I'm around?
– Oh, you always make me feel very nice and comfortable.
– How about when I give you your massage?  When you feel my hands on your body?
– Wonderful.  I get this tingling feeling all inside of me.  I can feel my body getting excited.  I know it suppose to relax me, but instead your hands touching me, makes me more excited.
– Well, how do you feel right now then?
I used my left hand to slowly move up around Matt's neck. My other hand moved over his ear and through his hair.
– Oh, Marie.
– You didn't answer me.  Do you want me to stop?
– No-no.  Please continue.  I just can't describe this feeling.  It's that good.
My hands and fingers continued  to slowly work their magic.  Matt could not keep his body still anymore, and his breathing was getting much faster.  I repeated the teasing for several times, until I felt Matt's hand grabbing around my wrist.
– Don't stop.
– What do you mean, I said.  I'm only here to give you a massage.  I think this is borderline what I can do.
– Oh, for heavens sake.  Forget the fuckin' rules for once.
– Yes, but I'm not sure if I'm comfortable with taking advantage of you.  Since I am working for you, I'm not sure if it is right.
– Come on, Marie.  I need this.
– I just don't know.  You have heard my point of view, but I still haven't heard you say anything about me.
– About you.  You are so beautiful and sexy, so I could never understand how you could keep the guys around off you.
– But, what are your feelings for me?
– Until today, I cannot say I was sure.  I certainly was confused.  I have always admired your figure, your face, and the way you dress.  I've been looking forward to every one of our session, and I rearrange my entire schedule just so I wouldn't miss one.
– So you like me and appreciate me.  I guess I already knew that.  And if that's all, I think we stop our session here.
– What.  No-no.
– Please explain then, if you like to proceed.  You see, I can't be doing this unless I was sure you had strong feelings for me, and that you could commit yourself to me.
– I do have strong feelings for you.  I have always been very attracted to you, but I have forced it back because of workplace.  I'm so confused.  I never been with a woman like you before.
– Maybe that's your problem.
– Maybe it is.
– So if you like me, maybe even attractive to me.  Is that all?
– No, I just now realize that you are so much more.
– What do you mean?  I need to know exactly how you feel before I can continue.  Say it out loud.
– What do you mean?  I just start to figure this out.  What do you want me to say? 
– Convince me that you really want me.
– I do, what more can I say?
– Use your imagination, but more importantly, be sincere.
– Marie, I really really want you.  Not just now, but going forward in my life.
– Not too bad, but I think you can do better.  And I deserve much better.  Maybe I have to help you along.  Repeat after me, but only if this is what you really want:
"I, Matt, am totally attracted to you.  There is nothing I would not do for you."
Matt got a empty look on his face.  I was wondering what he was thinking.  He opened his mouth to say something, but nothing came out.  This happened again, and again, and at the fourth try Matt finally spoke.
– "I, Matt am totally attractive to you and there is nothing I wouldn't do for you".
– Now, that was a better.
I stepped over and embraced him.  I leaned in some more and kissed him.  Our lips met, and soon our tongues were dancing together.  After a little while, I pulled back to catch some air.
– Wow, how about that?  Any regrets?
– No, none what so ever.
– Great, I was hoping you would feel that.
– So, where are we going from here?
– Let's sit back and I will give you some ideas.  You know, that from the first day I met you, Matt, I knew I had to have you.  When we bumped into each other by the elevator, it was like a strike of lightning.  The more I learned to know you, the more I couldn't get you out of my mind.  And here we are.  It is almost too good to be true.  I never thought you would have any interest in a girl like me.  Now, I have over the last couple of weeks got to know you.  I learned something that probably intrigued me very much.  Something that drove me almost obsessed over the thought of being with you.
– What?
– Oh, nothing bad or really that strange.  But something I knew would make us a very good match.  You don't know this about me, at least not yet.  But, I am a person that has a very strong personality and I like to be in charge.  You may not see at work, but I assure you that outside this office I am a very dominating Femdom woman that control most people around me.  For me to meet you, is a match made in heaven.
– How is that?
– Well, it so happens that deep down in your subconscious mind you have very strong feeling about being submissive to femdom.  I think you discovered a small portion of this yourself as well. Anyway during our sessions I have discovered some different, possible unknown desires in you.  For each time I been here, these desires have grown stronger, and I feel it is my responsibility to confront you with them today.  I believe that if I keep up with my massage therapy your inner thoughts may take over your personality, and your life.  Now in all honesty, that may be what you really want, but I just want to you understand what you would be entering, and make an informed and logical decision.
– You make no sense at all.
– What I'm trying to say is that you and I are made for each other.  I know perfectly who I am.  A beautiful femdom with a very strong appetite for sex and domination, preferably together.  I guess you start to realize who you are.  A handsome man that just found out that beside his strong sex drive, and also learning he is far more submissive than he ever thought possible.  You see, we are perfectly compatible.
– I still don't understand what you mean with I being submissive and you being a dominant femdom.  I'm your boss, not the other way around.
– That's true.  At least here at the office.  But outside the office, there is a whole new world.  I think you are ready to explore it.
As we were talking I could see that my message started to sink in.  The more the discussion went on, the more Matt begun to accept things.  I knew he was close to surrender completely to my ideas.  But to help her along, I opened up my legs and started to slowly pull my skirt up.  Since I had no panties on, I could let my fingers find themselves all the way up to my pussy.  While I was playing with myself, I was watching Matt.  I could not tell if he noticed me, since his eyes were completely blank.  After awhile he looked up right into my eyes.  He was crying, but it seemed like he was trying to say something.
– I'm so confused.  I know I love the way you made me feel, and I know I am so comfortable because you are here.  I feel like a could trust you completely.  At the same, I have a hard time to fully understand.  I don't want to lose you.  And I would do almost anything for you.  It's almost like I would be love.  I know, it sounds stupid.
– No, it's not stupid.  It's genuine and heart warming, and if it's true, it makes me so happy.
– It does?  But, I still don't understand your talk about femdom domination.
– I believe that the feeling you have for me is a little more complicated than just affection or love.  Because I am aware of your deeper thoughts about submission, I know that you are seeing me as your guide or teacher.  So your feeling is also about comfort and trust.  And to make sure you understand, I do love you.
Matt looked at me with tears in her eyes.
– I love you, too.
– I know we have so much to talk about, but before that I need to something.
– What?
– Oh, you will see.  Let's move back to your desk.
I walked over and sat myself down in Matt's desk chair.  It was a really nice leather chair with that both swiveled and reclined.
– Come over here so you can see, I told Matt.
I leaned back in the chair and waited for Matt to come over.  I raised my left leg and placed on the desk. I placed my right leg crossed over my left, and I looked at Matt.
– Let's see if you can figure out who's the boss around here, now?  Bring me that duffel bag that is over there by the wall.
As Matt came back with the bag, I unzipped it, and brought out a small size shiny dildo.
– From now on, you will respond to me every time I give you a command.  The response shall be: Yes, Mistress.  Do you understand?
– Yes, Mistress, Matt responded quietly.
– Let's try that again.  I demand immediate response that clearly shows you are ready to serve me.  Do you understand?
– Yes, Mistress.
– Much better, I can see that you trying very hard in your new role.
I took the dildo and started to slide it up and down my stockings.  Then to get some better access, I uncrossed my legs and spread them apart.  Now I could let the dildo find itself all the way up my thigh.  For each trip I let the point of the dildo dip deeper into my wet pussy.  Slowly and gently, I started to run the dildo in and out of my pussy.  At first I paid no attention to Matt at all.  But after a little while I opened my eyes and I could see Matt's face.  His eyes were locked right on me.  They were glossy, and her mouth was open.  It was hard to see if he even was breathing.  I knew he was dying to get to my pussy.  But instead of granting her access, I again closed my eyes, and started to pump the dildo faster and faster.  My orgasm came so strongly that I almost lost my balance.  It took me a minute to just collect myself.  I opened my eyes and looked at Matt.
– Did you enjoy that?
– Oh yes, Mistress.
– I'm sure you want to try for yourself.  To get down and dive right in there.  Let your tongue lick my went cunt.  Is that what you want?
– Oh yes.  Mistress, I would love to taste your pussy.
– We'll see. First I like you to clean my little femdom toy.
– Yes, Mistress, I will go and rinse it off.
– That's not what I said.  You are to lick it clean.  Make sure there's not a spot on it left.
Matt looked at me strange, and he hesitated to move the dildo.  But after a seconds delay he raised it up towards his face.  At this moment his memory kicked in, and he knew he had experienced this smell before.  He inhaled a deep breath, and the without any hesitation put it into his mouth a started to lick it.
– You are a good little femdom slave.  Maybe I let you be a good little cunt licker, too.  Isn't that what you really want?  A cunt licking slave?
– Yes, Mistress.
– Well if you really want my pussy, you better beg a little bit more.  Admit who you are and what you want.
– Please, Mistress I beg you.  Let me use my tongue to give you pleasure.  I here only to serve you, and your pleasure is my reward.
– Drop to your knees.
As Matt dropped down, I took my feet off the desk and placed them on his shoulders.
– Where is that toy you were suppose to clean for me?
– Right here, Mistress.  Matt handed me the dildo.
– I need you to come in closer, as I will try to slide down a little bit.
Matt inched in, which automatically lifted my legs some more.  At the same time, I let my body slide a little bit forward.  I took the dildo in my left hand and placed its tip at the opening of my ass.  With the more reclined position I had no problem reaching.  I gently started to push it in.  At first my muscle squeezed the hole tight, but very quickly it started to relax and let the dildo in.
– Put your hand where I have mine, and start to slowly fuck my ass.
Matt immediately obeyed.  He was a little clumsy at first, but soon he found his technique and pace.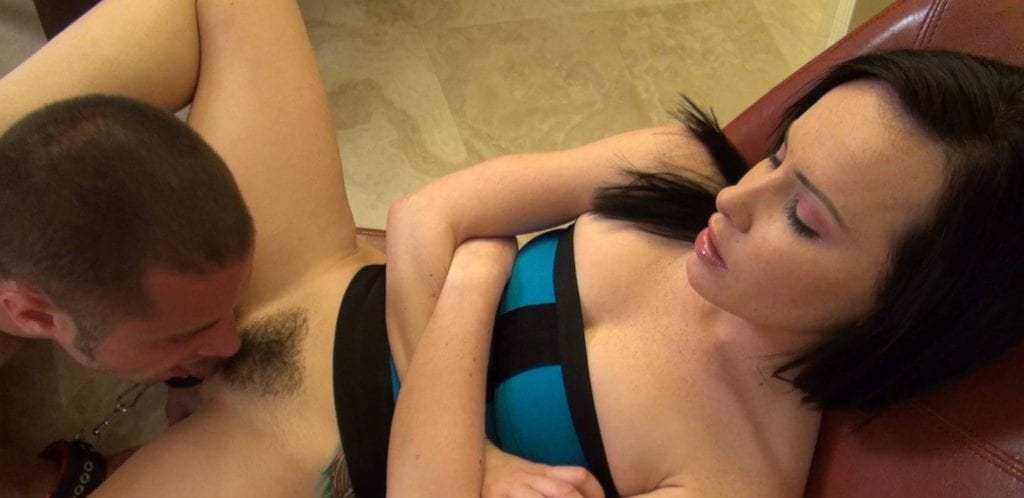 – Now, before I grant your wish to to taste my pussy, I have to explain one thing to you.   I have as I told you before, been working on you for a long time.  We both want this to continue, but in your case you have started to lose control.  Once your tongue will taste my fantastic pussy juices, you will forever relinquish your option to walk away from me.  If I am correct, that is not a problem as you want me.
– What are you saying?
– It is easy.  Follow your heart and you will be forever happy.  Try to deny me and run, you will forever be miserable and you will always be looking for what you forever lost.  So if you do want me, if you do love me, just follow your heart.
– I do love you.  But…
– No buts, don't overthink this.  You are almost there.  You can smell it, and you can just stick your tongue out and taste it.
I could see the wheels were turning inside Matt's head.  His eyes were flickering open and close and I could see sweat on his forehead.  I figured I would let him have a moment.  And then I started to pull back my hips an inch.  Just enough to see if he would react.  And as I thought, he was ripe.  He immediately opened his mouth and stuck his tongue out.
– If you are ready, you may use your tongue.  I realize that this is probably the first time you ever taste cunt, so I guess you will work hard to make sure you please me.  You do want to please me, do you slave?
– Yes. Mistress.  I will do my very best.
– That's the attitude.  You will be such a good slave.  Now tell me, when will you stop?
– When you come, Mistress.
– Not bad, but not even close.  You will stop when I command you to stop.  If I want ten orgasms for the next two hours, your tongue will do it.
– Yes, Mistress.
– And, don't forget to pump my ass.
– No, Mistress.
– Well, so you don't think you are on a break or so I will use this riding crop on your ass if there is something I don't like.
I swung the crop swiftly and hit his ass.
– Ouuh, Matt yelled out.
– Oh, don't worry about it.  Keep on licking instead.  And I'm sure that you will learn to appreciate my spankings.
For being the first time, Matt did a very nice job.  It could have been that I was so horny, or the fact I was so excited that she seem to fall in to his role so quickly.  My first wave of orgasms came over me very rapidly.  And after about 25 minutes I counted to around a full dozen.  I let him continue for the full hour, just to make sure he understood who was the boss.
– Slave, you may stop.  Let me take my legs down and you can sit up.
– Thank you, Mistress.
– Did you like it?  Was it everything you thought it would be?
– It was wonderful.  I would never thought it would be so fantastic to serve you.
– You will have plenty of time to do it over and over.  Now before we move on to my next little adventure, I will have to ask you to clean my toy again.
Matt looked very strange at me.
– Yes, is there a problem?
– No, Mistress.  But, you want me to use the bathroom this time, right?
– Oh, now I understand.  Yes, I used it in my ass.  Do you have anything against my ass?
– No, Mistress.  But it is a little dirty, so I was thinking…
– Don't think.  You will clean it the only way you will know.  And that is with your mouth.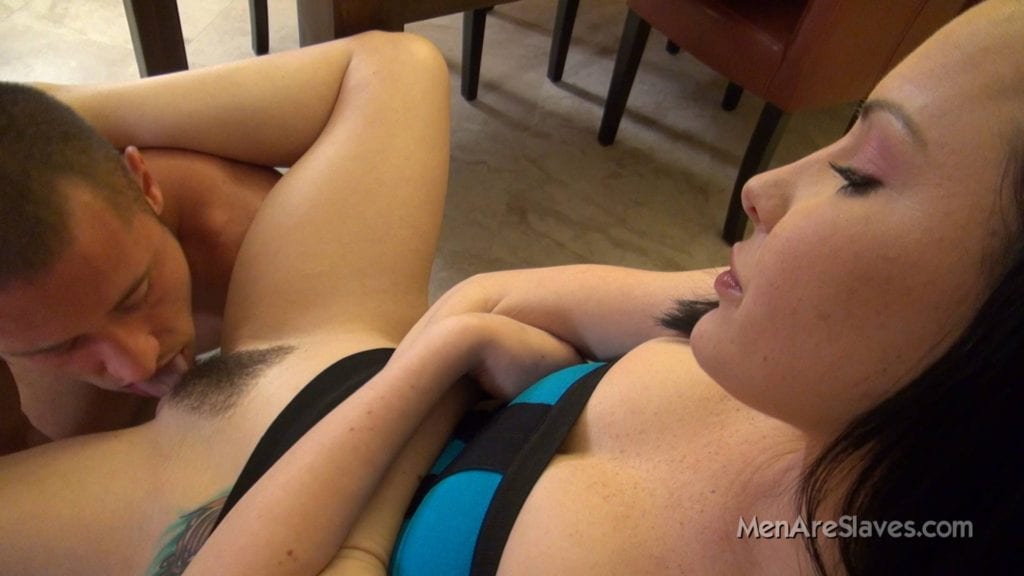 This time Matt hesitated, so I figured I need to show him who was in charge.  So far Matt had showed such fantastic obedience and enthusiasm to all my commands that I wanted to give him a chance to surrender deeper into submission all by himself.  I firmly grabbed Matt's arm around his wrist, and with my other hand I took a tight grip of his hair.
– Let's see if this will help.
I pulled his head so his face was close to mine, and I stared into his eyes.
– I did give you a command.  And I do expect you to do it.  Understood?
– Yes-Yes.  I'm sorry.  But I could never put that in my mouth.
– Oh.  You have so much yet to learn.  The way you have behaved so far, I almost forget that this is still new to you.  I guess I have to be more patient.
– Thank you, Mistress.  I knew you would understand.
– Yeah, sure.
With my hand was still holding on to his hair, and I could easily tilt his head slightly back.  At the same time I used my other hand to move dildo which was locked into his hand over to in front of his face.  I held it there for a second or two while I was looking into his eyes.  Then without any warning I quickly pushed the tip of the dildo up against his lips.  And before he realized what had happened the dildo had slipped into his mouth.  At first he was trying to pull away, but I continued to hold him tightly.
– Yes, I do understand.  But the bottom line is that you have job to do.  So you better start using your tongue and clean up my dildo.
I could see the struggle in his head through the expression of her eyes.  He managed to hold out for ten seconds, but saw in his eyes that he was ready to surrender.  He started to work his tongue and with his hand slowly move the dildo in and out.  Tears were running down his cheeks, but he was obeying.
– Clean it good.  I do have a policy about cleanliness.
When Matt had finished he handed my toy back.
– Very nice.  It almost shines.  You did such a good job.
– So now you have discovered who you really are.  I'm sure you never thought this would happen when you came to work this morning.
At time it seemed like Matt had had enough time to think about what just had happen.  He looked like his old "self", business like and confident.
– I know your confused and maybe regretful, but rest assure it is all true and deep inside you love it.  And more importantly, there is absolutely nothing you can do to change it or even reverse it.  I have found the the way to control you.  At first I learned your system.  And today, I have broken down your last wall.
– What?  I don't know if agreed to all of this.
– Well, you sort of did.
– No way.  I will walk right out of here and call security.
– I would not do that if I were you.  You see I can still control you.  But I do appreciate your feisty response.
– This was just another session with very interesting ending.  Nothing more.  Do you understand?
– Still fighting.  Great.  It will bring me even more pleasure to bring you to your knees. I don't think you fully understand.  You are already at the point of no return.
– How the hell did you come up with this shit? 
– Matt, do you remember this?  I put my fingers between my legs and held them up in front of his face.  You can have this every day, or never again.
With just one little whiff, Matt froze.  While he was under my spell, I explained what was happening and how he could not resist.
– What the hell did you do to me?
– You know what I did, and you know I will continue to even more.  And you can't nor do you really want me to stop you.
– You fucking bitch!
– Now, that was extremely rude. You shall never use that language again.  Is that understood?
Again I placed my wet fingers right in front of his nose.  I could see in his eyes that he would surrender.  He inhaled a couple of times, then I saw him opening his mouth like was trying to taste my finger.  I pulled my hand back immediately.  He looked at me and started to beg.
– Oh please.  Let me taste.
– I don't think so.  You are clearly not ready for this.
I never heard a reply.  Instead, Matt bent down and started sucking my fingers.
– Oh wonderful.  You will be a wonderful femdom slave.  And I guess you probably haven't in your mind fully comprehended what your future situation will look like.  As my slave I will not boss you around.  Instead you will beg to fulfill my every wish.  There will be no limit to what you will be capable of doing to make sure that you don't disappoint me.  To start with, you will become my femdom slave to serve my every sexual desire.  I also will take over you role here at work since you will no longer be capable.  Your car, house and all your assets will also be transferred over to my name.  By the time I am finished you will have nothing.  I will take it all.  But rest assured, I will take care of you.
– I'm not sure about all of this.
– That is OK.  The process has already begun.  Remember I have been here for weeks, and every time I have prepared you for this.  Today was just the final hurdle to jump over.  And you did fine.  You are mine now.  And in certain way, I am yours.
– Mistress, I do understand, and I do surrender. Yes, I will sign over everything.  I will become your cunt licking slave.
– Now, that's what I like to hear.  Are you really sure?
– Yes, I know now that I have found my future.
– Is this really your rational and informed decision?  How do I know you're not trying to trick me.  It's very important that you know what you are doing.
– There is nothing that I have been more certain about in my entire life.  I promise.  I will do anything for you.
– Fantastic.  You will not regret this, ever.  And to make this final, I just have one more thing to do.
I walked over to the desk, pushed the intercom button and said: Lori?
– Yes, Mistress, Lori answered.
– It is time.  Can you come in for a moment?
When Lori enter the room, she looked at us with a straight face, and asked:
– How can I help you?
Before Matt had a chance to reply, I interrupted and explained that we needed to type up some official company letters.
I explained that Matt had made a decision to step down from his position as general manager, and he had appointed me his replacement.
I had prepared Lori ahead of time what was going to happen today, and since Lori and I had strong friendship she played along.
– So you see Lori, Matt here has made a decision to surrender himself to me.  He is now in my control.  Isn't that right, slave?
– Yes, that is true.
– You will say, Yes, Mistress, from now on.  Do understand?
– Yes, Mistress.
– Good.
– I guess while Lori is here I can test your level of submission to see if you are ready in your new role.  If I ask you to do something else for me.  Will you do it?
– What do you want me to do?
– The response is Yes, Mistress.  Do you understand?
– Yes, Mistress.
– So, let's try this again, will you do it?
– Yes, Mistress.
– That's' better.  I will tell you what to do.  Lay down on your back.  I will stand over you so you can see my wonderful pussy better.  I will slowly lower myself down towards your face.
When I tell you, you will open your mouth, but keep your tongue in.  Is that clear?
– Yes, Mistress.
– There, are you ready?
– Yes, Mistress.
– Now here comes your first task as my femdom slave.  I will piss in your mouth, and you will drink every drop down without spilling anything.  How do you feel about that?
– I'm ready, Mistress.
– So you will do it?
– Oh yes, Mistress.
– What do you think about that Lori?
– I like to hear him beg for it, Lori replied.
– You heard the lady.  You better beg for it first.
– Please.
– Please, what?
– Please, fill my mouth with your wonderful nectar.
– Now that's sweet.  But just so we are clear, I want you to beg me to piss in your mouth.  And I want you to be loud.  Any problem with that?
– No, Mistress.
– OK then, let's here it.
– Please, piss in my mouth!
– Again, and louder.
– Piss in my mouth, please!
– I guess I can't deny such a polite request.  But before I grant you your wish, tell Lori what you are.
– I am your piss drinking, cunt licking femdom slave.  Please fill my mouth with your piss.
– As you wish.  After a I was done I stood up and looked at Matt's face.
– Did you like it?  Maybe you wanted some more?
– Yes, Mistress.  I loved it, and yes, I wish I could have some more.
– You will, I promise.
I kept my promise and Matt is living his life as a very happy cunt licking and piss drinking femdom slave forever and ever.