My Slave Training by my sublime Mistress
The following weeks were devoted to my slave training. I was no more than a sub trained by his sublime Mistress. It was the education of all time carried out by Femdom Mistress Michelle where I lived most of the time naked. I had to learn how to serve on a daily basis, from waking up (well before Mistress) until bedtime. My days were filled with humiliation and punishment sessions according to the desires of my Femdom Mistress. I was also a sex toy for the pleasure of Mistress Michelle and Chloe. And above all, I had found Jessica. But a different Jessica, more secretive and speaking very little.
She no longer lived in the home of Mistress Michelle and her appearances were always during particularly harsh punishment sessions. I attended her sessions as a spectator and this was becoming less and less often. Not enough time to spend with her. My love for her was only getting stronger while I suffered from the lack of her. I would cry thinking about her when I was alone. I did not know what to hang on to, other than maybe a look that Jessica gave me, from which I sensed her sadness.
I Am Still Hopelessly In Love With Jessica
These glances made me never lose hope. My love for Jessica threw me into the arms of my Divine Femdom Mistress and it was more than my desire and my need to be submitted. But I kept that secret for myself. I only came out of Michelle's apartment to teach classes and sometimes do some shopping for Mistress when she didn't have her purchased items delivered to her.
Thus, I was in charge of receiving deliveries, a good opportunity for Mistress Michelle to humiliate me. For me to understand who I was, or rather what I was now. "You chose this, do not forget my whore. You are mine, my thing, my slave. I order, you execute. I do not care what you think, you obey and you satisfy me, otherwise, I will punish you. Is that clear?" "Very clear Mistress Michelle!"
My Male Pride Is All That I Have Left
"Then put your skirt, white blouse, and apron on. Do not button your top. I want you to be a very sexy manservant with a hard-on." All I wanted was to please her. I still had my pride as a man. That's what Mistress meant to make me lose, for the sake of belonging to her.
I felt terribly ridiculous wearing this very short skirt that my femdom had chosen for me to wear. It was a latex skirt that hugged my hips. Since I started living with her I have been shaving regularly. I shaved my legs, cock and balls, torso, and armpits. I was hairless just like she wanted me to be. The white blouse was almost transparent, I left the top unbuttoned as per Mistress's instructions.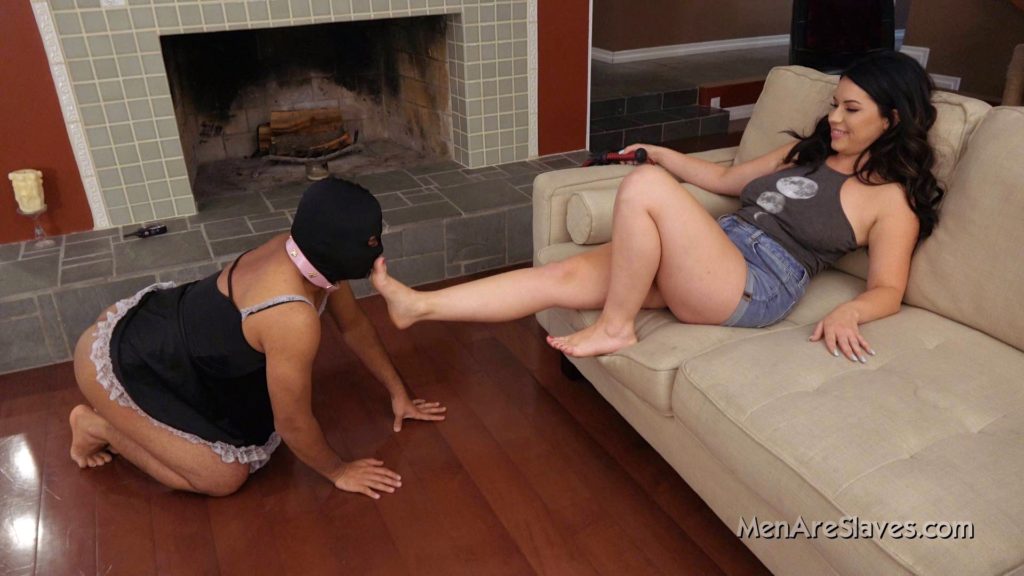 My TransFormation Into A Manservant
Of course, I never wore underwear and I only wore my chastity cage. I adjusted my apron and walked over to Mistress Michelle. Let me see bitch … turn around… I liked the way your ass looks in that skirt. Approach!"I obeyed, frightened by what ideas Mistress may have in her mind to punish me if I didn't do as I was told. I had a right to be scared. She took two vice grips and attached them to my nipples, after having stretched them out painfully in an effort to project them outward as far as they could go. Mistress loved working on my nipples.
"The nipples of a good slut", she said. I was in pain and the clamps were perfectly hidden under the very fine fabric of my blouse. Then she put a wig on me and began to put makeup on me. Eyeshadow, blush, lipstick. "There, a good manservant, with an air of slut. You're perfect, my pet. "The delivery men will arrive soon. Give him a good welcome and be polite, he does a hard job. You should go downstairs and wait for him on the sidewalk. This is the first time I order from them and he does not exactly know where I live. Come on, you filthy little pig. Go out to the sidewalk!"
Waiting For A Delivery To Arrive For My Femdom
Mistress had said her last words before bursting out laughing. I walked down the stairs as ordered by Michelle with the fear of crossing a neighbor or a passerby. Fortunately, it didn't happen. I had to wait 15 minutes on the sidewalk, trying to hide as much as possible, which was especially difficult feeling the eyes of a passerby. I still did not feel the strength to submit to her fully. I still clung to my pride in the face of my Mistress.  I was ashamed. Ashamed of not being up to the task and still a little ashamed of what I was doing to satisfy my Mistress.
Femdom Michelle was right, my training was far from perfect, and I still had a long way to reach the state of real submissiveness to Mistress Michelle expected of me. On this sidewalk, I finally decided psychologically, to make a deeper dive into submission. And to claim what I had become. The whore of Mistress Michelle. A status that no passerby would ever reach. That's what I had to be proud of. And not who I was before. He did not exist anymore. She, that bitch, that obedient slutty bitch, ready to do anything for her Mistress … she alone only counted in my life.
The Thing I Was Most Ashamed Of
The delivery men finally arrived. The van parked a few spots away from the entrance. And I had the unpleasant surprise of seeing not one but two delivery men come out of the van. A big black man in overalls, and a white, rather a small man with muscles protruding through his shirt. Both seemed to barely be approaching 30. And obviously, Mistress Michelle didn't just order she had also briefed them on the situation.. "Are you the slut picking up the delivery?" It was the smallest man who had asked me. I was paralyzed. Unable to answer or move. "Come over here … you didn't think we were going to unload the van by ourselves? For once we have help.
I had approached like a robot while the two men laughed at me. I grabbed the two bags followed by the delivery men. "We'll go up with you so we can get paid!" In the lobby, the black man had pushed me into the elevator. "We're not going to try to take the stairs. The elevator is..shall we say..closer" I did not say a word. I was blushing with shame and paralyzed with fear. But the most disturbing thing I felt was the hard-on I was getting. This was the thing I was most ashamed of.
Caresses From The Deliverymen
Once in the elevator, the two men began to caress my buttocks through the latex. The black man was trying to slip his hand between my thighs but I kept my thighs closed. "Tsssss …. we said we are going upstairs to get paid … you better be nice to us, if you don't want us complaining to your owner. I spread my thighs just enough to feel the giant hand feeling my cock in its cage. Wait a minute, I don't believe it..the slut has a cock cage on." Under his skirt, you see it."
The big black guy seemed really surprised. "Yeah, it must be a chastity thing. I've seen it on the internet. This is to prevent the little slut from masturbating anytime he wants to. Hey, that's why you have this dirty cock cage? You can't stop jerking off, can you? Are you still horny?" "Yes sir, that's why." I was annihilated. I had never experienced such humiliation before in my life. But it was nothing compared to what was waiting for me. When the black man talked about getting paid, I knew I was included in the price.