My First Meeting with a Femdom Instructor
I am going to tell you about the most humiliating and at the same time the most exciting story that has ever happened to me. I was enrolled in a self-defense course for few weeks. This course was created to try to teach people how to defend themselves against attacks/assaults in the street. It was for both women and men. One night during the class, the female self-defense femdom instructor started to give specific, self-defense advices to the women who were attending the class.
I thought theses exercises were not for me. So, I started to talk and laugh with the other men. The female femdom instructor was not pleased by my behavior.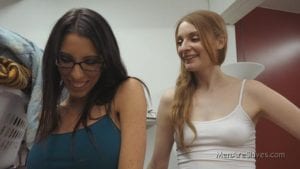 She said to me:
– You, the one who is laughing like an asshole, you should be a good stupid man who would attack women in the streets.
Round 1: Surprise from our Femdom Instructor
I started blushing and everybody laughed at me. She asked me to fake an attack against her. I tried to do what she asked for but I was not convinced. I was really surprised by her quick and strong reaction. I was not expecting that at all.
She grabbed my arm and twisted it. So wen she was finished I was on my knees in front of her. She twisted a little bit harder. So I couldn't move and my face was lying on the floor. My nose was almost in the middle of her naked feet.
Surprisingly, I felt very excited. My cock started to grow and I could not control it. I thought that thankfully for me I was lying on the floor and nobody could notice anything.
Round 2: The Humiliation
But the female femdom instructor asked me to lay on my back.
I had the bad idea that day to wear a really tiny and tight par of sport shorts. Most of the people who were attending the class started to laugh and to whisper as they probably noticed the bump growing more and more. Our female femdom instructor kept going by torturing me and by putting my head between her legs. This movement is called a"triangle" strangulation. I felt a very strong pain. My head was directly in contact with her pussy. I could smell a very strong odor of humidity. I tried to free myself by crawling but unfortunately, it became worse for me. My cock got away from my underwear. Everybody could see it. The more I was struggling, the more everybody could see my cock. I could hear my classmates laughing and making some comments.
At the end, the female femdom instructor released her tight grip.
She seemed so happy as she had made her point.
She watched me leaving the class and running to the lockers room. I was trying to put my cock back in my underwear.
I never went back to this self-defense class again but something happened to me few days after.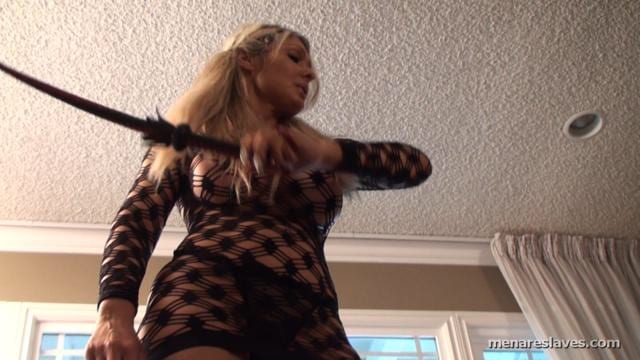 Round 3: Real Life
One evening, I came back very late from my work. It was almost dark. I was opening my front door when suddenly, somebody grabbed me from behind and hugged my throat with his forearm.
-If you shout, I will strangle you!
I recognized the femdom instructor voice. I remembered, instantly, the humiliation I suffered the last time I was with her and I started to have a strong and unmanageable erection. I knew it was better not to resist. Otherwise, she would be capable of holding me down.
We entered into my apartment and we went to the living room.
She put me in an arm lock to put me on my knees.
– I am not done with you yet.
The other day, I saw your erection and you know as well as I do that you are under my control, physically and psychologically. This situation gets me really excited. I am going to release your arm now. I want you to undress and then you are going to lick me until I cum. I am sure you are going to do exactly what I ask you to. You are so excited to be my slave I know you are.
She was right. I had the impression that I could come just by listening to her or watching her. She pulled down her pants and put my face against her underwear that was very wet. My tongue enjoyed her juice. She came very quickly a few minutes later while she was standing over me.
I was Submitted to the female instructor
-Well, well my little slave ! It was just the beginning! From now on, you will be my little training partner during my self-defense class. By the way, you have to know that this class is only for women. So you could expect to be humiliated and even abused by these women. You won't be allowed to cum during this class. I will allow you to cum only twice per week, only because I care about your body's hygiene.
You will be allowed to jerk off only when we take our shower after the class.
During the rest of the time, you will stay at my disposal in my home and you will wear a chastity cage. Is that clear?
-Yes Madam! My dick could have answered at my place!!