Searching For The Dominant Woman Of My Dreams
I finally got a lucky break and got what I fantasized about for a very long time. My good fortune came from an unlikely place. Let's start at the beginning. For as long as I can remember I have always wanted to be in a female-led relationship with a dominant woman. However, the only dominant women I met were professionals. I was looking for a lifestyle Domme. I wanted to meet and serve someone who was into BDSM in her daily life and wanted a female-led relationship. Here is what went down.
I had been on conventional singles dating sites for a long time before I met Elizabeth. Elizabeth was everything I was looking for in a vanilla relationship. She was an Amazon knockout. She stood at a daunting 5'11" with long blond hair and piercing blue eyes. From the first time, I saw her I was overwhelmed by her beauty. However, there was a problem. When we met for the first time over coffee I realized we had little in common. We were on opposite sides on everything that mattered to us.
Our Relationship Will Be Female Led Relationship
So, after an awkward 30 minutes, she decides to leave. Right, when she got up and started walking away she sits back down and says to me,
"Here's how it's going to go down. I will date you under one condition. Our relationship is going to be Female LED. I will decide just what female-led means."
She wrote down her address and told me to be there in twenty minutes or else. In a female-led relationship, the woman sets the conditions and is in complete control at all times. She continued by saying,
"It doesn't matter what you think or believe in. When you are with me the only thing that matters is what I think. Everything will be done for my pleasure exclusively. Think about it and if you're daring enough you will be at my house in exactly 20 minutes!"
With those words, she rose from her seat and left me alone at the coffee shop to think about what transpired. As I sat there dazed, I had a hard time trying to figure out how all this would play out if I decided to meet her in 20 minutes. So with nervous anticipation, I left the coffee shop and arrived at her front door 20 minutes later. She answered the door wearing a sexy silk robe and high heels. She instructed me to say nothing and just do what I was told.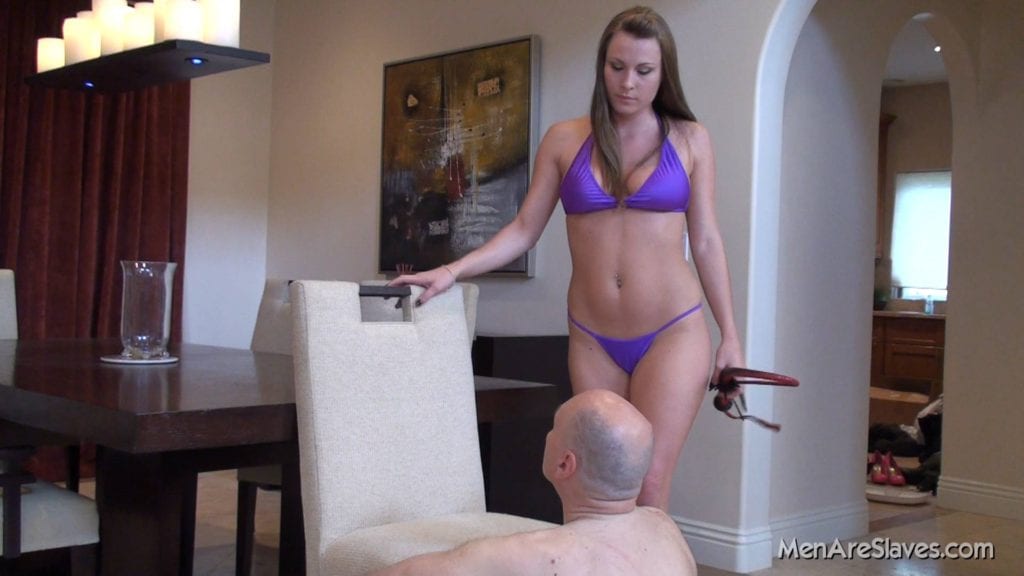 Pleasing Her Orally
On that note, she removed her robe and stood there for a moment naked except for her heels which actually made her taller than me and I am 6'2". I was starting to wonder if this was a good idea.
"Take off your clothes and approach me on your knees. You will worship my pussy until I cum. While you pleasure me I will tell you how our first date will go down. On your knees now! Start licking and sucking me until I tell you to stop."
I get down on my knees and bury my face between her legs.
The smell of her pussy and her juices on my face gave me an instant erection. All I wanted to do was make her cum. After a few minutes, she starts to moan and I feel her body trembling having an orgasm. She pushes my face away from her thighs and says,
"You made me cum once already.  Go to the counter and bring me the box, stay on your knees. Here is how tonight will go down. You will draw me a bath and bathe me for my date."
Difference Between A Whore And A Bitch
She went on asking me if I knew the difference between a whore and a bitch. I crawled towards the counter, grab the box, and gave it to her. The whole time I stayed on my knees as she told me to do. She opened the box to reveal a metal chastity device which she promptly stuffed my semi-erect cock into. After locking it she turned to me and said,
"Now that you're all locked up I will tell you the answer to my question. A whore will fuck anyone, a bitch will fuck anyone but you. I'm going to be the bitch of your dreams or should I say nightmares. After you bathe me you will give me a pedicure followed by giving me another orgasm before dressing me in my little black dress. While I am out, you will sit tied up to that chair in the corner until I return home. I won't be long tonight as I am really going out just to get a couple of loads stuffed in my pussy for you to eat for your supper. After you clean me up, I will reward you with a mouthful of my pee."
She walked to the cabinet next to the counter, took out a pack of rope, told me to sit on the chair in the corner, and tied me to the chair posts.
After she left, I sat there quietly wondering what I had gotten myself into, and even though I was nervous about what was going to happen tonight, I had a raging, uncontrollable hard-on inside my cock cage that was quite painful. Even though I was not excited about giving her oral pleasure with another man's cum inside of her, the idea of her controlling me sexually tapped into my deepest desires that I had longed for, for many years. I was ready and willing to do anything she asked.