Visiting The Local Fetish Store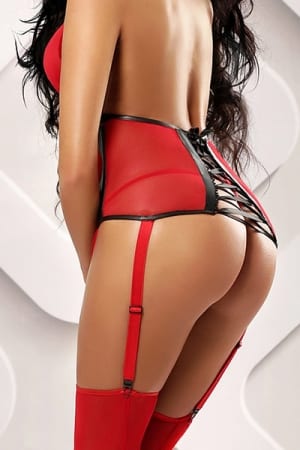 As I started to become more involved in BDSM activities, I decided to attend a CFNM party that I knew a lot of dominant ladies would be attending. So I went to the local Fetish Store and bought accessories to take to the party: cockrings, collars with leashes, ankle and wrist restraints. I want to make it easy for the ladies to restrain me. The night before the party, I shaved my body. Not every lady likes it, but I think a shaven, male body looks good.
When I arrived at the party, I decided to walk in the entrance naked. Luckily there was a car park in the driveway that allowed me to do so. I gave them my ticket and the signed agreement (filled out prior to attending the event) and was led into the room where the free running slaves were. Then, my number was written on my chest.
After all the participants arrived, the slaves were called individually to the main room where the ladies were so they can be introduced to them. I should put my hands behind my head, turn and bend over so they could get a good view of my ass, I thought. Afterwards, the auction began. Two ladies placed bids for 7,5€. Lady Rebecca bought me for this evening and within the scope of my agreement. I agreed to something like consensual non-consent. I was to sit at Lady Rebecca's feet until the rest of the slaves were auctioned off at the CFNM party.
The Slaps At The CFNM Party
She asked me to kneel down in front of her, which of course I did immediately. I looked at her and she slapped me twice, right slap, left slap. Lady Rebecca looked at me expectantly and asked me why I wouldn't thank her for the slaps to the face. I only heard myself saying, "Sorry Lady Rebecca, thank you very much…. "Slap, slap! Two more slaps. This time I thanked her quickly afraid of getting slapped again. She asked me, "Was that right or wrong of me? Do you have a problem with getting slapped? No, it's ok for you to slap me."
"Beautiful," she said pleased. "Now go get me a glass of champagne." I started to stand up and she said, "No… on all fours!" I hurried and came back with a glass of champagne. She was talking to a friend and told me to lick her boots. I licked her boots until she proceeded to give me the next set of instructions: "Take my boots off and massage my feet. I pulled the zipper down and carefully took off her boots. Immediately, her fragrance rose to my nose. She had not showered..I hesitated..then another slap came. "Well..what are you waiting for?" "What's the whole point of being at a CFNM party if your slave doesn't do what their told."
Foot Worship
I apologized for my hesitation and began massaging her feet. She pressed her foot on my nose, "Hey, do you enjoy the smell of my feet?" Her and her friend laughed gloatingly together at me. "Lick!" Was her next instruction. This time I obeyed immediately despite my aversion to her strong foot fragrance. I licked her foot for a long time. During this time, I listened to them chat about her friend's sissy husband. "Oh he always wears women's clothes in the house. Yes he's very well-trained. He loves watching me have sex with my lovers." They continued to chat while I did the same thing to her other foot.
"Wonderful," Lady Rebecca said. "You're willing to serve. On all fours!" She placed the collar with the leash on my cock and suddenly pulled me up. I moaned. "Well, isn't that what you wanted? To be led by your cock?" "Yes," I confirmed. "Then let's go." She pulled me up forcing me to walk on my feet. She led me through the whole party, occasionally stopping to talk to the dominant ladies at the CFNM party. I moaned over and over again.
"So," she said, "You think the crop and cane are ok… Let's take a look…. She led me to the pillory and attached me to it. She started with the paddle on my ass first. I moaned slightly, which inspired her to hit me harder. After a few blows, she grabbed my balls and squeezed them until I started screaming loudly from the pain. "What would you like for me to do to you now?" She asked. The crop answered. She reached for her cane and said, "Count!"
40 Blows
She took a lot of time between blows but became more and more violent after each blow. After 40 blows, I asked for mercy. "So this is already too much for you? … don't you think you should give me a little more pleasure? It's about my pleasure, isn't it?" …. I heard myself say, "Yes, of course, Lady Rebecca." She smiled at me. "Well..", she said while she grabbed a long, thin whip showing it to me. "Do you like it?" "It looks beautiful," I replied. "Count!" She ordered me. You get 40 blows…. And I don't want to hear any whining out of you!" I endured the 40 blows and managed not to beg for mercy. "Very nice," I heard her say while she was still whipping me. "I like willing slaves!"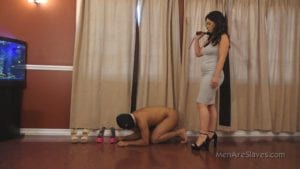 When she was done, she left me on the pillory and disappeared for a while. After 20 minutes she came back and liberated me. She led me to a group of Mistresses with their slaves. I noticed a bench in the middle of the room. "Lay on it," she ordered me in front of the group. I laid on the bench and she sat on my face putting all her weight on it. My nose sat nicely on her panties. Right in front of her vagina. This is where I wanted to be, this is where I feel good… and consequently, I got a hard erection, which one of the other ladies noticed first. Lady Rebecca took her crop out and hit me on my balls. "That's one for having an erection without my instructions," I heard her say.
Lady Rebecca, Mercy
She sat on my face for quite awhile and I enjoyed her sweet scent to the fullest until she stood up and ordered me to kneel down! She disappeared and fetched her bag. In her bag, there were nipple clamps that she took out and quickly clamped my nipples. On the clamps, she added some weights. "Come on, swing them" I heard her say…. "Swing more, try harder." Slap, slap! Again two slaps to my face. "More!" She said. She took off the clamps and rubbed my nipples between her fingers, "You have sensitive nipples?" I confirmed with a nod. She laughed and put the clamps back on turning them 90 degrees. I immediately asked for mercy. "Please Lady Rebecca, mercy!" She played with them a few more minutes and then took them off. I thanked her.
The other lady started with the next challenge for the slaves in the room … Push-ups! Of course, I was obligated to participate. I was more in shape than I thought I was. After the 40th push-up, I felt her foot on my back. "Go on slave. Show me what you can do." She said as she pushed me slightly down. I felt her heel on my back. She increased her pressure more and more until I had to lay down on the floor and could not push up again. She started walking on my back in a back and forth motion. I moaned when I felt her heels directly on my spine.
The Little Souvenir
"Beautiful", she said, that's enough for now. Go get me a glass of champagne!" "Kneel down and massage my feet again. Let's talk…." She asked me where I was from and what I did in my vanilla life. She lived in a town 30 km away from mine. "Do you want to serve me more often?" She asked. She was quite attractive and we had been able to talk well, so I agreed. "Fine. You can accompany me to the car now and give me your cell phone number."
We both got dressed and I carried her bag to her car. After she saved my number on her phone, she took off her panties and pulled it over my head. The most beautiful part directly over my nose. I immediately got a hard cock again. She grinned and said, "A little souvenir for you! Keep those panties on your head! I'll be reaching out to you soon."