The Adjustment
The director was working on a very important and complicated file when the phone rang. He picked up the phone; it was a call from his femdom secretary.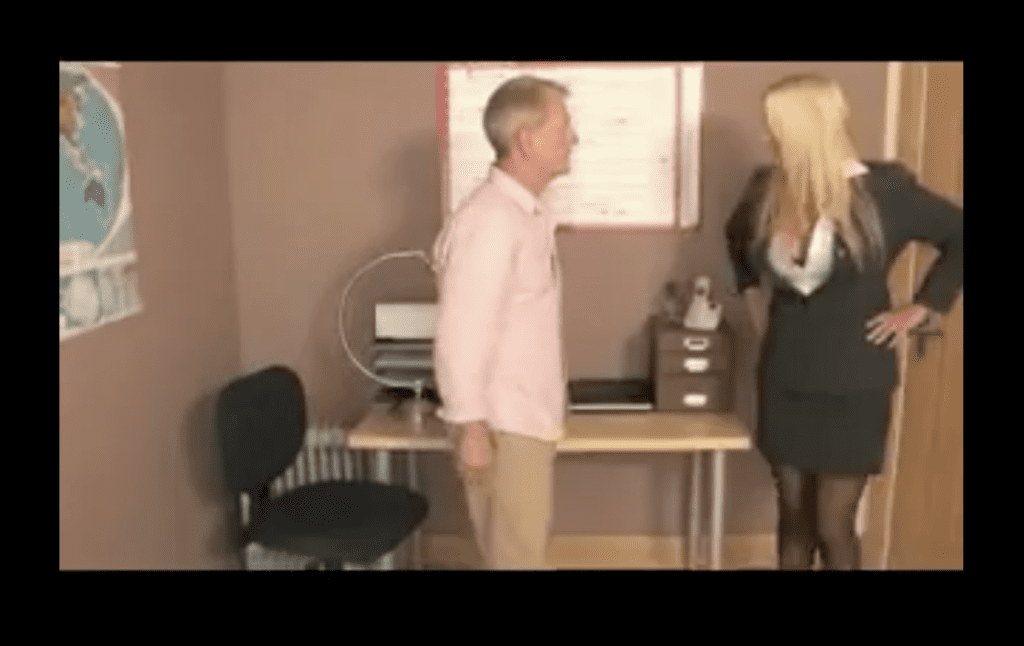 The voice was very harsh. It was like an order. He got up and walked to his secretary's office door. Then, he knocked.
She was at her desk waiting for him. He noticed she was furious.
"Are you angry? Did I do something wrong? he asked shyly.
"And he is asking me why?" She answered
"You don't understand! Come closer!"
He approached with trembling a little.
"One hour ago, didn't you ask me to bring you two coffees for you and your guest?"
"Yes, but it was really important. This man could become one of our biggest clients. So we needed to be very welcoming with him."
"You did not have to ask me that! "She cried, slapping in the face.
He fell to his knees.
"I beg you to forgive me!"
"How could you think that you could be my slave only in private? You are still my slave even at work. If you want to play to be a director, do not do it at my expense! "
"Sorry but I don't know what to do?"
"I don't care but you could buy a coffee machine and put it in your office. Like that, you would not be obliged to ask me anymore to do it."
The director is the slave of his femdom secretary under all circumstances!
Resigned, he pretended to get up.
"I didn't say you could get up. Apparently, we have to clarify some points as you seem not to have understood that you are my slave under all circumstances.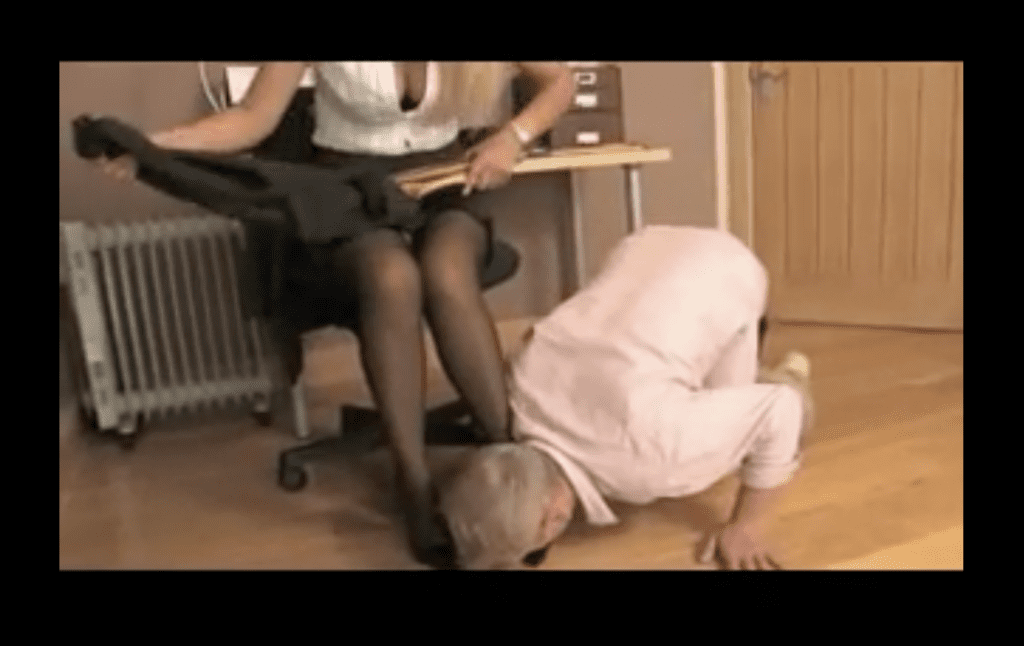 The manager lowered his head.
"First: how were you planning on introducing me to your businessman, now?"
Confused, he replied:
"Don't do it again! Never! From now on, you have to introduce me to everybody as your partner. Secondly, when it's just both of us, you have to prove every time your submission to me. If you want me to do something for you, you must come to my office and get on your knees to beg me to do it. I want you to be on your knees watching the floor each time we are in the same room. Is that clear enough?"
"Yes Madam, but is there someone with us?"
"If there is someone with us, you have to act with me as a chivalrous man who has to behave with a lady. However, if you have a task for me, don't ask me to do it in front of someone. Thirdly, each time I arrive at work or I leave the office, I want you to come to drop your respects to my feet. Do you understand?"
"I would probably have more things to tell you on the way you have to behave with me at the office but one step at a time. Now I want you to change your behavior and you act as I have told you to."
"I will do my best, Madam"
"This is at least what I am expecting from you"
She walked around his desk and sat down.
"I hope you understand now go back to your office."
The director stood up and turned to go out the door.
"Definitely, you haven't understood anything! You must leave by not showing me your back, backward, and eyes down! And I expect you to fall down again once more before leaving the room. Do It!"
Captivated by the natural authority of his femdom secretary
Completely captivated by the natural authority of his secretary, he complied and left. Eva was satisfied with her discussion with Amaury. Her director agreed with all her wishes without arguing as a good submissive man he was despite the fact they were at work and he was her boss.
Then she started to wonder if she has gone too far. She knew how the position of Amaury in the company was really important and strategic. He launched this IT company two years ago. She was working for him for only a few weeks. Obviously, she didn't want their relationship to interfere in the running of the company. She had to be more careful about that in the future by being less dominant but Amaury wouldn't notice this change.
On his side, Amaury was a little bit disturbed but totally seduced after their discussion. He was happy because Eva was a ruthless mistress but because of that, he was also afraid. So, he didn't know how she was going to use all of the power she had on him. He couldn't go back to his work, he was still thinking. Finally, he started to work without knowing what he was going to do tomorrow morning.
A few minutes before 5 pm, the phone rang. It was Eva.
The director went directly to her office. He waited for permission before entering in. Then he came in and worshiped quickly. She had already put her coat on and she was ready to leave.
"What are you waiting for? Honor me as you have to! "
He walked humbly on his knees, lay before her, and kissed her shoe with infinite respect. As she was not removing her foot, he knew he had to go on. She put her other foot on his head to mean that she was his queen and he had to be at her feet every time.
Then she walked very slowly on his back to leave.
She left.
 The day after…
As every day, Amaury has arrived at the office first at 8 AM before everybody else.
The others would arrive from 8 am to 9 am. He was looking forward to the arrival of Eva. She arrived at 9 am precise. He waited a few minutes and he went to her office. He knocked at her door.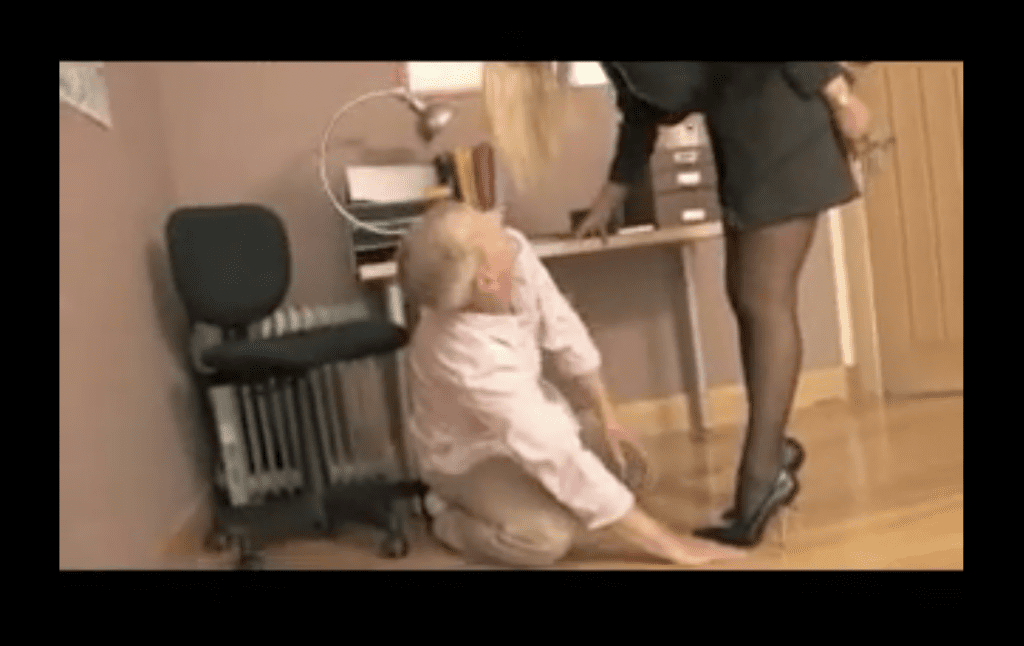 He came in and worshiped quickly. Eva was wearing a very chic suit, tight at the waist and suggesting with her voluptuous elegance.
"My very respectful homage, Madam."
She didn't answer him. She showed him her foot under the desk. He walked humbly on his knees, lay before her, and kissed her foot with infinite respect.
She removed her foot quickly.
"I would like to give you a present"
He took from his pocket a small package.
"Come on" she answered smiling.
He put the small package on her feet.
He gave the package to her. She opened it. It was a beautiful gold bracelet, worthy of her.
"It is a beautiful gift which gives me pleasure. I forgive you".
She gave him her foot to kiss. Amaury was very pleased and licked it.
She put her other foot on his head. While he adored her, she put the bracelet on his wrist and admired it. Suddenly, someone knocked on the door.
Forgiveness for the submissive director!…
Amaury wanted to get up but Eva prevented him from doing so with her heal. No one would dare enter without permission and she knew it. After a while, she said:
"Go to the closet and pick up the shoes. You're going to put them on my feet for me."
Amaury obeys her desire. Gently, he helps her shoes off, then helped her put her new shoes on. They were very elegant and would look great with her suit. The director looked at her and Eva could read in his eyes how he found her beautiful and elegant…
Then they talked about the work and she asked him to leave. They didn't talk during the rest of the day.
At 5:30 pm, the director was still working. All the employees have already left except Eva. While he was wondering why she hadn't already shown up, the phone rang.
"Are you going to be over soon?" Eva asked
"Unfortunately, I still have a lot to do."
"Leave everything, take off your clothes and come!"
Amaury was worried because it was the first time she asked him to do this at the office. He hasn't noticed that all the other employees had already left the office.
He took off his clothes and went to knock at the door.
He entered and bowed once, very deeply. She was facing him, leaning against his desk.
"Approach and show me your devotion, she said, handing him his foot"
Amaury crawled to her and covered her feet with kisses. While she yielded to her adoration, she put her other foot on his head and on his neck. Then she plowed the heel into his back, leaving long red marks. Even if it was not pleasant to him, the passionate exaltation that the director felt adoring his sovereign had he felt just pain.
"Turn around and lie parallel to the office", ordered Eva.
…Then, he has to prove his devotion to his femdom secretary!

After he did so, she got on her belly, then laid on his chest. Amaury stifled a groan. Eva leaned his shoe on his lips, then her cheek. She then turned around slowly retraced his belly, and then crushed his balls. Amaury grimaced in pain but did the impossible for the master. Eva greatly appreciated the attitude of her subject, the suffering he endured with courage for His sake, since she knew he was not masochistic.
She eventually relieved him while she sat on the edge of her desk. Then she gently spread her feet. Her left foot rested on the balls of her subject, while the other rested on his face. So while Eva trampled his balls again with a mix of strength and gentleness, Amaury went about his lips and tongue the sole of his shoe.
Eva stuck her heel in the throat of her subject, which he immediately began to suck with passion. This "penetration" ends up making Eva terribly exciting. Slipping a hand under her skirt, she began to caress while the other, she used to massage her breasts. It was not a long moan …
A heel stuck in the throat and that always sucked greedily, the penis and testicles always trampled by the other shoe, Amaury accompanied his sovereign body and soul in its divine pleasure. She gasped ever:
"Am I ever going to Cum…"
Eva shouted!!!
She took her feet off and she allowed him to worship her feet as the ultimate favor.
Suddenly, she remembered that she had forgotten to send emails that could not wait.
"Follow me. Set my stool at the lowest, setting and turn your back and lay your head on it."
Amaury obeyed. She immediately sat down on his face and typed her message. It was not very long
"I am done. Leave and don't forget to close my office. See you tomorrow.
Amaury humbly kissed her shoes, and then entered his office and got dressed. He remained pensive for a long time… No doubt, since he had met his "funny femdom secretary", his life had changed beyond all his wildest dreams!
A Funny Femdom Secretary
Author : Amaury