Lifetime Responsibility As A Sissy Bitch
Being a sissy bitch, I am the personal property of my strong dominant wife. The sissy bitch position gives me a feeling of security and servitude towards my femdom wife. It is a lifetime responsibility that I enthusiastically enjoy every day. I find myself feeling like I'm on top of the world when my wife takes pleasure in my sissification. Wearing feminine jewelry is the most satisfying experience of being a sissy bitch. Being forced to submit to my owner wearing bangles and a nose ring is a satisfying experience for me.
Now I understand why Asian society is a patriarchal society. If you want to have a matriarch society, sub-males should wear jewelry and makeup with high heels. Being a sissy bitch for more than five years now, I personally recommend wearing a nosering, necklaces, bangles, and anklets with at least 3-5 inch high heels. I enjoy every moment of my sissification. My nosering and long drop earrings constantly remind me of being a sissy bitch while my high heels force me to do the catwalk to impress my femdom wife. Being in a vanilla relationship, I had lost interest in my partner very quickly but being a sissy bitch in a D/s relationship, I feel very fulfilled.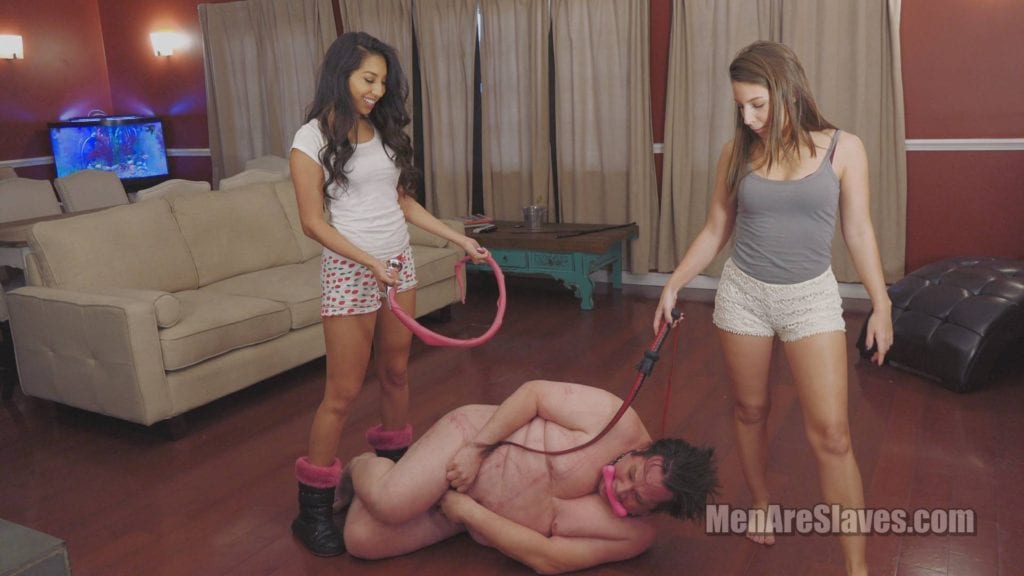 The Evening Was More Exciting Than I Anticipated
Moreover, there is a myriad of opportunities available to get humiliated, punished, and serve in a D/s relationship which makes me feel more alive. I am dictated by my wife's whims anytime I become complacent with my chores. I know the chores assigned to me are designed to improve me as a sissy. It was Monday afternoon when my wife said that some of her friends were visiting this evening and I should be ready to greet them in vanilla attire. Even though her friends knew about my sissification, I was not happy to be presented as an alpha male, in fact, I loved being a sissy bitch in front of her friends, but I did as I was told to do as any sissy bitch would when his wife gave him orders to follow.
I thought this would be a boring evening, but, to my surprise, it was not. My wife knows how to keep her sissy bitch on his toes. This evening, my wife came home with two office colleagues, Cindy and Amanda. They were stunningly beautiful and charming like my wife. I went to the kitchen to make coffee for our guests thinking if my wife had introduced me as her sissy bitch I would have kissed their heels, however, my fantasy was about to come true in a bold manner. When I went to make coffee, I saw my wife had moved the table in the living room to the bedroom and Cindy and Amanda were smiling. I asked, "Where's the table?"
Serving My Mistresses As A Table
My wife responded, "You are our table this evening." I was happy as well as surprised because I felt like They would use me but I didn't know-how. If they were going to use me, why not do it in my sissy dress? I asked myself. Eventually, I was about to get all my questions answered. My wife ordered me to remove my clothing while Mistress Cindy ordered me to do it in front of the mirror.
Removing my clothes in front of others was easy but watching myself do it was humiliating. I hesitated for a moment. My wife noticed my hesitation and slapped me. "Take your clothes off now and get on your hands and knees in front of us," my wife said. Immediately, I did as I was told. They took a few sips from their coffee mug and placed their coffee mugs on my back while on I was on my hands and knees in front of them.
They both laughed at me and started interrogating me. "Who are you," my wife asked. "I am your sissy slut slave, madam," I replied. "You're not wearing your sissy dress. How did you become a sissy," Mistress Cindy asked? My wife ordered me to dress like an alpha male. That's why I didn't wear my sissy dress," I replied. "So do you have your sissy attire," Mistress Amanda asked? "Yes madam," I replied. A sissy bitch is meant to be fucked for our entertainment. Are you ready," Mistress Cindy asked. "I have had the butt plug inside of me many times, Mistress." "Today we will teach you what it means to be under our heels," my wife said.
Being Penetrated With Heels
She sat down on the floor next to me and caressed my balls with her heels while Mistress Cindy took her heels off and put them on my head. While I am taking great pleasure in this scenario, all of a sudden, my wife suddenly started penetrating my ass with the heel of her shoe. As I started getting hard, Mistress Cindy took one of her shoes off my head and said, "Suck my heel."
Mistress Amanda said, "Not a single drop of coffee should spill from our mugs." It was very difficult balancing the coffee mugs while my wife penetrated me and I continued to suck on Mistress Cindy's heel. I had kept her heel in my mouth while my wife inserted her entire heel into my ass. Suddenly, my wife removed the coffee mugs from my back and instructed me to stand up straight. I was naked with one heel sticking out of my ass and one in my mouth, feeling deeply satisfied. "Go get your sissy dress from the bedroom and put it on when you come back to the living room." Being fucked in both holes and ordered to wear my sissy dress made me feel exhilarated and exhausted at the same time.
Pain Is Pleasure
However, pain is a pleasure for a sissy and even though I was exhausted I didn't hesitate to wear the Bridal themed necklace and nosering with the chandbali earrings, 20-20 bangles in each hand, and anklets with 3 inches high heels. The panties I was wearing were supporting the heel in my ass and I still had the other heel in my mouth. All three mistresses were laughing at my expense and enjoying their coffee while I was ordered to remove the heel from my mouth and lick their feet and heels.
This is the beauty of being a sissy, even if you are not wearing your sissy attire your adrenaline is always high from the anticipation of your mistress always coming up with new ways to showcase your devotion to her or getting new ways of humiliating or punishing you. When Mistress Cindy and Mistress Amanda left for the evening, my wife gave me short electric shocks on my nosering just to punish me at her whim. I find my wife's sadistic side to be very erotic. She later defined new chores for me.
My New Chores
1) I must wash her feet with milk in the morning and drink it.
2) I must wash her sandals with water and drink them.
3) Every morning and evening, she will punish me with electric shocks on my nosering and earrings.
4) I cannot remove my sissy attire without her permission. I am supposed to stay dressed as a sissy bitch all-day
5) While doing all the above chores, I must chant, "I am meant to serve my beautiful wife, she is my goddess."
6) Every morning and evening, I have to chant 108 times "I am a sissy bitch of my wife, I am meant to please her."
My life is completely devoted to Her, my femdom wife, the ultimate gynarchic queen.