Being Humiliated By My Divine Femdom Wife
The best thing about being a sissy is being humiliated by my divine femdom wife. It validates my self-worth. Yesterday evening as I was at home doing chores for my divine femdom wife in full sissy attire, I thought about how she had not punished me lately.  She usually never goes more than a week without presenting me with a new challenge to prove that I am a dedicated sissy slave pet and I always prove my devotion to her. I love wearing my sissy dress and am proud of it.
While I was at home with my wife doing my usual chores someone knocked on the door.  I walked toward the kitchen window to see who was at the door. I saw it was Mistress Cindy knocking at the door. Even though I am not allowed to look at a Mistress' face (only her feet) I still took a peek at her beautiful face.
New Challenges To My Test My Devotion To Sissification
She had a mischievous smile on her face like something was about to happen. I had expected some changes with my chores or punishments or some humiliation sessions to keep me devoted to my sissification but my wife is usually the one that assigned those tasks. Based on the expression on her face, Mistress Cindy seemed to be in a playful mood and as I found out later, she had an idea that I found completely unexpected.
I walked to the door with my divine femdom wife and opened it to let her in. Mistress Cindy immediately entered the house and asked, "How dare you look at my face. "I am sorry, Mistress," I said. My wife slapped me hard and said, "Is this the way you say sorry sissy." I know I kissed Mistress' feet last time without permission and I loved getting punished so I kneeled down in front of her with the intention of kissing her feet.
Blind Follower Of Sissy Mannerisms
"Kissing my stilettoes is only when you are obedient, you must lick the soles of my feet for saying sorry," Mistress Cindy clarified. I didn't think Mistress wanted to punish me today but she felt she needed to correct my mistake. When I was done licking the soles of her feet, she asked, "How are you feeling now?" "This is my true worth Mistress… to be under your heel".
When I was done licking her feet, Mistress Cindy ordered me to look at the ceiling without looking at her or my divine femdom wife. I, very carefully moved my head to look up at the ceiling as I was ordered. While I was staring at the ceiling, my divine femdom wife grabbed my face and opened my eyelids wider and looked straight at me. I felt like she was looking deep into my soul. "From now on, you will blindly follow my orders," and she proceeded to spit in my eyes. Similarly, Mistress Cindy also spat in my eyes. Both of them giggled at my humiliation and I felt happy for it. Maybe today I was going to learn the meaning of blind follower of sissy mannerisms.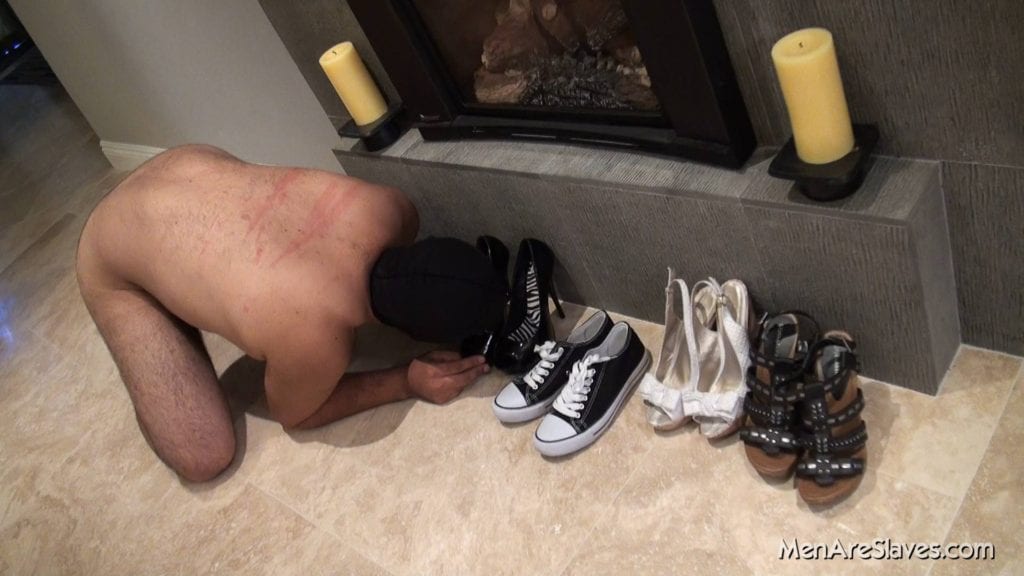 The Silver Colored Prada High Heels
"Go to the bedroom and get your inflatable butt plug and bring my silver-colored PRADA high heels," my wife commanded. Even though I wasn't allowed to think analytically, sometimes an analytical mind is essential to completing my sissy tasks. I carefully walked to the bedroom and walked toward the closet. Opening the closet door, I put the heels in my mouth and based on the length I could identify her Prada shoes. I wasn't able to identify her shoes so I brought her all the heels in the closet. While I was in the bedroom, I inserted the butt plug inside of me knowing my divine femdom wife would want to use it during a punishment session later.
I walked toward the living room where the dominant women were waiting for me. My divine femdom wife stomped her foot on the floor and said,  "Kneel below my feet sissy." Once I got my face under her feet, she started trampling my face. Wearing a nosering and getting beneath your wife's feet is like surrendering your soul to her. I was getting an erection and felt like I was about to cum. "You were asked to bring one specific pair of heels but you brought all 16 pairs," my divine femdom wife said in an authoritative voice while she was trampling me.
Lick All The Heels Until You Find The Ones I Want
Based on the expression on Mistress Cindy's face, she seemed to enjoy watching me getting trampled by my wife. Part of me was disappointed she was not also trampling me. "Last week you had cum on your wife's heels and you didn't lick it properly. "We want you to lick the heels until you find the one you came on." A sissy always gets punished for not completing a task properly. I loved the way my wife always enforced that rule. I licked all the heels until I recognized the pair that I came on as I was addicted to the taste of cum. As a sissy, I was not allowed to waste any cum on my wife's shoes.
"Go put the rest of the pairs back in the closet, Mistress Cindy said. Slowly, except for the shoes I came on, I carried the rest of the shoes and walked back to the bedroom, making sure I kept my head lowered like my dominant mistresses wanted me to. Now the punishment session begins. I walk back to the living room and I get on all fours like in doggy-style position. "Put the heels you came on, on top of the butt plug inside of you," my wife said.
I Will Always Serve Her
Once I was balancing the heels on my butt plug, my wife says, "Now keep reciting who you are." "I am my wife's sissy slut slave, I am meant to be humiliated for my wife's entertainment." While I was saying these words, Mistress Cindy was inflating the butt plug increasing the pain inside of me. For a sissy, pain is a pleasure. She warned me if the heels fell on the floor she would remove my nosering and the rest of my jewelry.
Being the sissy slave that I am, I never wanted her to remove my nosering. My jewelry defined my femininity and I loved wearing them. Mistress Cindy said that she will play more humiliation games and punish me more often if I am a good slave.  I did whatever Mistress Cindy and my wife told me to do for the next three hours. Mistress Cindy left a few hours later and I continued with my house chores.  As promised, my wife changed my house chores so I can continue on the path of sissfication. I will forever be beneath my wife's heel and will always be here to serve her.