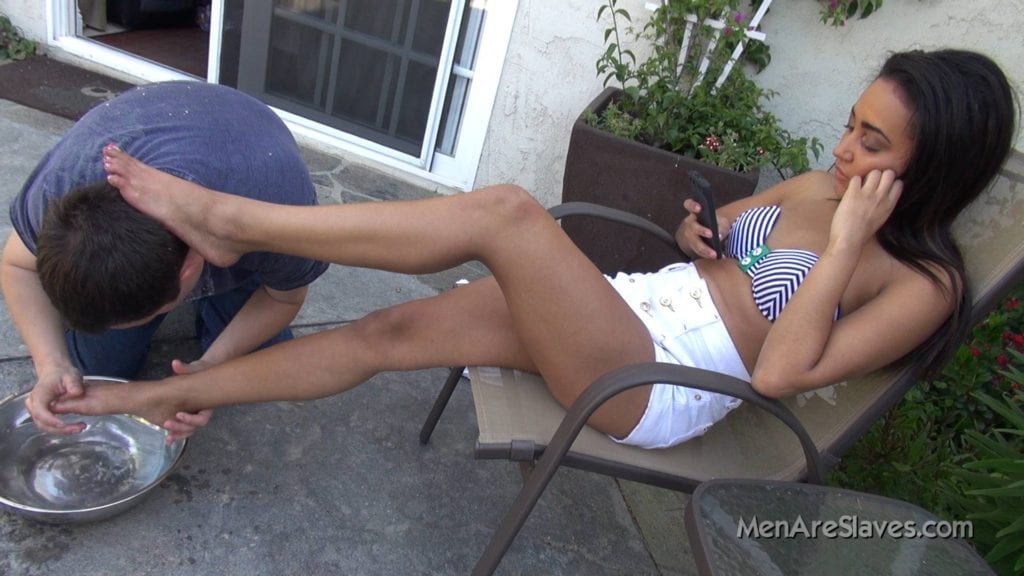 My Subspace State
Time seemed eternal as I considered my place. The scent, the sensations, and my bound wrists all combined put me in a truly submissive subspace state. I could feel my own juices drying on me as I waited for the next stage of the weekend.
Goddess Aislynn returned with a glass of wine and sat on the bed in front of me. "I am going to let you down and give you a break m, but I want to keep you in this mental subspace state. I want the feeling of being an owned slut to continue so when I release you, you "get down" for me automatically."
As she released my wrists I climbed off the bed and into the "get down" position with my ass raised and my head down. I heard Goddess Aislynn get off the bed and move around the room. The next sensation to hit me was the crop on my thighs. "Spread fuck toy, it's time for you to start getting used to another facet of your training. Sluts need to be filled and you will learn to remain filled for me. Much of your time with me will require you to be plugged so let's not waste any time and begin now." Her words stopped and her actions began. She put lube on my ass and began to work a butt plug into me. It was larger than the dildo she used to fuck me with. I felt the POP of the plug securing itself in me.
The Butt Plug
Then came a surprise…the plug grew inside of me…I looked back as I heard her pump the plug and squeeze the bulb attached. I was filled to her satisfaction. She again put the cock and ball harness on me and I felt her working on the whole adornment. She hooked a leash to the ring on the leather encasing my balls and told me to get on the bed ready to worship.
As I did, she looped the leash up and through the ring on my collar. The last step of hanging the leash handle on a hook on her bedpost left me feeling like an animal like a horse secured and waiting for its next ride. A few whacks of her crop furthered this feeling and she came to sit on the bed with her pussy in my mouth …time for Goddess Aislynn to relax and enjoy the view of her pet.
"You are doing so well m, you have pleased me and have been rewarded. I have found my submissives tend to feel far less submissive when they have cummed so you will learn to be taken a bit deeper into your service role after each time I take your cum. This may mean entertaining me, being humiliated for my pleasure, or just being plugged, bound for me as you are now and your mouth filled with my pussy."
Goddess Aislynn's Power Over Me
Her power over me felt even more intense each time she spoke. The plug made me feel so full and the leash configuration ensured that each and every movement I made, every little shift made me feel a tug on my balls. Goddess Aislynn drank her wine and continued her chat with me.
"I know from your Lady that you are a busy salesman in your vanilla life, always in control and dealing with all types of people. When you are here…when you are under my control…you will be owned by me, used by me, and made to do whatever I wish. Are you fully aware this is your role here?" I replied that I was and she began to venture far deeper than I expected.
"I want all of you…the pet, the fuck toy, and the servant but I also want things your Lady may not have expected. We will sleep soon and you will do so with the plugin you and secure to the bed. Tomorrow you will lose yourself in subspace and become more than my slut.