A Femdom Secretary – Part 3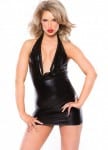 The day after, the director was absent when Eva arrived at the office. He was at a meeting outside the office. He came back to the office at the end of the morning. He came to say hello to her.
"Come in!": she said after he knocked at her door. Amaury came in and he bowed down in front of her.
The secretary was dressed with a long skirt. She was wearing a belt that highlighted her thin waist. She was wearing also a very nice neckline blouse.
As the weather was very cold this day, she has put on some very nice boots. She looked very pretty in a nice dressed like that.
As always, Eva noticed that Amaury liked the way she was dressed a lot.
Amaury kissed the boot she was presenting him. While he was telling her about his meeting, someone knocked at her door. She ordered him to get up.
"Yes, Come in!"
A very nice pretty female face appeared at the door.
"Hello Eva, Hello Sir, I am going to go out and get something to eat. Do you want me to bring you something?"
"Thank you Lisa but I have already had something to eat." Eva answered.
"No thank you Lisa. I don't need anything." Answered the director. He was quite embarrassed.
"Ok then see you later" Lisa left.
Amaury feel back on his knees at the feet of his mistress.
"She is a really nice girl! You know how to recruit your female employees." Eva said while she was laughing.
"Go on telling me about your meeting!" she ordered him.
The director made her a resume of his meeting. Then, the phone rang. She picked up the phone.
After minutes of a conversation, she told me :
"Drop your pants and your underwear! Then you will suck my boots!"
Amaury was surprised but he decided to obey to this order.
While she was still on the phone, Eva kept controlling her slave. She pushed him to lick the soleplate of one her boot then to suck the heel.
He started to be really excited.
Then she pushed his face on the floor. She then put her feet on the head of Amaury.
He thought her conversation on the phone would never end. Suddenly, she asked him to leave her office. He went out by crawling and put his pants and his underwear back on when he was back at his office.
At the end of the day, once all the other employees were gone, Eva and Amaury stayed alone. Eva called Amaury.
"Take your clothes off and come straight away!"
The director knew that he still had some work to do but in fact he was looking forward to her call. So he was really excited to obey her order.
In a second, he was naked at her feet and licking her boots.
Eva said:
"Kiss me everywhere!"
His lips went up along her boots then he started to go under her skirt..
''No kiss me through my clothes!"
He did what she asked then he lingered on at her sexual parts.
She seemed to be very pleased and excited.
She took his hair in her hands and pushed him to continue. So he kissed her belly then her breasts.
She took his head on her hands and started to kiss him. At the same time, she removed her blouse and bared her breasts.Then ,she invited him to kiss her gorgeous breasts.
During the first few minutes, she let go by enjoying the passion of her slave. She was really excited.
"I am so excited Amaury, so excited…"
Suddenly, she lifted her skirt and pushed Amaury down. She pressed his face towards her lady flower by taking him by his hairs.
"Make me cum!"
He licked her lady flower with a lot of passion but quite and slowly at the same time. Her thighs tightened around his face. She trembled and whined. She was getting a lot of pleasure.
She dropped a little cry and then after a while she shouted. Eva stiffened few seconds, then relaxed softly, stroking the hair of her submissive man.
However, she hasn't had enough pleasure yet.
So she turned and pressed his face into her buttocks.
"Lick me!" she said.
While stroking her buttocks, Amaury sought her anus, as he licked a long, long time … Meanwhile, his hands had come up to her breasts, which he gently stroked her nipples as they hardened by pleasure. Eva began to gasp.
"Oh God It is so good!!!"
Eva leaned forward leaning on the desk, spreading her legs and brought up again Amaury's dick. She wanted to enjoy again … He licked from behind, passionately, madly … she adored …
"Yes go on, go on!!!"
She went crazy … incoherent … The pleasure beamed up to her belly … She felt herself cum … cum … It took her time to regain her senses … It was long shuddering. .. She had rarely enjoyed much …
Eva sat down and put her dress back in its place. She felt overwhelmed and considering her sex slave bowed low before her, she decided to reward him.
"You can masturbate on my boots!"
After a look full of gratitude to his sovereign, Amaury straightened somewhat and began to caress himself. It did not take him long to cum, and his seed was spread on the boots of his sovereign …
"Lick now!"
Overcoming some reluctance, he complied immediately and soon all traces had disappeared.
"Well, my slave. I wish you a good weekend. See you Monday."
Amaury laid on the floor, face against the ground before his sovereign. Eva took her things, and climbed over him in her high healed boots. This was her final enjoyment for the evening as she left the office. As she left she truly felt the complete power and she felt fully, fully sovereign and adored…
Finally, He could hear her walking away down the hallway….
author : Amaury