A Femdom Secretary -(Part 4) :the submissive director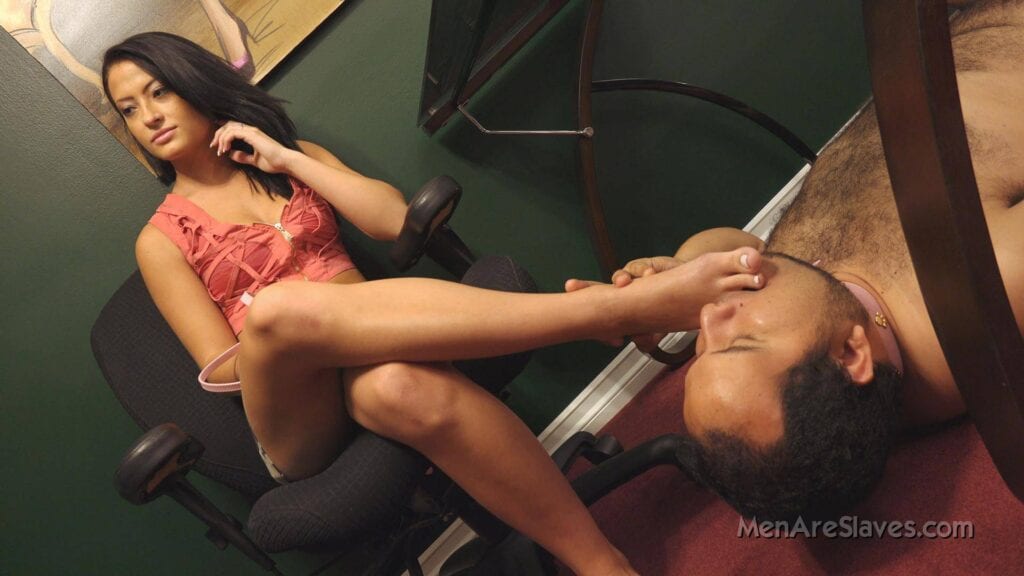 The following Monday, the submissive director came to Eva's office to say hello following the rules she had elaborated for him. They started to talk about what they did during the weekend and then they went through there plan for the day. Amaury asked her to do some filing and archiving.
"Well, those two job are not very exciting"
"I really ask you for your forgiveness Mistress but I have so much work to do. I have new contracts to take care of and I have to be ready for the arrival of a new trainee."
"A trainee?"
"Yes he is a student in his final year and he wants to do his internship in our firm. His resume is very interesting. He could be very helpful for us. He is coming tomorrow."
"So I agree to take care of that"
"I am so grateful to you for that Mistress!!"
"On the other hand, I want you to be at my disposal at 5 pm, no matter what …You can leave now!"
"I will do as your wish, Mistress"
Amaury kissed her heeled shoe with a lot of respect and left.
At the end of the day, as scheduled, Eva told the director to come to her office. Amaury took off his clothes. Once he arrived, he was dazzled…
"What do you think about my new dress? She asked him with a big smile.
She was wearing a gorgeous evening dress split from top to bottom. This dress had a corset that highlighted her thin waist and her gorgeous breast.
"You look like a queen, the most beautiful queen !!!"
"I am glad to hear that!!! Come closer and make your tribute as I deserve it!"
He crawled up to her and kissed the bottom of her dress. Then he laid on the floor.
Eva put her heeled shoe on his head and she climbed on his back. She walked on his back slowly, taking her time.
Despite the pain on his back, Amaury felt a lot of pleasure.
She went down from his back and she sat on a stool and turned her back.
"Get up and come closer!"
He obeyed and was quickly behind her. Eva took his hands and put its on her breast. Then, she put his head close to her neck.
"Kiss me … Cuddle me..!"
Amaury was delighted to follow her order. He licked her shoulders, her neck, her ears… Eva started to be excited…
She turned around and started to unbutton her blouse. The director kissed her breasts with passion. She moaned of pleasure.
"I like it a lot when you kiss my breast like that. Do it again and again!!!"
Amaury was very excited by this order. So he went on with passion.
Eva couldn't wait any longer. She was too excited… She kissed him and she took his dick on her hands. At the beginning, she started to jack him off and at the end, she let her submissive director penetrate her.
"I want you to make me cum but you are not allowed to come!" She ordered him.
Amaury accomplished her order with passion. He started very slowly then his movements got going.
But to prevent his own pleasure for cuming too quickly, he had to slow down. This change increased the desire of his beloved mistress. So he knew she couldn't wait and she was ready to cum…
Eva had the impression that she was going to turn crazy …she had so much pleasure… She shouted very loudly…
Amaury kept going faster and faster…
At the end, she had her orgasm…
It took a long time for Eva to recover after such a great and strong orgasm. She stared at Amaury who was lying on the floor at her feet.
She was happy with him. He didn't take his own pleasure and he succeeded to give her a strong orgasm, as she had never felt before.
She decided that he deserved a reward.
She ordered him to get up and to sit on the desk.
"That is the way I like to see a man, naked and submitted to my orders for my own pleasure." That is what she was thinking.
She started to suck his dick greedily and very slowly. She still wanted him to wait before coming.
"You must wait!" she ordered him.
"I beg you My Mistress. I want to cum now"
"Don't you dare do it!" She answered him.
She kept jacking him off. Amaury couldn't wait. Suddenly, he came…
He feel to his knees, with his eyes down.
"I beg your forgiveness My Mistress but I couldn't bear it. It was too strong."
"I forgive you but now you have to clean what you did!"
He had to lick his own love juices.
"I do not feel like changing my clothes again and I do not want to drive with this evening dress. So can you drive me at home?"
"I will be really delighted, My Lady"
"Well go and dress yourself up. I am waiting for you."
He hurried to obey. When he was back, Eva was ready to leave. She was gorgeous.
They went together to the underground car park.
Thankfully, it was late and they didn't meet anybody. Once they arrived at his car, he laid down on the floor. That way, she could use him as a footboard to get into his car.
Eva was really pleased by this mark of respect and submission.
When he was driving his beloved Mistress home, the director thought he was the happiest man of the world.
By: Amaury