---
---
This is how I had my first fantastic BDSM Experience.
A friend at the gym told me about an upcoming Halloween party and begged me to go with him since he did not want to go by himself. The party was in an hour and I didn't have time to go home for a costume, so I finished my workout as fast as I could, wearing my running tights went to the closest store, and bought a mask.
When we got to the party I noticed almost everyone was dressed in BDSM costumes.
Almost immediately a beautiful Woman dressed in leather came over to me and said; you have an odd costume dear. Didn't you know this is a BDSM-themed party? No, I said, this was a last-minute invitation, and not knowing it was a BDSM party, I thought getting any mask would be enough. Now I feel like a complete idiot. She smiled at me and that's when I noticed how sexy she looked in her perfect black tight outfit. Inevitably I started to get hard and my cock was pushing through my running tights. She gazes right at my crotch smiled again and asked me if I wanted to go out on the deck and talk.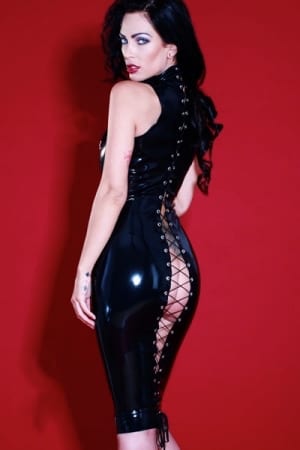 After a few drinks, our conversation turned into BDSM. She told me she was not only pretending to be a Femdom, that she was a very Dominant Woman and love submissive men for real. At this point, I wanted her badly and with the alcohol taking effect, I told her it has always been my dream to be dominated by a sexy Woman like her.
She took my hand and lead me to a room in the basement.
In the room, there was a St. Andrew's Cross, a couple of bondage tables, and stocks. I would love to show you how this works she said, you only need to follow my lead. She had me stripped down to nothing, told me to get on my knees, put my head and hands in the holes, and lowered the top down and locked it. She picked up a paddle and started paddling me hard, making my ass red and burning. After twenty whacks, she came up near my head and whispered in my ear; "you took it so well" and that made me wet.
She started nibbling on my ear, and slowly dragged her nails down my back as she walked back to the table. She picked up a pair of nipple clamps with weights and clipped them to each of my nipples to pull them down. I never felt so aroused, I was totally under her spell. She told me the only way I was getting out of there is if I agreed to serve her for the weekend and do as she ordered for the rest of the night. Of course, I said yes as she twisted my right nipple hard.
She walked to the table and grabbed some ice that she found in a bucket and slowly put it on my cock to make it go soft. I didn't understand why she was doing that, so I asked her why would she want me soft. She explained my cock was hers for the weekend and it needed to be locked up. She fitted a metal chastity device around my cock and balls, it was not comfortable at all, I have never worn anything like that but I didn't say a word to complain. After I was caged, she unlocked the stocks and ordered me to get on four as she fastened a collar and leash around my neck.
She led me to one of the tables, sat down, and told me to kneel before her under the table. I got under the table in a flash watching her already opened legs. She pulled her black lace panties aside and said in a very demanding way; " You know what to do next pet"! I have never felt this aroused, the only thing on my mind was to please her, so I obeyed without hesitation.
I started by licking slowly every inch of her gorgeous shaved pussy. Next, I focused on her clit and felt how it was getting and that's exactly the moment when I sucked it until she moaned with delight and squinted on my face. Her orgasm lasted long, it was very strong and I enjoyed every second of it. I was dripping through my cock cage while I was licking her clean. She put her panties in place, closed her legs and she looked into my eyes, and said: "I think I am going to keep you".