The BDSM PET
She told me to take all my clothes off and to refill her glass with wine. Without hesitation I started to unbutton my shirt, I took it off, and then my shoes, my pants, and my underwear. I felt embarrassed but tried not to think because I didn't want to disappoint Mistress in any way.
After filling her glass and giving it to her, she told me in a very demanding way to kneel. She started to walk around me, I was looking at the floor without saying a word. She said, well pet now I am going to tell you how things will work from now on, so pay attention because I don't like repeating myself.
Every time I tell you to come and see me, you will make the arrangements to get here on time. As soon as the door opens, you will take off your clothes and kneel until I tell you differently. You will not speak unless I am talking to you or asking you a question. You will do as told always and if you want to say something, you will raise your hand. I asked you to write a list of the limits you have, so now I know what to do and what not to do at least at first.
So pet, you will be trained to serve me as a good slave. Listen, observe, obey! I am the one giving the orders, I am the one making every decision, I am the one that punishes, I am the one that decides if you deserve me as your Mistress or not. Understood, my BDSM pet? Yes, Mistress.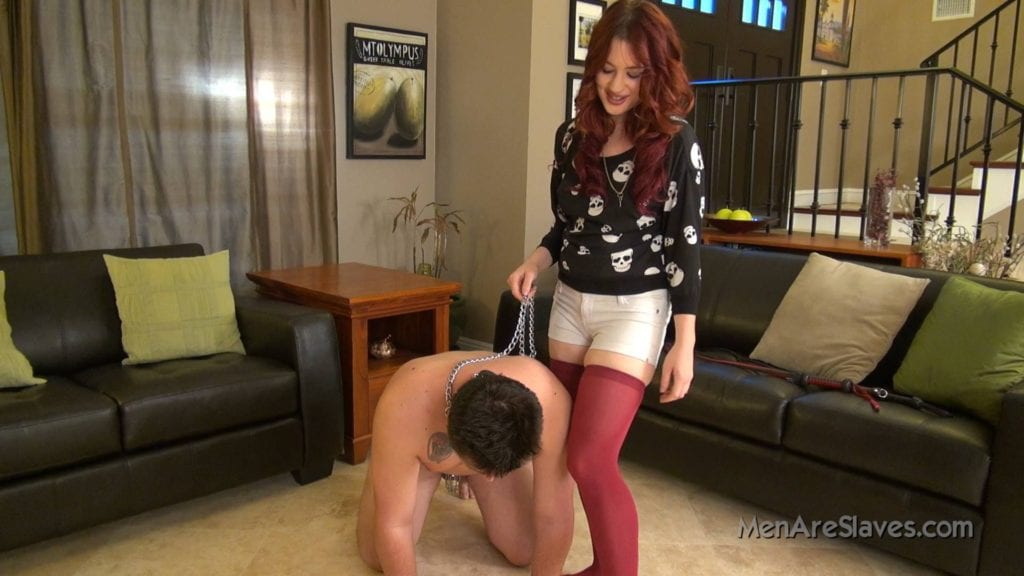 After she stopped talking, she went behind me and put a collar around my neck, she added a leash to the collar and said, this is for you to never forget you are a BDSM pet and pets get trained, do as told and they are punished if they do not obey. I am your Mistress, I own you!
She pulled me by the leash and I followed her walking on four. After 5 minutes, she stopped and told me to kneel, and put a piece of cookie in my mouth. Some of it fell to the floor and she asked me to eat it from there. I was starting to feel uncomfortable but I did what she said. She pulled the leash again and started walking and I followed, then told me to stop and let the leash go.
She went to get her glass of wine and went to the sofa to lie down. I was looking at her, admiring her beauty; her hair was silky, her makeup was impeccable, her lips were so perfect, and every curve of her body was outstanding.  She caught me staring at her and took the whip that was beside her, stood up, and came to me. She hit me on the back and said. Since when a slave stares at his owner? You do not look at my pet, in my presence, you will always look down if you don't want to be punished. Understood? yes Mistress, please forgive me………..