United With My Strong Femdom Mistress
The purring of the car's engine on the highway rocks my thoughts. Nearly 100 miles of road separate me and my soon to be strong femdom mistress. It was a little over a year ago that we connected. Our innumerable exchanges on the internet had slowly forged our D/s relationship. My desire to try everything with you and be dominated by you is overwhelming. You, who is much younger than me, is so insatiable. A few months go by and everything changes. My first divorce, then my early retirement from work, and finally..my freedom.
On your side, the relationship with Charles has stabilized. You spend each night with him when he is not away on a business trip. Your relationship is still not accepted by his parents and you are secret with him. But this arrangement is not enough for you. You are lacking enjoyment and pleasure that you have yearned for, for so long. This is where we decided I should do slave training. I finally arrived and park near your car. It's late … almost 10 pm… You wanted me to arrive late when the kids were in bed. You open the door and say, "Well, Christian, I don't think we understood each other, I said "naked." So go back to your car and get naked and come back." I only have enough time to see your pretty face before you close the door.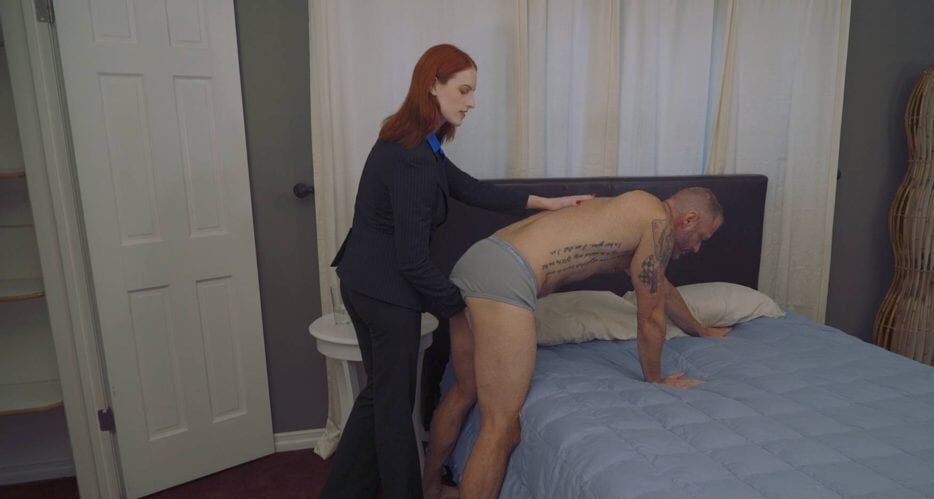 Enter My House Naked
It's cold this time of the year but I'm not going to make things difficult. It's dark and it seems like I am the only one outside. So, I undress in my car, put my cock cage on and store everything in the trunk, then walk back to your door with a worried look on my face. Phew!!!! Nobody in sight. I knock softly on the door again. You open the door, staring at me from head to toe. Perfect!! Naked with your cock cage on but where are the keys?"  I hand over the keys to my cock cage and my car.
I enter your house with my hands instinctively hiding my cock. "No point in hiding it. I like watching your cock struggle to get hard in its cage. "Yes my strong femdom mistress," I said. "From now on, you will address me as Mistress Linda." "Yes, Mistress Linda." "Good, now follow me to the garage. I have something special planned for you." I follow her. Her car is not there. A pair of handcuffs are connected to a chain attached to a peg on the wall. She handcuffs my hands behind my back and puts a collar around my neck. "So now you are my slave. Pay attention to what I am about to tell you. I don't care about your fantasies or desires.
I Control You For The Rest Of The Week
The only desires and fantasies that are going to be fulfilled are mine. By accepting to participate in this test, I will make all the rules and I will push you to pass your limits. I will decide whether you get to stay here and be my slave or go home." "And if I don't agree with your terms?" I asked inquisitively. "You don't get it. I have your keys, all your documents. Nobody knows you're here. I'm going to park your car in the garage and turn your phone off so no one can contact you. You're mine for the rest of the week."
A shiver runs down my spine and my cock hardens which makes me grimace when my skin presses against the metallic edges of the cage. "I see this arrangement pleases you!" "I……" "Well since you had a long road trip, tonight I will let you sleep in the garage on the futon. Tomorrow we will start your real training, but for now, here is a sneak peek of what your training will consist of. Lie on your back on the futon." I immediately lay on my back and you take your skirt and panties off and sit on my face. "Lick me now and make me cum!!" the strong femdom mistress said.

Immediately, I begin to lick you and swallow your secretions. You start to gyrate your hips on my face. I hear you moaning. Within minutes, you have an orgasm squirting cum all over my face. I excitedly lick every drop of your cum. "Open your mouth wider slave." I open my mouth. You start to urinate in my mouth. "Drink every drop!! Not one drop should be on the floor." A long stream of urine is released and fills my mouth. I drink it all with one huge gulp. Without a word, you get up, put your skirt and panties on and walk out of the garage. I am left cold, alone and uncomfortable sleeping on the concrete floor in the garage and I have a bitter taste in my mouth..I cannot sleep.