FEMDOM MARRIAGE
''I am still thinking but I can't see any other options. Femdom Marriage. You must become my slave."
After these words, there was silence. Jim knew he had to pay close attention to what she just said. The talk would be complicated, obviously, he was not in a good position to argue while he was on his knees and he is massaging Emily's feet.
"I mean you know it will be better for both of us, at least we will be fixed."
She was expecting an answer.
"You know, I think it will be no indication, we have already tried to talk about this subject and I didn't agree. Since then, I haven't changed my mind on this subject."
"But look at you! You are on your knees massaging my feet! I haven't done the cooking or housekeeping for months. I am the one who decides how we spend our money. I have control over almost everything in your life. Why don't you want to admit that? In the end, if you do accept this situation, nothing will change in your life."
Jim knew it would be difficult to argue against his princess who was actually right. However, he wanted to keep the illusion of still having a bit of freedom and he knew what a domination contract would mean.
"The word "almost" is important in your sentence. That means I still have some liberties and If I were your slave, we could not have this discussion."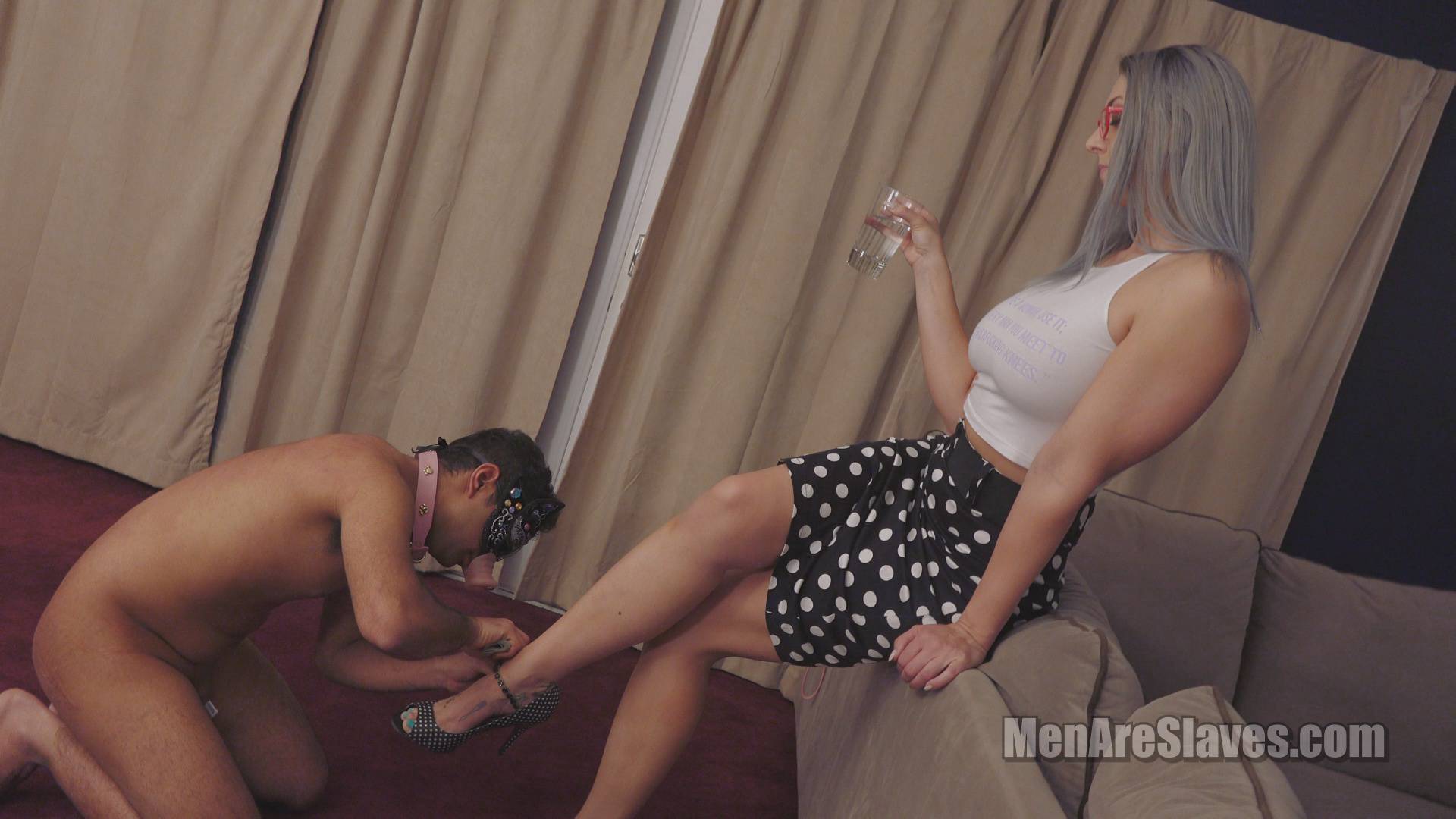 Emily looked at him with amusement. She leaned back on the sofa to emphasize her superiority and stretched her foot so she could continue to enjoy her massage.
She knew Jim very well. She loved his submissive side, but also his ability to resist. This temperament only accentuated her desire to dominate, the challenge motivated her desire to annihilate his last misgivings, and the game could begin.
"How do you consider yourself then?"
"As a man in love very attentive to his wife"
"Be my slave. I know what you really like, your desires betray you and I know you dream about it each night and imagine some stories when you feel alone."
"I am not giving you enough?"
"My appetite is growing. When we begin to enjoy the princess's life, we want to take full advantage. I want you to be mine; I want to control your soul and your body. You know this is the best thing to do for both of us. Give me control. We know both you are always afraid when you have to take an important decision. You ask yourself too many questions. You can fall into depression at any moment. Without me, you could hardly survive in real life. Let me remove your liberties and your rights. The only thing you would have to worry about is to take care of me and to obey my orders. Your life would be easier and peaceful."
All that she had just was so truthful that Jim stopped massaging Emily's feet. No doubt, Emily knew him well.
"Emily, our story is about complicity. We need to spend some more time together, go to the movies or have some drinks at a nice pub. I would love to go on vacation with you. I think if I become your slave, we could not share things like this anymore all these precious moments would be gone. Emily, I love you and I know you are right on a lot of points but I am not ready to let all these moments disappear."
"I agree with you we need to share these moments but if you become my slave, there is no reason not to have some good times together. You read too many stories about this on the Internet. I am not going to destroy you or consider you as an object. I want you to trust me enough to give me control. We will become one. I will be the mistress and you will be my slave and we will share the same happiness. I am quite surprised that you, the anti-conformist, could believe all the stories that you read on the Internet."
There was a silence between the two of them. Emily watched him with intensity. Jim felt completely lost not knowing what to think.
Emily nudged at him lightly in the face.
"Don't stay like that without doing anything!!! Go and make me a cup of tea. Then, you will massage my back. I really need it."
Jim went and prepared two cups of tea and came back to his beloved, and started to massage her back.
And now the second part of the discussion could start.
"You have disappointed me. I am not one of these women who believes that women are superior to men. They are no better than their male counterpart. I think all the websites on the subject are made by men just in order to excite all the submissive men like you. I don't understand why human beings are always trying to show their superiority. There are no dominants or submissive's. There are only different worlds.
Let's take our relationship for example; my world is made to govern yours nothing is complicated."
Jim hated disappointing Emily it was his biggest fear. Sometimes, Emily likes taking advantage of it but this time she felt really disappointed. She knew it would be very difficult for Jim to accept to be her slave but she also thought that Jim was totally wrong on this subject.
"Give me your cup of tea."
Jim gave his cup of tea to Emily and she spits on it several times.
"It is true this is not an easy decision to make but think about it very carefully. Do you think there is another way?"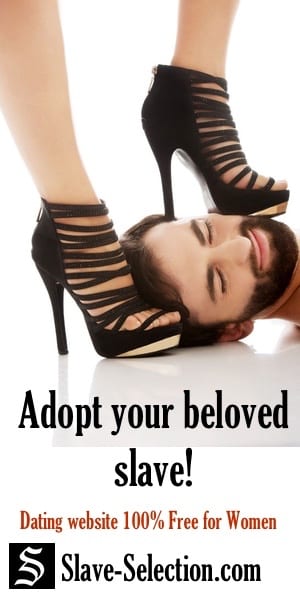 Jim watched his cup of tea with the spittle in it and then he took a big gulp before starting his massage.
"You are right about this story of different worlds. However, we are very young and you know that the main aim of my life is to have my own children. I want to have this family with you but I doubt it is possible to be your slave and to have a family at the same time."
"Come in front of me"
Emily began to caress him and saw his erection.
"Were you excited from the beginning?"
"Yes"
Emily smiled.
"I was pretty sure. You would end up by accepting this Femdom Marriage."
Then, the couple started to have sex.
"I want you to lick my feet."
"Of course my princess!!!"
Jim slipped to the foot of the sofa and gently licked Emily's feet. Then, she laid comfortably and she used her cell phone to put on some music. Her choice fell on a pyramid Radiohead song and it's on the staccato rhythm of the piano and the melancholic vocals of Thom Yorke she sank worn by these delicious caresses.
They were well found.
By: "Takenoko"