My sissy slave Dream
The three Women laughed in unison. It was my Wife's birthday and She had invited over her two best friends for dinner. Kristy and Samantha. Kristy, a tall blonde with a very nice butt and perfect double-size tits. She had that captivating look to her and such an amazing body. My sissy slave clit got hard practically every time I looked at her.
Samantha was beautiful; white skin and green big round green eyes. She was outgoing and always wore revealing clothes with no bra. I think She liked when her tits would pop out as her nipples were always hard. She had caught me staring at her tits and I think she liked to know that she could turn me in anytime she wanted to be my Wife.
The worst part about this evening was that I confess to my Wife I had a crush on Samantha. It was stupid of me to tell her, but I woke up in a stupor and confided that I had a wet dream about Samantha begging me to put my penis in her ass. I knew that if she found out I lied to her about the dream, then the punishment would be much more severe.
So now I had the feeling She had made this dinner just to get back at me in her tormented way. The women were halfway through their third bottle of wine when Samantha called me into the dining room. I had been serving them dutifully all night and I started to sweat as I stood in front of them.
"How do you get him to be so obedient Marissa? I mean, I have never met a guy who will play the waiter all night."
My Wife interrupted Samantha;
Samantha and Kristy went silent with shocked expressions on their faces.
"His cock is way too small and pathetic to fuck," she continued.
Kristy almost spits her wine but holds her laughter. My face went hot red and I looked at the floor.
"You want to see what I am talking about girls?"
Kristy and Samantha looked at each other nervously as my Wife got up from her chair and instructed me to remove my shirt.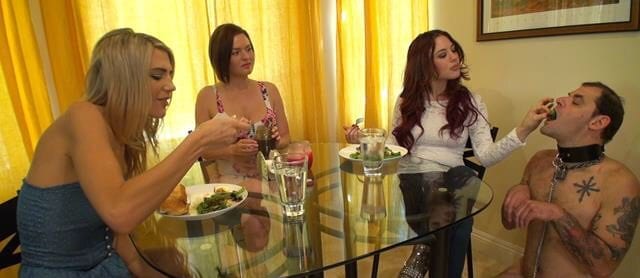 Total Humiliation for sissy slave
Kristy inquired,
"What are you doing Marissa?"
My Wife said no word, instead, made me climb on the table so that Kristy and Samantha had a better view of me.
"Come on drop your pants so my friends can see what I am dealing with!"
I hesitated to let them see what was underneath, I didn't want them to know. They were gorgeous, I lusted after them and now my Wife wanted to humiliate me.
"Show them your little secret!"
"Please, don't make me do this, you said you would keep this a secret," I said.
"It is a secret hun, I just want to share it with my friends since you are dreaming about them so much."
I could see Samantha and Kristy confused as my Wife chided me about my dream.
"I want to turn your dream into reality, now move!"
I loosened my belt and let my pants fall around my ankles.
Women's mouths were wide open as they saw what I was wearing;
"Are those panties?", Kristy asked.
I was so embarrassed standing a few feet from these two gorgeous women. They were laughing uncontrollably about me wearing a pink lace thong.
I went to reach for my pants, but my Wife stepped on my pants and slapped my ass.

She snapped the rubber lace. I was frozen and could not speak.
"Now twirl around so they can see your nice ass."
Then, I turned in a circle trying to avoid eye contact as Samantha and Kristy looked on in shock, giggling.
"Hun, c'mon don't be shy. I think he is being shy because he has a crush on you Kristy."
I shot a glance at my Wife; how could she do this to me? Certainly, l did not want to tell Kristy my secret desire.
Kristy chimed in;
"he does, does he?" she burst out laughing and looked over to Samantha who was also laughing.
I could not believe how embarrassed I was. Standing on the table wearing panties in front of Kristy. She must have been laughing at how ridiculous I looked. Really I just hoped this would end soon.
My Wife went on;
"yeah, he told me that he had a wet dream about fucking your ass."
I looked at Kristy who had her mouth open in shock. She wasn't supposed to know, that was a secret between me and my Wife, and she wasn't supposed to tell her friends. In case she missed it my Wife reiterated it to Kristy.
"Can you believe, this grown man standing on the table wearing pink sissy slave panties, wants to have sex with you? Do you want to girl, because maybe I will let you?"
I couldn't believe it, my Wife was actually trying to get me to have sex with her friend and Kristy did not seem to protest.
Samantha giggled and said,
"Well, it looks like he has a nice bulge in his sissy slave panties."
The Ladies turned to each other in agreement as my Wife continued.
"C'mon let them see what that bulge is all about."
She slapped my ass again but harder. I did not want to be there, the panties were the only thing keeping me clothed, so I tried to delay. My Wife got more insistent,
"Take these pretty little things down and let them see that nice 'bulge' underneath."
I did not want to, I was frozen with fear and felt so vulnerable. I looked in panic at the two Women who had their eyes on my panties, there was nowhere to hide. My Wife's friends looked at each other as my Wife came from behind me.
She quickly yanked my panties down around my ankles as I stood there in front of them. The girls went pale and Samantha asked,
Chastity Device.
My Wife was happy to tell.
"It is a chastity device," to lock his dicklet in a tiny cage that prevents him from getting even the slightest erection. That way I know he can't touch himself and can orgasm only with my permission.
"You mean he can't masturbate either?" Kristy asked.
"Nope, and I haven't let him cum in over three months."
"How is that possible? He must get really horny," said Samantha.
I stood there naked on the table as this discussion went on.
"Well it is pretty simple actually; since I have this key, I decide when and if it comes off. The best part is that he gets so horny that he willingly does anything I say with the hope that I allow him to relieve."
It was embarrassing to have my Wife explain my situation to her friends, but it was true. I had lost complete control of Her and she obviously knew it. I wanted to cum so bad that the possibility of a release was often all I could think about.  My Wife always made me do degrading things, she would make me eat her pussy for hours, she also said that my ability to stay caged made me a better lover and that I could make her happier by pushing myself to stay locked away longer.
"Oh someone likes this, I can see. You like it when I touch you, even if it can't get hard in here", don't you boy?  Or is it because of your crush on Kristy?"
Kristy looked alert.
"That is what you said right; you want to fuck Kristy's  butt."
The thought made my dick try to get hard and my Wife immediately noticed.
"I will take that as a yes, as this cage is getting awful small all of a sudden.My husband is a twisted little sissy slave pervert. Look, ladies!"
My wife pointed and pulled my hands away as I tried but could not control my dick shoot down and near the end of its metallic cage.
Sissy slave gets butt-fucked
Kristy confused stood up while I was ordered to lie down on my back.
I crawled across the table hanging my head to avoid the glances at Samantha sitting there. Couldn't see what my Wife was doing, but I didn't want to anger her if she would let me fuck her friend. I looked sideways and saw Samantha sitting in the chair and noticed through her mini skirt, she was wearing no panties. She caught my glance.
I looked at her tits as nipples poked through, they were pierced, and seeing that made my dick fill the plastic. She saw my gaze and her eyes darted as Kristy entered the room with my Wife.
"Aren't you lucky I am going to let Kristy fuck you? You haven't got to cum in 3 months; aren't you excited? ANSWER ME!" She yelled.
The girls chortled.
My Wife grabbed my legs and rolled them in the air as my back rose up and attached my wristlets to my ankles, she let Kristy grab my ankles and my butt exposed to her.
My Wife continued.
"Kristy, I want you to fuck my husband, while I watch. He has not been able to stop talking about it, so just go ahead."
I was so excited; Kristy is so hot and had a perfect body. I could not wait to get my chastity off. My Wife pumped a lotion handle;
"Just make sure you don't touch his little sissy slave clit, I don't want it to accidentally have an orgasm from you putting this nice rubber cock in his ass."
I could see Kristy had a large lubricated rubber cock.
"What hun, I wanted to make sure Kristy got to see you getting fucked like the little sissy slave slut you are. I hope you didn't think I was going to let you fuck her like a man. I want to see you get butt-fucked!"