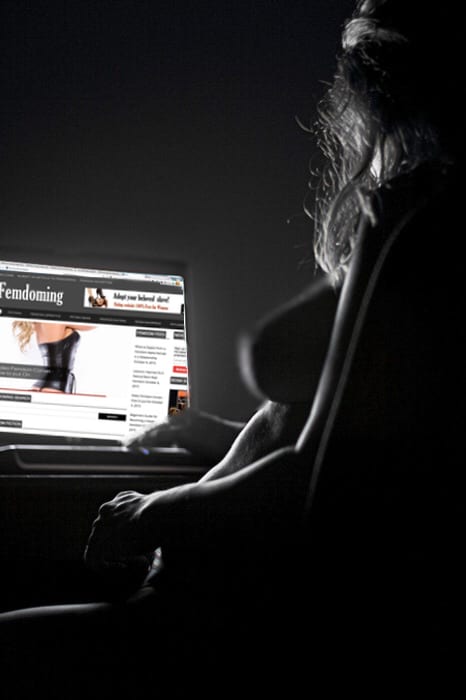 We met on a regular online dating site, talked, made sure of the adequacy of each other. I sent her my photos, she sent her but on it was "wiped face". This dominant woman explained this to the fact that she does not want to shine before the time.
We phoned, understood that both adequately assess the situation, and agree to meet blindly. If something goes wrong, we'll just break up and that's it. We agreed on the fact that I was forbidden to speak without permission, to ask something. I should show a gesture with my hand. If she wants, she will let me ask, then she orders me to do it, she does what she wants with me. I have to endure it if she does something not like in my behavior, she could punish me physically to her taste.
Understanding Punishments
If I refuse to endure the punishment then we say goodbye because it is important that I adjust to it but it is not playing my sex fantasy.
At the appointed time, she rang the doorbell, calmly ordered me to take off her cloak and shoes, then went into the room and sat in the armchair, ordering me to pour her wine. (I pre-dressed as a waiter, black trousers, white shirt, and butterfly beforehand). She was in a dress, shoes, stockings and her face hid by the theatrical mask covering the upper half of the face.
Sitting in a chair, she, with an even voice, ordered me to kneel, put a collar with a leash around my neck, and ordered me to take off her shoes and stockings and caress her feet with my own mouth, while she herself stimulated herself with her fingers.
Collared and Leashed by this dominant woman
At some point, she pulled me by the leash to her and my face was between her legs and heard from above her voice-if I do not like it, then you will be punished, I want to finish, you have 10 minutes.
I tried but failed for the first time, after which she ordered me to kneel, buttoned my hands behind my back, and began to beat me with a thin female strap around her chest while ordering me to look her in the eye. She beat me until, from my eyes, splashed tears of pain and shame then she pushed me to the floor with a push of her foot and as soon as I tried to get up and with my hands tied behind my back it was not so easy.
Submitting to the pain of Her punishment 
She kicked me off with a shove of her foot on the floor and after some time, amused myself by pressing on my body with her heels. I'm like a worm under her feet writhing in pain but afraid to ask for mercy because I am not allowed to speak and the punishment can be much harder and I could only cry.
Then pulling me by the collar ordered me to kneel down. She's wearing a strap-on, she began rudely. I had a gulp while spitting it on my face and she slapped my face and sometimes held my nose with her fingers so I could not breathe. I was torn with vomiting spasms. She ordered at the same time to look her in the eyes from the bottom up and at this moment I was most crushed and humiliated.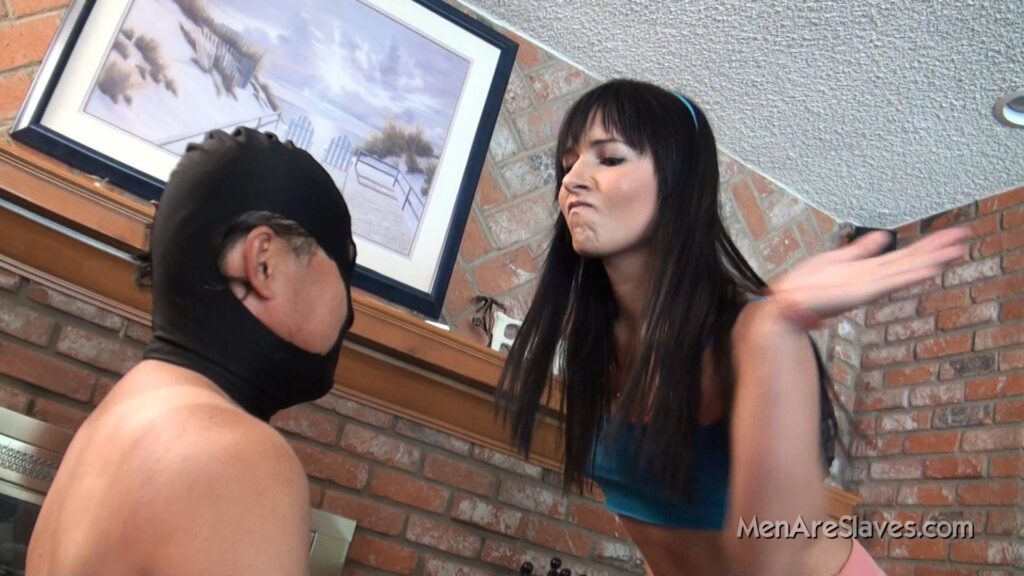 After which she took out a chain, a long chain of a few meters out of the bag. She linked it through the battery and on both sides of the chain she wrapped them around my wrists and closed the locks between the chain links. It happened that I was confined in a pose of cancer to the battery.
Heels pressing my back to the floor, she ordered me to lift my ass up and turn to face the mirrored cupboard. So I can see the emotions on my face as she fucks me, she came in from behind me. A dull strong pain broke me from the inside and I tried to pull away but taking me by my hips, she pulled me to her and started fucking me unconsciously in the ass.
Feeling like a used whore
I felt like a whore, and somewhere deep down in my heart, despite the pain, fear, shame, I caught my high from the fact that I was so harshly humiliated by a beautiful, More selfish, cruel dominant woman. The colder she was to me the more she admired me.
Having played enough with my backside, she sat down in the armchair to relax and poured herself a glass of wine, and I by her decree, kneeling with my mouth caressing her feet. After which she took hold of the hard chair, I was ordered to keep the tongue in the area of the clitoris and then when she had finished, she wiped my face between her legs and then ordered me to lie on my back with my mouth open.
A Golden Shower from my Online Dating dominant woman
Standing over my face, she began to give me her golden dew in my mouth and I began to choke. What I received with it was a kick in the side but still, I did not have time to swallow all the urine and a lot of it remained on the floor, then for the sake of my fun, she began to press on my body with heels and Again writhing like a worm under her feet from pain but already in a puddle of urine. When she was tired of it she forced me to wait, face down, and only when she leaves could I get up and shut the door. While saying that I was not the first to call, otherwise I will be punished and for the next meeting, I have to call in advance.