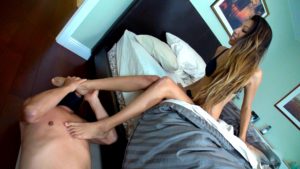 You Are My Fucktoy
I hear a growl in protest. Quietly I continue rubbing and teasing your hole. I can't help but stare at your cock…swollen, engorged…so gorgeously hard… "I want your ass, baby. I'm going to take it baby. You are my fucktoy and I am going to do what I want with you!! You shake your head and protest…but your cock is so hard…I don't believe you…I think you want it…You crave it fucktoy…!!!
I dip my finger again in my pussy…and again I rub your hole. I press and my finger slips easily inside. You grunt and clench your ass around my fingertip. "Shhhhhhhh. Just relax baby. Just relax., you are going to enjoy being my fucktoy" I spit and lube up my finger more as I work it into your ass. Slowly, gently I fuck your ass with my finger. I begin to moan and gasp at the site of your ass being penetrated.
I get all of my finger inside you and work your hole. Your cock stiffens every time I slide in. I slow my pace and carefully watch. Painfully slowly I ease in and out of your ass. Your breathing in sync with my penetration. You are allowed just the smallest amount of movement and you move against me. Lifting your ass to me as I enter you.
"Mmmmmmmmm….my fucktoy likes that, I see…" a soft laugh from me. "I told you…you will take it and you will like it. You like it, don't you, baby?"
The Assplay Continues
"Mmmmmmmmm…" your head slumps back on the bed. "That's it…relax…take it all in baby. Mmmmmm…god you are so sexy." I pause for just a moment. You respond with a frustrated sigh. I pull my finger out and softly kiss your asshole. You flinch slightly at the change. A soft moan escapes you. I then spread your ass cheeks and stick my tongue in your hole. A muffled yelp from you as you feel the cold of my tongue enter you. A muffled laugh from me as I work the piece of ice into your ass with my tongue. I wriggle my tongue around in your hole as it clenches around my tongue.
You like it. I hear a long, low moan as I fuck your ass with my tongue… occasionally slipping in small pieces of ice. Again I see precum oozing from the tip. You feel my cold wet tongue slide from your ass to pause at the perineum to work it's way to your balls. I feel your sack tighten in response to the cold and you grunt again.
I slip another piece of ice in my mouth and swallow your cock. You jump and pull at the ropes…your upper body coming up off the bed. "Mmmmmmmmmm" I moan around your cock. You feel so good in my mouth. I suck it in deeper taking it all as I once again slip a pussy soaked finger in your ass. You moan, this time approval, as I suck and fuck you.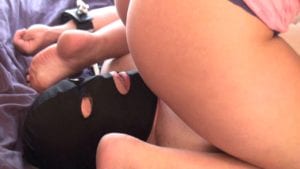 Forced Facesitting Session
Your breathing is harsh and ragged. Your moans stiffed with the gag in. Roughly I grab and stroke your cock, while I suck the head and fuck your ass. "I want it… I want that fat load of thick sticky creamy cum…it's mine and I want it…every drop of it fucktoy…"
Snatching the gag out of your mouth, the deep guttural sounds coming from you stab me deep in my cunt…I want and need that pleasure….so I will take it!!!
Straddling you again I bury your face. You rub your face all over my pussy, slathering my juices all over your face. You moan loudly as you eat my pussy. "Mmm…oh god…taste so fucking good….oh yeah…mmmm" I grab your hips and pull you to me. I bury my tongue in your ass and fuck you till a beautiful string of precum leaks out of you.
I stroke your head against my lips…try to stick the tip of my tongue in your cock hole…I'm squeezing your balls as you bite my clit…my body suddenly shivers, betraying my control…it's building… too fast and too intense to stop it…I begin to whimper trying to block out the biting and sucking your hungry assault has brought to my pussy…I'm ravenous for you…for that delicious load waiting to be released…
Swallowing Your Cock
I go after what I want with a renewed energy…I swallow you up, squeezing your balls, my finger slips back into your ass and you again move in sync…"Oh fuck yeah…oh god please…make me cum…don't stop till I cum…PLEASE DON'T STOP…" you beg me.
I suck, squeeze and fuck you harder, barely able to keep control over my own body…
I feel your body begin to twitch and shake…or is it mine? Our breaths are equally ragged and harsh…panting, moaning as it builds…I pull from your cock as I allow you to make me cum.
It's intense…I sit back and smother you as my pussy succumbs to your tirade. Screaming in delight as my body uncontrollably jerks and shakes…you won't release my clit until I am done…my hips buck and I feel a gush as you wriggle your face in deeper…I hear you moan as you suck on my hole and my cum fills your mouth…again you lift up to go deeper into me…lapping at my quivering cunt…softly moaning against me…"So good….mmmmmm…so fucking good.."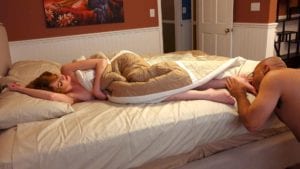 We Both Cum Together
I stare at your cock for just a moment grabbing it roughly and squeezing it, stroking it a bit before going down on you again. Slowly, I remove myself from your face and suck you again… sucking your balls into my mouth and squeezing them…stroking you until you are panting…stuttering, trying to tell me how much you like it… "Oh my god I'm gonna cum…oh god yes. I'm gonna cum!" Ripping the blindfold off I watch you watching me suck you off.
I suck and stroke you as I feel it building…again I slip a finger in your ass and fuck you.
"Oh fuck yeah!!! Fuck yeah!! Fuck yeah!!! AAGGGGHHHH!!!!" …I feel warmth… taste sweetness…I feel it flood my mouth…My gaze still locked with yours as I empty your cock…I pull away and stroke a few more times…fat dollops of cum squirt out onto my lips and hand as your face contorts in exquisite pleasure…licking up my treasure I come to you…kissing you deeply…filling your mouth with cum…I reach and pull on one of the ropes, setting you free…you grab me and return the kiss…a low growl coming from you…