A Lonely Night Trying to Find Dominance on a Chat Site
Just killing time one evening and I decided to go on one of the chat sites.  I had been on a number of times and nothing had ever come of it. Trying to find a woman of dominance was difficult.  However, sometimes it was fun and I found some interesting conversations.  Conversation would be the beginning of this particular evening but certainly not the end. This particular site had everything you could want or imagine. A section for straight, another for spanking, and on and on.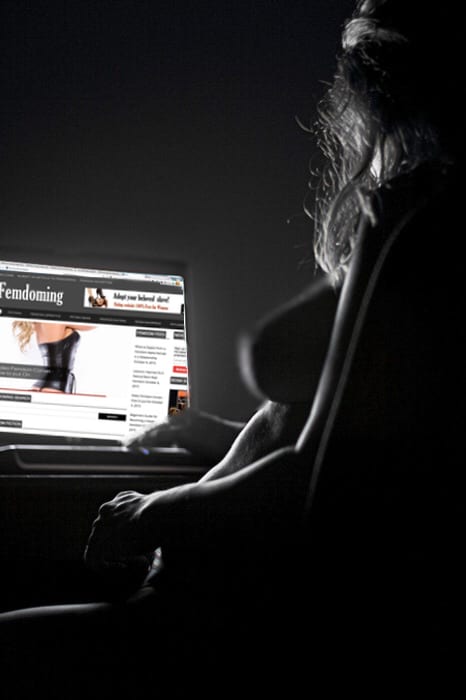 Sections:
 There must have been twenty or thirty different sections.  So one of the section's was for Dominant Ladies and male submissives or slaves.  That was the one I choose. I was not initiated to this lifestyle, but I had a little experience from watching porn channels and reading.  I must admit that the whole idea fascinated me, and I would like to get into it sooner rather than later.  Little did I know I was about to get my wish, and then some.  
So I began my little visit by scanning up and down the list to see if there was anybody I recognized and had enjoyed a conversation with before.  Not finding anyone, I just began with age and a little on their type of dominance.  I preferred the mature ladies and definitely the ones favoring erotic dominance.  Things like face sitting and body worship were my favorites. 
The hunt:
I tried a number of the ladies, but they all seemed to be busy.  The odds were never very good.  If there were say 100 people on this chat site, maybe 15-20 would be ladies.  So I kept  on looking and finally got a response from one.  It was a Mistress by the name of Lana and she was in her early fifties.  Just perfect for me.  I couldn't tell what she was into but that was ok.  I'd figure it out. 
I wrote a short message saying hello and wondering if she enjoyed or tolerated beginners as well as enjoyed erotic dominance.  It took awhile, but finally I received a brisk note.  "What do you want"?  As I said earlier, it wasn't always easy hooking up with such terrible odds.  So I jumped at this, said hello and explained about the desire for an older domina and erotic dominance. 
My Fishing Trip:
She said it sounded like I was on a fishing trip, but I should get down on my hands and knees and tongue bathe her beautiful heels. Wonderful.  My first contact of the night and already I'm down worshipping her shoes and I hoped soon to get to her feet.  In a few moments she mentioned that I should get the other shoe also.  As I was shifting over, I stole a glance upwards right to her amazing pussy.  She had no panties on.  Home run.  So as I continued licking her shoe, I also continued catching those glances as often as I could.  Finally I got caught.  She asked what I was gawking at, and I boldly said I just noticed she had forgotten her panties.  Mistake!!!  She calmly said she never forgets anything as she placed one shoe on the side of my head and pressed down, trapping my head to the floor. 
Cleaning:
Finally, she removed her shoe from my head and told me to continue cleaning.  When she was satisfied that it was perfect, she told me to remove the shoes. I did and instantly fell in love with her beautiful toes, long and thin, and the bright red nail polish.  She sat in an EZ chair with her feet up on the ottoman.  I could not have been in a better position. Each time she shifted in her chair she gave me a beautiful view of her amazing pussy.  Trust me, she knew exactly what she was doing. 
As I continued worshipping her feet and toes, I hoped more and more that she had some wonderful plans for me further up her legs.  
To be continued…