Addicted To The Redheaded Goddess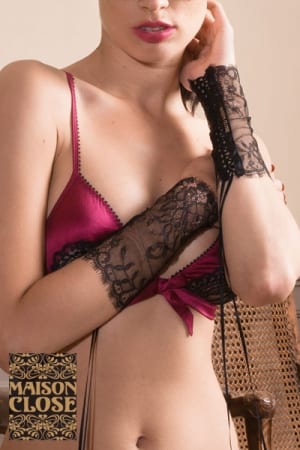 I felt alive again. I was excited about life. The fire inside of me that burned so many years ago was now burning hotter than ever. I felt like I was 20 years old again and I was swept away by this momentum of freedom and sentiment. I needed her. Needed to feel her and worship her body. I was addicted from the first moment I saw her. It was an addiction worse than heroin. And to have my fix I had to become the whore, the Bitch of Mistress Michelle, my sublime Dominatrix, and accept that I have to go deep into this submission for the desires of my Mistress. I accepted in advance without thinking of the consequences.
Serving Michelle was the embodiment of my fantasies. To love Jessica and to be able to live this love was well beyond my fantasies. I was probably crazy to think all of that. Michelle was like a drug that had me delirious at this point. I was a married man, a father and I was in a teenage trance in love with the redheaded femdom goddess. I didn't know anything except for one thing. While Jessica's fingers were inserted inside of me, I was in a trance and I wanted more.
A Devoted Slave To The Femdom Mistress I Desire
"Are you ready my pet?" Michelle returned. She looked more beautiful than in my most erotic dreams about her. She had on a latex corset, long gloves, thigh-high boots with spiked heels. It was as if someone created the perfect image of a Mistress worthy of being Eric Johnson's muse. She was beautiful, attractive, and the most exciting woman in the world. At least in my eyes and at this moment. My desire to submit to her was at its peak.
Disclaimer: Sexual desire, at the risk of displeasing many femdom mistresses and appearing as a typical selfish male, has always fueled my desire for submission. I need to desire a woman that I can submit to and serve. I also need to physically desire her. And I know this is my greatest weakness. If a dominant woman masters this, it will ensure my obedience. Without this desire, I'm just a gentleman, respectful of women. (But if a femdom mistress seduces me if she knows how to play into my desire, then I become the most devoted slave.)
The Beginning Of Professor's Slave Training
"Did you insert your fingers inside his asshole with lubricant? It looks like he has a wet pussy. Are you afraid I will hurt him?" As she said her last words, Mistress Michelle put the tip of the plugin my anus and suddenly pushed. I let out a brief groan, more of a surprise than of pain. Michelle had used the smallest plug she had and I had not suffered. I was astonished by the ease in which she had penetrated me. Undoubtedly the fingers of my redheaded goddess had prepared me. "Well my little pet… It looks like your ass is made for this. You are narrow but very flexible …. We will try with a bigger plug. Look!"
Mistress Michelle introduced me to a much bigger anal plug. It was tapered and glossy black color. "It's 5 cm at its base. You're going to feel this one". She started inserting it gently, opening me up little by little. It was actually much wider and even though I was well lubricated, the dilation quickly became painful. "Push my pet, I'm sure you can take it. "Mistress Michelle pushed harder and deeper. I cried out in pain which she instantly answered with a smack on my ass.
Wrap Your Lips Around This Black Dildo
"Shhhhhssshh!! My pet. You suffer in silence or I will punish you with the whip. You're full of shit. We're going to leave it a little bit in place so you get used to it. I want you to dilate with the plug every day. I'm going to put you on a progressive training program. I want my pet to be wide-open and always ready to get fucked. Slut, pass me my strap-on. It's not just training his ass, I have to train his mouth and tongue if I want to make him a good cock sucker." Jessica gave Mistress Michelle a beautiful black strapon with huge balls and prominent veins. It was enormous. A magnificent object but also very scary. She inserted it into my mouth.
"Go my pet, stick your tongue out and show me what you can do. You, my little slut, continue to work his ass with the plug." I pulled my tongue and began to lick the balls, gently with little licks. I wrapped my lips around the balls and began to lick again thinking of how I would like to be sucked. I thought I was doing it well but it was not to Mistress Michelle's liking. She tore the dildo from my lips and slapped me.
The Humiliation Excited Me
"Slave, you're terrible at sucking cock.. You really need to be trained my pet. Do you think you can make a guy cum like this? Go … apply yourself and look me in the eyes. It's MY cock your sucking. Give me pleasure, excite me, show me that you are a real bitch in heat who loves to suck cock." I was upset. And I was ashamed of being upset. I did not suck my Mistress well and even if I imagined sucking a real cock I was disgusted, yet I was upset not to do it well. I would have to think about that feeling later.
For the moment I resumed my fellatio trying to satisfy the desires of Mistress Michelle. Sucking, sucking the balls, licking the balls, sinking the dildo as deep as possible between my lips and down my throat to the point that it made me gag. I accelerated and then slowed down just licking the balls. And I looked into Mistress's eyes.
This situation excited me. I felt humiliated but I loved this feeling of being humiliated by Mistress Michelle. My femdom dominatrix transformed me into a cocksucker making me bend over like a donkey. The sensations of the plugin my ass were not foreign of course. But watching Mistress Michelle, feeling that she really felt the caresses of my tongue, my mouth on her strapon it carried me elsewhere. Something intense passed through our welded eyes. I felt all the strength of my Femdom Mistress. All her desires too. I fed on it. Perhaps Michelle was right. I was a bitch who was unaware, a bitch who would love to suck cock and get fucked too. "Come on take the plug out of his ass." You prepared him enough. It's my turn to fuck him."