The Moment I Have Been Waiting For All My Life
Michelle, a merciless ruler, stood behind me. Her hands were stroking my ass, spreading my ass cheeks, swinging my cock with her hands back and forth. The Mistress took her time, relishing her future conquest.
"Hmmm I love this moment when I get to deflower a little virgin ass. I'm going to fuck you and open up. I'll teach you to enjoy taking it in the ass, slave. Jessica, sit in front of him and touch yourself to excite him. Even though he obviously doesn't need it. He is as hard as a rock.", Michelle said.
Jessica sat down in the armchair facing me with her legs spread open. I had the best view of her wet pussy while she was fingering herself. She stood up, brought the armchair closer, and whispered to me staring straight into my eyes:
" Look at me … do not let go of my gaze. I want to live your first sodomy through you. Give me this my love …."
Resistance Is Futile
She resumed her position. Her pussy soaked 2 feet away from my face. She called me "my love." And I felt a wave of pure love overwhelm me. How could I feel that now, naked, on all fours on a coffee table, my ass greased with lubricant, an enormous dildo getting ready to fuck me? I no longer mastered anything and certainly not my emotions. I stared at Jessica when Mistress Michelle put her big dildo in my anus.
"Relax, you're going to take it. Gently at first, because it's your first time. Enjoy it now, I will not always be so accommodating next time. I like to fuck my little whores without hesitation. Come on, relax, open up for me. "
Mistress grabbed my hips and increased her pressure. I felt my resistance fade away and the penis penetrated me. I cried out in pain. I felt open, sure that I was torn, that I was already bleeding. I was short of breath. Only the intensity of Jessica's gaze allowed me to hold on. Mistress Michelle pursued her possession, millimeter by millimeter.
Femdom Mistress Michelle Opens Me Up
"Hmmmm you passed the hardest my bitch. I opened you up. Oh damn, I like that …. To fuck a guy. I think that's what makes me the wettest in the world. Move my bitch … gently …. You see, I slide better. You dilate well."
I gasped, moaned, my eyes fogged with tears. I was hurting, but I did not want to give up. I had waited, hoped for that moment for so long. I had dreamed it so many times. And I could not imagine a better scenario to lose my virginity. Inwardly, I thanked Michelle, Jessica, heaven, and hell. I thanked the whole world for allowing me to live this. Mistress Michelle moved slow and short, back and forth.
She was right, the pain went away a little and I felt the strapon slide easier. Gently, she penetrated me each time a little deeper. Her hands were caressing my buttocks, my hips. I surprised myself by moving my ass towards her while she was pegging me. And Mistress Michelle appreciated it.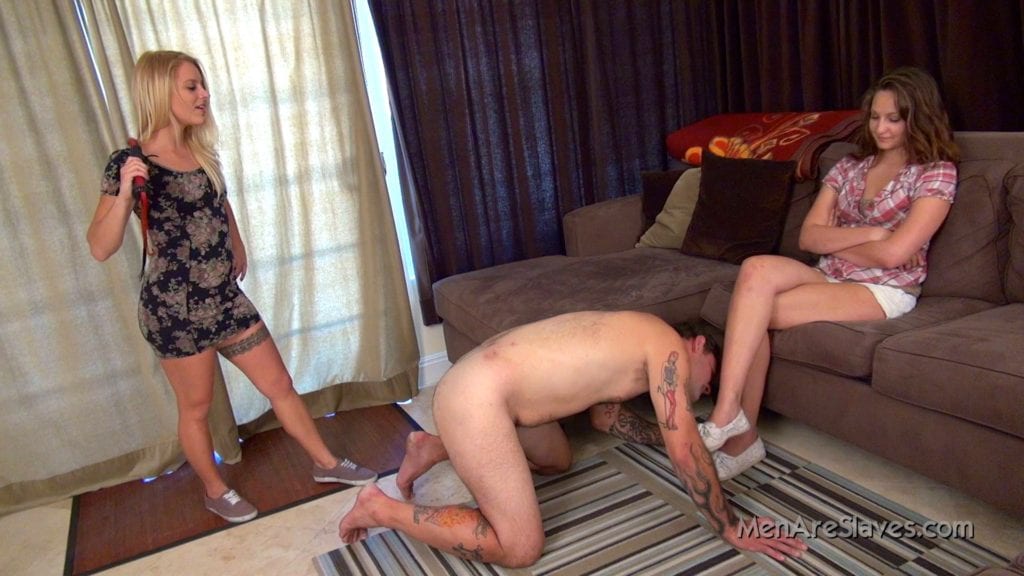 A Bitchboy In Waiting
"Hmmm, you like it !! I knew it, you're a bitchboy in waiting. You liked being fucked by a beautiful dominant femdom woman very hard. You love … look, you moved your ass closer to me! A real bitch in heat. Come on … I'm close to cumming. You can still open a little bit more for me!"
I was motivated by a few slaps on my ass cheeks. I moaned, and I felt totally gone. I was elsewhere. I was no longer myself, or so I thought. I was fucked without any restraint. It was not groans of pain but pleasure that came out of my mouth.
The pleasure, more cerebral than physical at this moment, was gaining ground. Mistress knew it. She possessed me. I was happy to be able to offer Michelle the victory. I was happy with what I read in Jessica's look. She smiled at me, she too had her eyes fogged. She later confided to me that my deflowering had resonated through her. That the emotion I had felt was so intense that she felt it through my own eyes.
The Professor Offers Himself Completely To Her
"Hmmm my bitch, I fucked you well. You're very open now. Come on, arch your back more my whore. Offer yourself to your femdom Mistress."
Michelle fucked me with more passion. She withdrew completely (I had the impression of having a gaping asshole) and sank in again with less and less sweetness. I moaned continuously, oscillating between pain and physical pleasure that was increasingly allied to my cerebral pleasure. The slaps rained on my ass, not really painful, and I did my best to offer myself to my femdom Mistress.
Her dildo stuffed me completely. Michelle slipped her hands under my chest and grabbed my nipples. She pinched and pulled me to her, straightening my chest while stretching and rolling my nipples between her fingers. I loved this caress. And I let out a real groan of pleasure. Mistress Michelle brought me closer and closer towards cumming, fucking my ass!!!
"Bitch, stop masturbating and suck his cock. Make him cum. Let go my pet! Enjoy how I'm fucking you and show me that you like it !!!"
Jessica fell on her knees and put my cock in her mouth.
I Came With An Intensity I Had Never Felt Before
My femdom's initial thrusts had not made me cum. Mistress Michelle fucked me harder and harder, without letting go of my nipples that she twisted between her fingers. Jessica's fingers caressed my balls, her mouth sucked on my cock with the same rhythm that Michelle was fucking me. All this made me explode in a long cry of pleasure cumming on the tongue of my reddish goddess. A devastating orgasm with an intensity that I had never known before. Mistress withdrew from my ass and fell on the carpet. Jessica came to lay on me and slowly glued her mouth full of my cum on mine for a long sensual, unheard-of tender kiss.
"I came, I came at the same time you did, without you needing to touch me. When you came, when you shouted, what I felt was so strong, that I left completely. You know, I think I …. "
I interrupted her in a breath … murmuring…staring straight into her eyes:
"Shuuuuu …. I beg you … do not say it … not now. Me too. But I do not have the strength to hear it, please Jessica …."
And I burst into tears. A flood of tears that I could not stop. I had never cried like that. It was as if all my frustrations, my questions, my anxieties … all the weight that I had dragged on for so many years was leaving. I freed myself and it hurt so much. Jessica hugged me, stroked my hair, whispered soothing words. Her warmth made me feel good and I knew that I could let myself go. I had to let myself go. Let me die, to be reborn here and now.