Christy And The Student Dominatrixes
This cock seemed out of the ordinary. I had already sucked two other cocks, those of the two delivery men who I was offered to by Mistress Michelle. But this was another caliber of cock. I licked my lips and slowly apprehended this mysterious cock. I can not describe the troubled desire that struck me at that moment, squatting in the toilet, dressed like a slut ready to fuck, chained to the pipes by my student dominatrixes involved in this perverse femdom lifestyle. I wanted to give pleasure to this cock that was offered to me and my Mistress did not fail to notice this, "I saw your video, you have made good progress, I'm impressed. You've become a real pro at sucking dick!"
Christy.. That's the voice I recognized. My Mistress, or rather my Mistresses, not the voice of one of my dominatrix students that were in the bathroom before. The fact that Christy is here dominating me, and especially knowing that I knew she knew who I really was, was especially humiliating. Her words pierced my soul and brought tears to my eyes.
Does This Man Want To Fuck Me?
I concentrate entirely on my fellatio, as if to forget my humiliation, to drive it out of my mind by giving this cock pleasure. I wanted the cum as a victory for the little slut in heat that I had become thanks to my Mistresses, my student dominatrixes. But according to my Domina, this was not an option.
Christy orders her submissive to withdraw from my mouth and for me to stand up, facing the wall, ass well offered and arched, "It's time to give pleasure to your ass pussy slut … Don't you want it? Silence. My answer is late. A few seconds too long for Mistress Christy. She grabs my balls between my thighs and squeezes, "I asked you a question, slut …!" I moaned with pain. "You wanna get fucked?" I had difficulty articulating what I wanted to say, "Yes Mistress!"
"Ask this man if he wants to fuck you." Rub yourself against him like a good little bitch in heat. Show him that you crave him. Caress and kiss whores! I want to watch the both of you fuck. Make me wet!!" Her submissive gets close to me and stuffs his tongue in my mouth. Men do not attract me nor do they excite me. And I never felt the desire to kiss a man, to caress a man lovingly and with intense desire. Only the idea of ​​submission excites me. To be forced to kiss, caress, lick and suck a man is what fuels my desires. To behave with a man like I know how to behave with a woman, I am incapable this. Also, I had a moment of disgust that Mistress Christy noticed.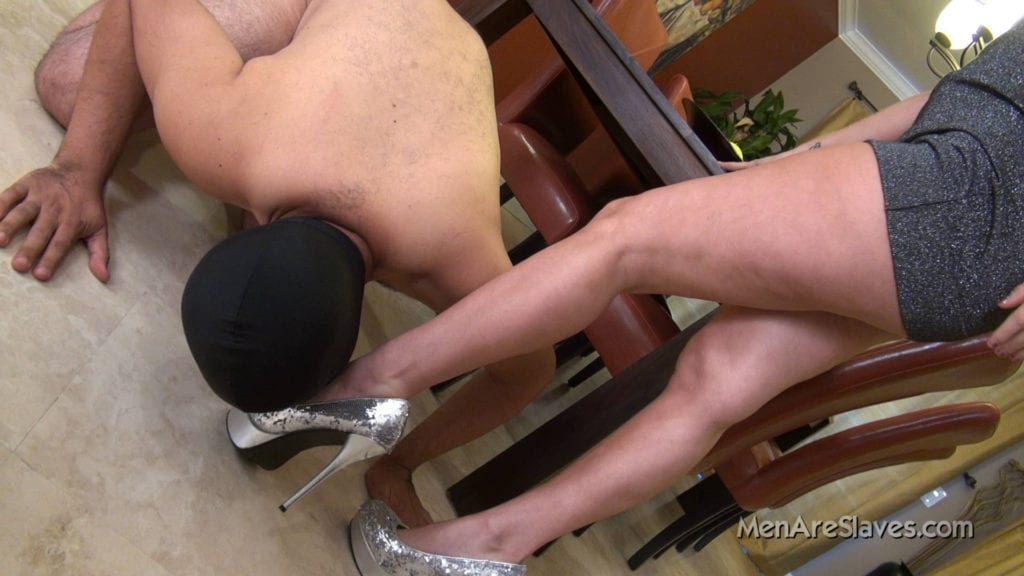 The Female Who Wants Her Black Stallion
Her reaction towards my initial disgust is scathing, in the form of a brutal whip on my buttocks followed by her voice murmuring in my ear, "If I want you to be his female lover, you will become his female lover … do not force me to take your hood off and leave your face naked for the rest of the time that we are here. Do you really want everyone to know who you really are? "No Mistress! Please have pity on me.
I put my hands on my "lover's" cock and I started stroking him. Then I moved my hands to his buttocks and got closer to him rubbing my cock against his body. I really wanted sex now. And this desire is added by the fear of my identity being revealed. Mistress Christy's encouragement helped me a lot, "Hmmmm rub against him. Kiss him … suck his nipples while you masturbate. He loves it. Let go completely my slutty slave. You are a female who wants her black stallion. Tell him…..!"
Sexual Delirium
I am in a sexual delirium. Bewitched by the voice of Mistress Christy and overwhelmed by my desire for sex. I kiss him on the mouth and play with his tongue, caressing his buttocks, his balls while I tell him about my desires. "I want your cock in my pussy, fuck me … Hmmm…I want to feel you … I'm your bitch … open me up and cum inside of me."
I vaguely hear Mistress Christy moan with pleasure. She touches herself enjoying the show. I turn and give my ass to her submissive, one hand leaning against the wall, the other holding his cock now covered with a condom. He is so big. I'm afraid of being torn but I need to get fucked. With the hood that preserves my anonymity, my Mistresses allow me to dive deep into my fantasies. I would never have been able to tell them this to their faces.
Pounding Me Without Restraint
But in that bathroom, nothing holds me back. I can live out my perverse fantasies hidden deep in my subconsciousness breaking psychological and moral barriers still inside of me. I really wanted him. The touch of his sweet penis on my anus electrified me. I knew I would suffer when he was inside of me but the desire was so strong. "Fuck me!!" I said. His hands opened my ass cheeks and I started to feel his pressure. Slowly, he opens me up and I moan in pain. Mistress Christy approaches me and I can hear his breath accelerating. "Take it bitch!! Let him open you up!"
His penis slowly enters me deeply and is encouraged by my long uninterrupted moan. Pain and pleasure, I do not know the difference anymore. I hear Mistress Christy's pleasure increasing as her submissive fucks me faster and more deeply. My Domina urges him to pound me without restraint. Both my hands are against the wall while I undergo this violent sodomy, this total possession. Mistress enjoys watching my lover unleash one me. She finally tells him to withdraw himself from me. When he does this, I felt a unique feeling of emptiness. She takes off the condom and orders him to cum on her pussy. He cums a huge load all over her pussy. Then, Mistress takes the cum and smears it all over my mouth and says, "Lick my pussy and make me cum again!"
[amazon_link asins='B07KNFFJ29,B07D24H5GN' template='ProductCarousel' store='shopandco20-20′ marketplace='US' link_id='5cf39b50-bcb8-4f50-9a39-1a65d18aac6b']