A Casual Conversation With The Dominant Brunette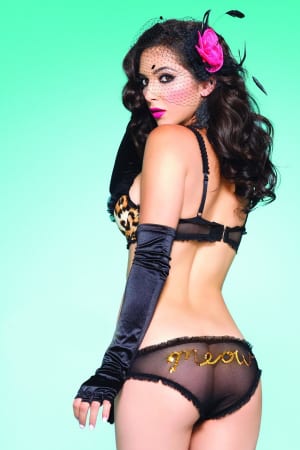 I used to buy lingerie for my then girlfriend at this adult boutique sex shop a few blocks away when we use to live together and I would always take a few minutes to chat with the owner. She was a beautiful dominant brunette, kind and welcoming. I would walk around the store looking for an item I thought my girlfriend would like and she always recommended items in the store my girlfriend was happy with when she received her gift.
One day I was walking by and I stopped and stared at the window display admiring the new apparel they had for sale. The owner saw me and immediately waved and made a hand gesture signaling me to come inside. "What could she want with me," I thought. Entering the store, I greeted her and she said, "I haven't seen you lately. You use to be a regular customer. What happened?" "I recently broke up with my girlfriend. No reason for me to go shopping. Also, I'm living alone in the apartment we shared and now I'm paying all the expenses in the apartment so no extra money to spend on gifts." Moreover, she told me her house needed some minor repairs and was looking for a part-time handyman. I thought it would be a great way to make some extra income and accepted her offer.
The Meeting
We scheduled to meet each other the next day at 7pm at the store and go to her house together to discuss the repairs she needed. I was amazed by the situation! A beautiful, sexy, dominant brunette wants to be around me. I arrived at the shop and she suggested we stop on the way and have a drink. We immediately left the shop in our cars and as I was driving, I thought about what would happened when we got there, fantasizing about her slender body, her swaying walk and beautiful smile. But suddenly, I calmed down thinking that she must have a significant other floating around.
We stopped at a restaurant a few blocks way from her house. I assumed she wanted to get to know me better before we arrived at her residence. Additionally, she wanted to make sure I was a good person since I essentially was a stranger to her. She asked me if I liked tea and depending on her answered I ordered one or two cups. Her name was Carolyn and I told her my name was Luke. Upon closer inspection of me, she asked me for professional references, especially familial ones. I gave her my father's contact info since he was a craftsman himself. I told her he taught me everything I know so she was good with that reference.
So You Live In A Castle?
Then she asked me if I knew how to keep secrets. I firmly said, "Yes." "I want to be sure ," she said, "because I'm going to confide in you. Promise me that you don't tell anyone what you see or hear in my home." "Yes, Ma'am I promise you!" Then she asked me if I knew what the BDSM acronym meant. I told her no. Surprised, she replied,"Alright. I'll explain to you what it is." We left the restaurant and on our way out she told me we were going to visit her dungeon to which I naively replied with," So you live in a castle?"
She laugh out loud and said we were close and should be arriving soon. In a few minutes, we arrived at a beautiful gated residence. We both got out of our cars and walked up the driveway to the front door. She opened the door and before I had a chance to look around her house we walked into an elevator. Curious, I had never seen a home with an elevator. We went to the fifth floor and walked out of the elevator towards what looked like a kitchen.
The Gynarchic Mistress
I removed her coat and she invited me to do the same for her. She poured two glasses of water for us and said, "I have to be honest…being in a relationship failed for me so I decided to look for a new type of relationship. Something where I could explore my deepest desires and fantasies with someone who appreciated a dominant woman. I finally found BDSM and became a Gynarchic Mistress looking for a submissive man to serve me.
Noticing the tension in my body, she started explaining to me what a D/s relationship was. She said it was an agreement between two people in which the guidelines of female supremacy is followed. The submissive serves his Mistress in all circumstances and in all places, his only desire being to fill his Goddess' wishes for as long as the relationship lasts.
I quickly change the subject and ask where her dungeon was. She giggled and said it was downstairs. We walked to the elevator and went down two stories to her dungeon. When we walked in, the room was lit with a reddish bulb that gave it a discreet and cozy look, a real alcove for lovers. When she switched to the fluorescente bulb, I was able to see the apparatuses she had in the room and what apparently looked like a cage fitted for a human to keep inside of it.
The Dungeon
"This is my secret playroom dungeon. Only a few people have been inside. I didn't want to be a proDomme so I opened the sex shop three years ago. Gives me a chance to be part of the lifestyle in public." I want you to fix some of the accessories that I use regularly during my sessions. Do you think you can do it?" "Sure, I'm free next Saturday. What do you want me to start with first?" "The BDSM Saint-Andrew's Cross is loose.
Also, the wheels under the cage are squeaking. The milking table is uneven. You can give me an estimate for repairs and I can pay you in cash. Do we have a deal?" She stuck her hand out for me to shake it. "Deal!" I said. We both took the elevator together to the first floor and she walked me out. She again insisted that I be discreet regarding what I saw today. I told her discretion would be a priority and excused myself. As I was driving away from her home, I thought about what the future would bring. It certainly wouldn't be a boring job I would have to look forward to next weekend.
To Be Continued…
[amazon_link asins='B00MIIJY18,B00TQB95HS' template='ProductCarousel' store='shopandco20-20′ marketplace='US' link_id='6cfc0d42-3e3b-4fa3-afba-314cbb809ed5′]