Mistress Christy's Gift
My dominant mistresses got up and ordered me to kneel, facing them, thighs apart. Mistress Chloe spoke to her friend: "I want to drive him crazy, don't you? Look, he's already getting hard! The Viagra he took earlier is doing its job. He will be hard for several hours so let's take advantage of him. I told you I'll give you a toy for your birthday, and here it is … a docile little whore, a bitch to fuck without any restraints!" Mistress Christy embraced Mistress Chloe and kisses her on the lips.
"Hmmm! I love your gift, Chloe! Look, bitch, look at your Divine Dominant Mistresses. You will masturbate without taking our eyes off of us, but you can't cum. If you disobey, I will make you suffer, you understand bitch!!!" "Yes Mistress Christy, as you wish!" "Have fun watching your two dominant mistresses!" "Fun? You mean have a fantastic time watching us!" replied Mistress Chloe, bursting out laughing before kissing her friend very sensually.
My mistresses kissed and caressed me for a long time in front of me. Beautiful sex show, the most exciting thing I have ever seen. Two women with sublime bodies and extraordinary sensuality. Beauty and femininity in its pure state. How can I not have the desire to serve, to worship, to adore? How can one not understand that a male will never reach such a level of perfection?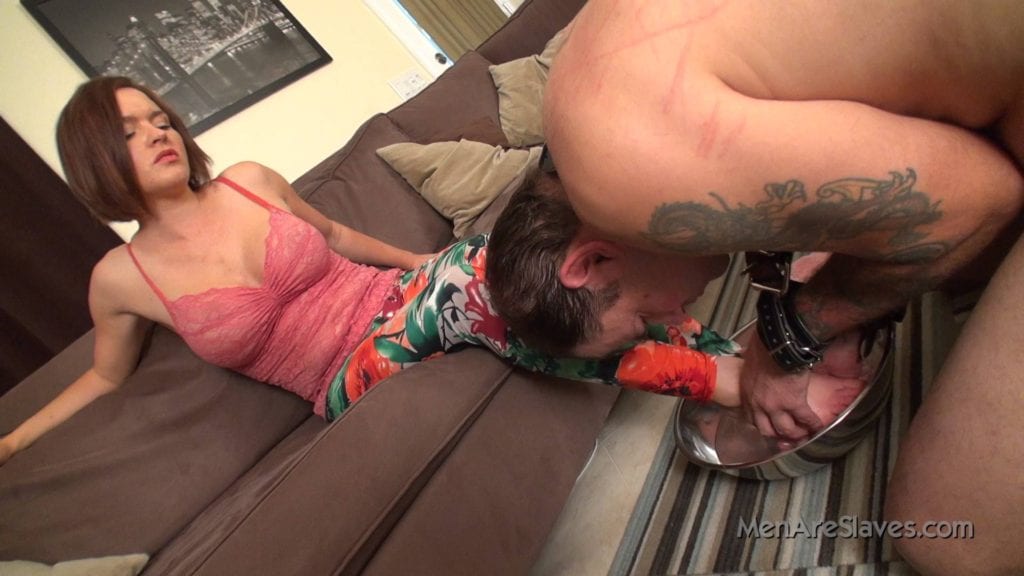 Masturbate Without Cumming
While I masturbate very slowly, concentrating on not cumming, I devour these two beautiful young women with my eyes. I love them I think, I'm proud to be allowed to watch them, proud to be at their feet. I feel my body reaching an orgasm. And without paying attention, the rhythm of my fingers accelerates. I am intoxicated by what I see, hypnotized by their tongues playing, by their hands touching each other, caressing each other, and their sighs of pleasure. I am in a second state, my sexual frustration takes control of my mind. I forget their orders, the ban, I become the horny bitch thirsty for enjoyment, I masturbate, cock pointed towards my mistresses, I moan, groan and my fingers accelerate going up and down my shaft.
I am harder than I've ever been but I can't cum. I spit on my hand to better lubricate myself so I can rub my cock faster. In my sexual delirium, I hardly notice that my two dominant Mistresses are looking at me. Mistress Chloe takes a quarter of a second to react. She grabs the whip and rushes toward me before I realize my disobedience. The first lash falls directly on my hand. I stop grabbing my cock and cry out.
My Dominant Mistresses Punish Me
"What's wrong with you dirty whore?!!! Now I understand why Michelle leaves you in a cock cage! Stay where you are, show me your cock! … Slut, I'll teach you to try to cum without my permission!" I'm suddenly scared and I mumble excuses, "Pardon Mistresses, I beg you … you are both so beautiful … I .." The whip falls directly on my cock. I scream in pain.
"Slutty bitch! Did you forget that you are not allowed to speak?!!! Get in position! I'll make you feel like cumming! What's your opinion Chris, how could we calm this bitch in heat?" Mistress Chloe said. "Hmmm.. I think we must hurt him a lot. That's the only way to go" … Go ahead, 10 lashes to start. Then 10 from me. No, 20 from me. It was me who gave him the order to masturbate without cumming. It is to me that he disobeyed, and I too want to see him suffer. Here, we'll put the ball gag on him. That way no one hears him screaming. Wait, I have an idea … Get up whore and lie on the bench! Quick!"
I lie on the little bench covered with leather in the living room. My Dominant Mistresses quickly attach my wrists and ankles. Mistress Christy takes a cord and attaches it to the ring fixed on my cock ring, then she pulls so that my cock remains straight, stretched towards the ceiling. "Well, now we'll be able to punish him quietly. You are a little slut who deserves to be corrected. Maybe the pain will make you understand … Go ahead Chlo, do the honors!"
The First Lash
Mistress Chloe still holding the whip in her hand, approached and begins to stroke my shaft with the tip of his training instrument, which slides on my painful and swollen balls. I am in pain. The pressure exerted by the cock ring made my hard cock the source of constant pain.
I scream when Mistress Chloe gives me the first lash on my cock screaming through the ball gag and twisting my body. "Calm down bitch, it's just the beginning! Come on, let's … balls, tassel … balls, tassel ….! Mistress alternates blow. The objective is to make me suffer and pain is a means of training. I scream incessantly, my body tense, and my tears flow. In fact, I undergo this punishment session without any means of escape. I hardly catch my breath when Mistress Chloe announces victoriously,
"And 10 !!! Go ahead Chris, get rid of any insults this little obsessed slut has given you. Make him suffer until he understands …!" My cock is still very hard during the punishment session. The pain radiates on my lower abdomen but my cock remains stubbornly hard and full of blood. The whip on my penis made me ultra-sensitive. As for my balls, the pain that I feel almost takes my breath away. I have never known this level of pain. Even during the punishment session Mistress, Michelle administered to me I was able to control myself. This time, I cannot.
Wax On My Cock And Balls
Mistress Christy puts on a pair of latex gloves. She looks at me and says, "Let's go bitch … it's my turn to make you suffer!" Mistress pours lubricant on my cock and balls and grabs my cock. She masturbates me with one hand, squeezing my cock very hard while she stretches my balls. I scream. Her caresses hurt in my state of sensitivity, they only relaunch the pain that subsided a little before. Mistress Christy burst out laughing and accelerates her masturbation, concentrating her caresses on my balls. "Hmmm, I feel his cock getting hard again. I know you like it, suffer for your Mistress. You don't know how much this excites me…being forced to punish you. Well, no, I want to punish you!"
Mistress Christy lets go of my cock and take off her gloves. She takes one of the candles on the coffee table and brings it above my lower abdomen. I stretch myself with all the strength I have when Mistress pours a good dose of hot wax on my balls. She holds the candle pretty close to my cock. The wax does not have time to cool when it comes in contact with my thin and ultra-sensitive skin. I scream through my ball gag, it seems to excite her even more. She takes her time to completely cover my penis. The wax flows down my shaft. Mistress retreats a little to admire her work.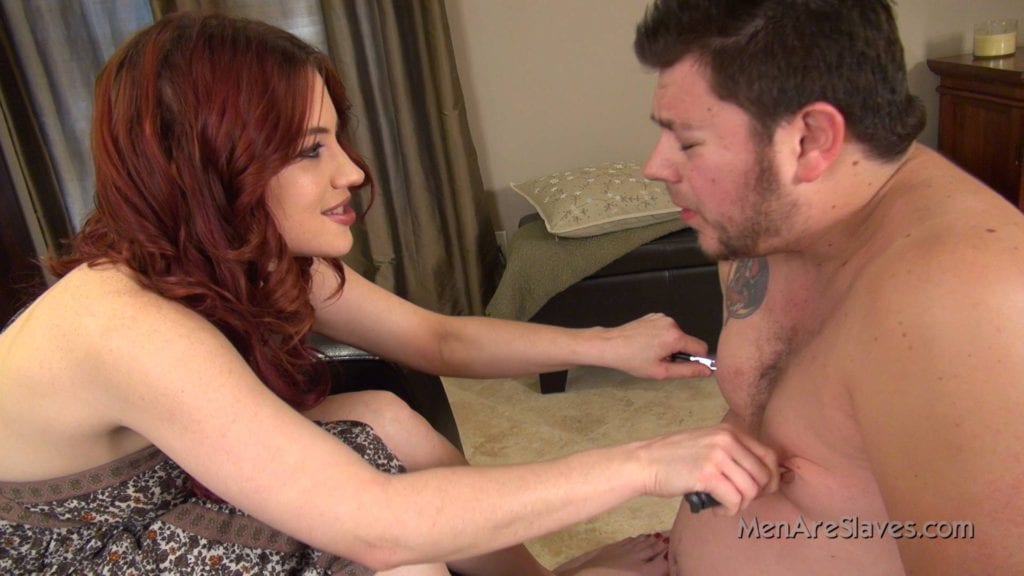 Balls Or Cock First
"Good, now that I covered his cock, let's go for the balls! Chloe, can you give me another candle, please? The big over there, it's full!" Mistress Christy pours all the wax in one go. My scream, hardly suffocated by the gag, has no end. My balls are covered with wax … I lose all knowledge under the pain. Thus, I am in a second state and I barely perceive what is happening around me. I no longer see the sadistic smile of satisfaction of Mistress Christy.
"I had said how many lashes? 20 shots, is that correct? Now, to remove the wax my slut. What do you think Chloe, balls or cock first?" Wait, I want to enjoy the show …!" Mistress Chloe removes my gag and replaces it with a penis gag. She sits on my face offering me one of the most sublime views I've ever seen.
"So, now I'm in the front row. I can cum while you finish the punishment. Take your time Chris! And start with the balls. We'll save the cock for last." Mistress Christy handles the whip precisely. Several strokes are needed to remove the wax shell that covers my balls. I scream firmly attached to my torture bench. Mistress Chloe rides my penis gag. Her juices run down my face. Mistress Christy followed Mistress Chloe's request taking her time and allowing her to enjoy herself while she rode my face. I am only in pain. My balls are in continuous pain and it is unbearable.
S&M Games
Mistress Christy grabs the base of my cock and rejoices, "I have 13 lashes left … hmmm how much more is it going to take to get rid of all this wax …." "Go Chlo, lash his cock. And you bitch, enjoy the view of your divine mistress' pussy. Breathe its scent … you're lucky you know!" Mistress Christy counts aloud and strikes precisely on my cock. I scream after every lash. Despite the blistering pain every time the leather hits me, I get hard. More and more hard I feel. My body stops responding, I do not understand anything anymore. I am suffering terribly but also excited.
I suffer in a second state, and … .. I like that. Could this be the "subspace", this almost trance-like state caused by pain during S&M games? I already read about it … but never experienced it. "And twenty!" Mistress Christy is radiant. She looks at my tortured penis with the wax removed. Mistress Chloe came on the 11th stroke, flooding my face with her nectar. She remains on my face until she finds her breath. Mistress Christy sits on my cock facing her friend. They kiss each other for a long time. I feel Mistress Christy slide on my shaft. The warmth of her belly and her desire soothes my pain a little bit.
The Simple Object Of Pleasure
Like anesthesia. It hurts, but what I feel, trapped by the burning flesh of the one who was my lover one night is beyond pure pleasure, beyond pain. Another state. Mistress Chloe begins to thrust herself on the penis gag, following the rhythm of Christy thrusting herself on my cock. The two dominant Mistresses let their pleasure rise, surrender, and cum together by uniting their cries. I do not exist anymore at this moment. I am nothing. A simple object of pleasure. Neither alive nor dead, the question does not matter, just a sex toy they use to cum.