Worshipping Mistress Chloe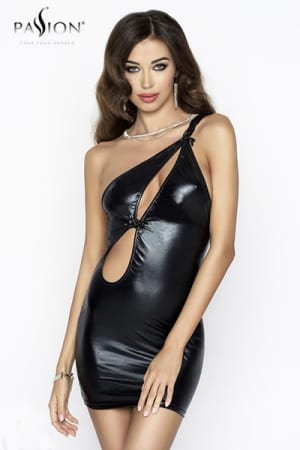 After the meal, Mistress Chloe and I went to the living room. She made me kneel at her feet and massage, lick and suck her toes. With one foot between my lips and the other playing with my cock and balls, I was getting hard again. Mistress Michelle would not be happy if she knew Chloe removed my cock cage. I continued giving her a foot rub while she texted her friend when the phone rang. I was sure it was Mistress Michelle wondering about her submissive, however, it was not. This phone call would take me further down the path of humiliation.
"Yes yes, he's at my feet now … ..Oh, he's very slutty with his little white apron, stockings, and garter belt. And I collared him. Yes, that's exactly it! He's got a donkey dick … No, of course, I'm going to enjoy him …. You think? Hmm you're giving me ideas you know …. So exciting… yes he's a real whore you can't imagine."
But who was she talking to? I had no clue. I didn't think it was Mistress Michelle or Jessica. But they were only three students that knew of my submissive nature. Michelle, Chloe, and Jessica. And of course the two delivery men, but the voice I heard on the phone sounded feminine. I felt my anxiety rising. Who else would know about my deepest secret?
Getting Me Ready For Tonight's Events
"Hmmmm yes, with pleasure, I love …. Don't worry, I will prepare him and he will be all ours. Right away. Quickly!" I concentrated on Mistress Chloe's feet, sucking her toes one by one delicately and with devotion. I dared not look up. "Patience my whore! In less than 30 minutes, you'll have a nice surprise, believe me! In the meantime, I want you to keep licking! This conversation made her wet. "Come clean your Mistress! Come on, breathe my scent of pleasure!" Mistress Chloe cums quickly while I play with her clit with my tongue.
When we are done with the facesitting session, she starts dressing me. She put latex shorts on me with black suspenders connected to them, a hood that covers my face and had holes on the eyes and mouth, and a collar with a leash attached to it."Now, you're ready to welcome our visitor. A beautiful slut! Come, come! I want to make your cock harder."
Mistress Chloe made me swallow a blue pill and then masturbated me slowly while the Viagra took effect. When she thought I was hard enough, she put a leather cockring on me which squeezed my cock making the veins on my dick protrude. I was very hard and ultra-sensitive. "Hmmm perfect for your cock! Tonight, I want to hurt you bitch! I want to hear you scream! Mistress Chloe barely finished her sentence when the doorbell rang. "Go open the door for me my slutty bitch!" I opened the door with my eyes lowered and fixed on the beautiful feet in heels and black stockings.
Mistress Christy
"Madam, please come in," I said. I immediately kneeled to kiss the divine feet in front of me as Mistress Michelle taught me to do. It was a sign of deference to women. The stranger spoke in a harsh voice, "Whore, let me in!!" I knew that voice too well. It was Christy, the program manager at the school where I teach. We hooked up two weeks after I joined the staff. What a great night we had. We remained good friends and were very professional with each other.
"Hmmm had I known of your submissiveness I would have made you my bitch the night we hooked up … I'll've taken you in. Look at me when I speak to you bitch!!" Before I looked up she slapped me across the face. "Chloe, do you allow him to take off his hood? I want to see him without it. I'm sure he feels protected under his hood. Go! Show me your true face!" I obeyed without complaining staring into Christy's face. She was strikingly beautiful with a contemptuous smile and eyes that penetrated my soul when she looked at me and robbed me of the last male pride I had. Her words were the most humiliating of all.
The Video
"I love it … he's the alpha male at the school but when he's treated like a submissive he gets a hard cock." Christy grabbed me by the balls and twisted them brutally. The pain and humiliation put me on the brink of tears. "What a surprise you had for me, Chloe!" I really didn't expect it … Hmmmmm.. little bitch, your life will change at school. No more being the alpha male at the school! You're a whore and you're going to be treated as such. Tell me Chlo, have you turned him out yet? "Yes of course. And she loved every minute of it. Do you want to see the video? We made a montage with Michelle. You'll enjoy watching it."
Mistress Chloe showed Christy, or rather Mistress Christy, the video of me with the two delivery men. "What a whore he is!! He can really take it in the ass. Look how much he likes big, black cock, I never expected that out of him. What a cum dumpster he is." During the viewing, I was on all fours facing the screen being used by my two Mistresses as a footrest. I was rock hard and wanted to cum so badly. My Mistresses were right, I was a whore, and seeing me suck, fuck, lick, kiss, and swallow the cum of my Masters drove them mad with desire.