Femdom Michelle Leaves Me With Femdom Chloe For A Few Days
Jessica left two days later after our last hug. I had spent the afternoon in class and she was not there when I returned. Femdom Mistress Michelle, my sadistic dominatrix, had greeted me in a very hard tone. "My whore, now there is nothing to distract you. You have only one goal, one person to focus all your attention on your Femdom Mistress.
Me! I intend to elevate your slave training into a new phase. But before I begin, I am leaving for a few days to see my family. So I'll give you to Mistress Chloe. She has all my confidence and can use you for whatever she wants. I expect you to serve her as you would me. I leave tomorrow. When you come back from school, your babysitter will be here. Do not disappoint me little slut, otherwise, I will not hesitate to get rid of you."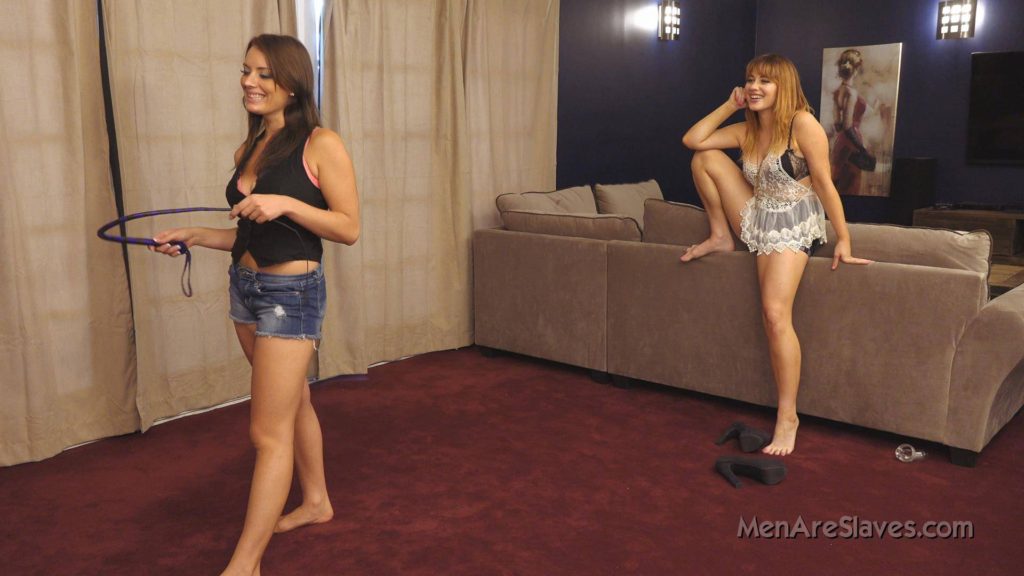 I Still Longed For Jessica Even After She Left
Mistress was right. From now on, Jessica would no longer occupy my thoughts. Only I couldn't forget about her. She had gotten under my skin and I suffered from an intense, physical withdrawal from her. It was a throbbing and permanent pain. Yet I had to forget my love for now and focus on my one duty: to serve Mistress Michelle to the best of my abilities." To strive for perfection and meet her standards. To serve and obey her without question or hesitation.
She held my destiny in her own hands, literally and figuratively. The prospect of those few days in the service of Mistress Chloe pleased me. Mistress Chloe attracted me a lot. I liked what she released. A powerful sensuality combined with a certain tenderness. But at the same time, she had this natural look of superiority that made no one question her when she gave an order or made a decision.
I Wondered How Mistress Chloe Will Be As A Dominatrix Alone
I thought of her as less of a cruel Mistress than Mistress Michelle. But as I said, she never had the opportunity to truly "reveal herself" as a Dominatrix. I was impatient, excited, and also a little scared. A Femdom Mistress never reacts as the submissive expects. That's the strength that a Mistress has. I dreaded what would happen in the next few days under Mistress Chloe's female domination.
Certainly, the day-to-day activities of maintaining the household were well run and Mistress Chloe would not have to worry. I had become an expert at maintaining a household and a perfect butler, well almost. Rather, more like a perfect housekeeper mixed with a little whore, a bitch in heat thirsty for sex and submission. I was content with where my life was at this moment. I had reached a sense of fulfillment under Mistress Michelle's submission.
Getting Ready For My Punishment Session
The next day I was teaching a class as usual. When I returned to the apartment, I found Femdom Mistress Chloe waiting for me. I did not have her in class that afternoon so I had no idea what she was doing. Class ended around 6 pm after a particularly interesting discussion on the balance of opinion in the treatment of certain information. Imbalance rather.
At 6:10 pm I got home and rang the bell in the kitchen ready to serve my guardian, Mistress Chloe for a few days. Her voice greeted me as soon as I entered. "Dirty whore, put on the collar, hood, and wrist restraints that I left on the chair for you. Then come to the living room! Hurry. I've been waiting for you for over an hour and I hate waiting." Her voice was stern. I did not know this authority. It was almost violent. I hurried to join her. "Stand up! Set yourself up so I can attach you. We will really get to know each other now. And I do not think you'll really like me after our session. Faster bitch, I am eager to smack your ass!!"
The First Time That You Are Mine By Yourself
Mistress Chloe immobilized me quickly. Then she put a ball gag on me before she released me from my cock cage. "I like a submissive's hard-on … if you were mine, rather than put you in a cage, I would handcuff you so you can't touch you. I will control you otherwise but you would be as hard as possible, as often as possible. But the downside to that is that you would not cum very often. Believe me! You would not cum no more than the number of times you are cumming now. But at least you would do me the honor of being very hard for me.
Show me how much I inspire you with desire. I want to see you with an erection just waiting to ejaculate.. it's so much more enjoyable for me that way. You see, this is the first time you're mine alone for several days. I will start marking my territory by marking you. You can scream as much as you want. I'm not the type to be moved by the pain of a slut tied up. Your body is mine and you will feel the pain I put you through!!" Mistress Chloe placed all the instruments available on the sofa. I saw a small and a large flogger, a whip, and a black leather paddle.
Mistress Chloe Makes Me Crazy With Desire
She stood in front of me and hugged me. "Before you get hard, I'm going to warm you up a bit … I want you as horny as possible my bitch. You're mine, my fuck toy that I can excite and torture as I please … Hmmmm I love it!!!! My own little bitch!!" She pressed her body against mine, and the warmth and softness of her skin made me hard immediately. She passed her long nails on my nipples and on the shaft of my penis.
Mistress Chloe had a raw animal sensuality and she was very communicative. Her tongue and her scratches made me crazy with desire. My senses were pushed to the max. I gasped and moaned like a bitch in heat who demanded his dose of pleasure. Mistress Chloe stepped away from me to grab the flogger. "I think you're there … I am already very wet. But that's nothing. You will see after the punishment that I give you, I will flow like a fountain. Have I already told you that I am quite sadistic?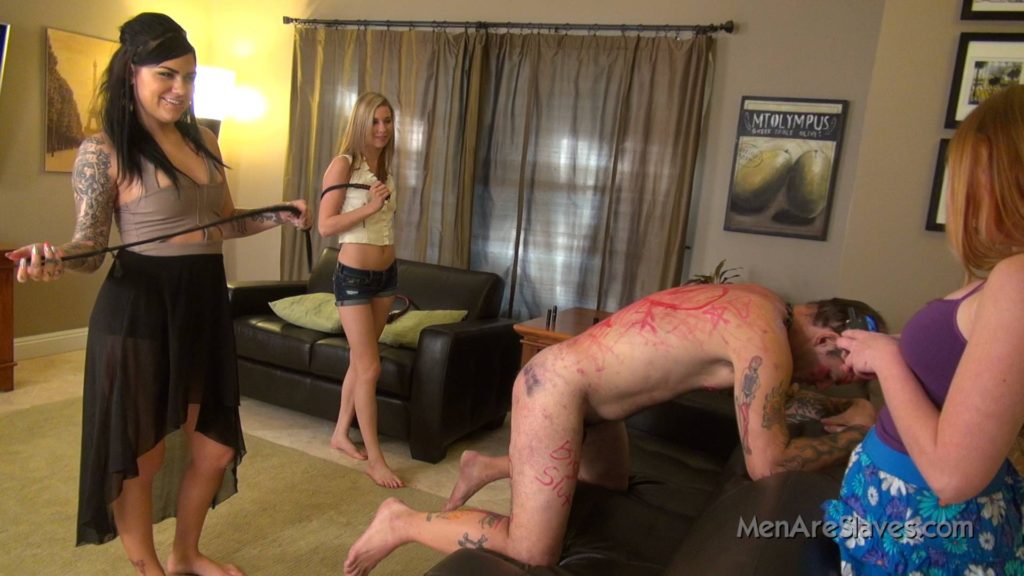 Chloe Marks Her Territory
She punctuated her sentence with a series of quick, dry, hard shots. I screamed in my ball-gag. She spared no part of my body. Torso, back, thighs, buttocks, cock. She took pleasure in whipping me while slowly masturbating my cock. She brought me each time to the edge of cumming before moving on. The session lasted more than 30 minutes. The flogger came first, then the paddle, and finally the whip with which she lashed on my buttocks.
I screamed in pain. My ass was streaked with red marks. I stopped counting for a long time unable to handle the pain without flinching. Femdom Chloe had wanted to break me and mark her territory. She had succeeded. I hung at the end of my chains, held by my wrists. My body and especially my ass was radiating pain. Mistress Chloe came to stand in front of me. She removed my gag and lifted my head and forced me to look at her. My eyes were full of tears. She fingered herself gently or rather collected her abundant juices.
I Only Live For Satisfying My Sexual Needs
She was right. Inflicting this punishment had excited her to the highest point. She wiped her fingers on my mouth and my nose: "Smell me bitch, lick and taste me! My honey will give you strength, you will see. Now you know what I can do. And I think I can be even harder on you. I love making you suffer. Be careful not to give me too much opportunity. I want your total obedience. If not, I'll punish you. And I really like to punish you. Hmmm you're my whore, my bitch, my thing!!"
Mistress Chloe hugged me and kissed me deeply for a long time. Her nails jabbed my cock as she masturbated me very slowly but painfully. I rebelled against it almost instantly but the pain had not managed to overcome my excitement and my desire to be her bitch. I needed to cum. My body did not think but only lived for the satisfaction of my sexual needs. I loved this dependence. It grew stronger over weeks under the submission of my Mistresses.
Obsessed With Sexual Gratification
I was constantly frustrated, except for the rare times when Mistress Michelle allowed me to cum to really enjoy it. Otherwise, she proceeded to milk me, draining me without pleasure. Mistress Chloe masturbated me while fingering me to stimulate my prostate. She stopped her caresses when I came. My sperm flowed without reaching any orgasm.
I cried in frustration each time licking my cum collected by the fingers of my Femdom Mistress. I was obsessed with cumming. I had always been addicted to sex, pussy, and porn. My addiction had only increased with the influence of Femdom Mistress Michelle. My pleasure did not belong to me anymore.
It was in the hands of Femdom Mistress Michelle, who now had it at her leisure. For three days, Mistress Chloe, my sadistic dominatrix, was my owner. And she did not intend to give me the gift of pleasure. I was going to have to earn my orgasm. "Go run a bath for your Femdom Mistress my slave!!! Then you will prepare my meal! Hmmmm the evening is going to be fantastic for me. For you..it's going to be a little harder."