A Femdom Fantasy for All the Ages, Have You Been This Lucky Yet?
A true Femdom Fantasy; She's waiting for him. She sent him out for smooth milk chocolate truffles and a succulent red wine. He needs to pair them properly as goddess might touch him tonight if he does.  As she awaits, she rests soaking in her beautifully drawn tub. Yes, a bubble bath as one might expect..
Time's ticking, "where is he" she thinks.. "I'll be a shriveled prune by the time he gets back if he does not hurry.".. with that, she hears the door close.. "Mistress" he calls.  "In here loser" she answers.. He walks in the bathroom and sees her sprawled out in the tub, legs spread wide to entice him and make him eager.. "Come, feed me" she orders..
Feed Me!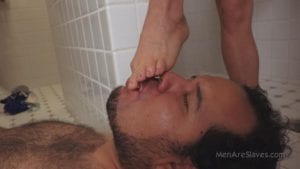 With this, he opens the truffles and unwraps the first one.. gently placing it into her mouth.. as she sucks this into the smoothest sweetest liquid she has tasted for the week, he goes to the counter and opens the wine.. "let it breath goddess?".. "Of course stupid" she replies.. "in the meantime, get over here!! I have been waiting for you.. Suck my toes" and with this she lifts her left leg from the water and over the side of the tub.. her delicious manicured pussy staring right at him.. he mustn't stare or appear too be too greedy just yet as he knows she will scold and tease him and then simply get herself off and give him nothing..
Let the Teasing Begin
He begins gently messaging and suckling on her beautiful toes.. Fresh from the tub, they are quite delicious actually.. he begins slowly running his tongue between each toe.. Goddess seems quite pleased and in fact seems to be relaxing and maybe even becoming a bit horny.. She almost doesn't want to let him onto this just yet.. she's thinking.. fucking bastard is really turning me on.. "go fetch me some wine" … "and get yourself some as well"… she orders.. as he pours he looks back at her and notices she begins to tilt her head back and arch her back.. as he returns with the wine, he notices she is rubbing her clit under the water.. again, not leading on that he notices.. "Here you go goddess" he says.. " I hope you like it"..
Some Wine, Mistress?
She sips.. "Nice".. "you know slave, you are in fact pleasing your goddess today.. and for this.. you will be rewarded".. "Thank you Goddess, I always want you to be happy".. "I will do anything to please you".. he says.. "Good Boy".. "Now go get my towel and robe"..
Returning with her towel and robe, goddess Anna rises from her bath water… she is magnificent.. she stands 5'8″ tall, weighs 145 lbs, she is a perfect 36D, 24, 34 and she knows it all too well..  "Dry me slave".. "Every inch of me".. she exclaims.. "Yes Goddess".. he replies.. after drying and slipping on her robe for her, she sits on her plush bench in front of her mirror.. "How beautiful do you think I am slave?" she asks…. "Goddess you are a perfect 10″ he replies.. You are the most beautiful, desirable woman I have ever seen".. he replies.. 
Pamper Me, Sissy!
"Come, she says, brush my hair slave".. "Yes Goddess".. he begins running her brush through her long silky gorgeous hair.. He cannot help but notice her beautiful nipples through her silk robe.. the robe cracked just enough to also show the sexiest amount of cleavage… She notices him looking.. "Liking what you see slave?".. "Yes Goddess".. "Bet you would like to suck on my nipples.. wouldn't you?" "Yes Goddess".. "You fucking little worm" .. "Kneel down here".. "yes Goddess"..
"Touch them.. my tits".. he gently begins caressing them.. her nipples becoming hard like rocks.. "You realize slave that this arouses me don't you?"  "Maam?" he says.. "Don't Maam me.. you know what I mean!!".. "you know you will have to pleasure me now right?" "Yes Goddess".. "and you also know that since I have already bathed, I will not touch or pleasure you or allow your pathetic cock near me, right" she denotes..
"Yes Goddess"
She walks to her bed and props herself comfortably with her (4) plush pillows.. "now come here" she says.. with this, he walks over to the bed standing at attention.. "drop you pants slave".. and with this, oddly she leans over and begins sucking on his penis.. making him hard.. "get on the bed now slave boy and lick me.. lick my pussy until my juices fill your mouth".. "yes Maam"… "if you pleasure me for as long as I can take it, I will allow you to pleasure yourself".. "But only when I say"..
Pleasure Time
Now with an eager eye.. her slave begins to pleasure her.. first kissing the inside of her thighs, then gently blowing on her clitoris.. now he moves in and gently begins long slow strokes over her clit.. as she begins to moan slightly with pleasure, he knows she is ready for some more intense action. He begins flicking her clit more rapidly with his tongue and then as her clit is now swelling with lust, he begins sucking it gently while still flicking his tongue on it. "Put your finger in me slave".. as he slides his finger in and out his goddess continues to arch her back with pleasure..
Her Pleasure First!
Removing his finger, he now begins to stroke his cock.. she notices.. "what the fuck are you doing, you pig!!".. "get your hand off your cock" .. "only when I say".. "now lick me".. he licks and sucks his goddess for nearly a full hour as she has one orgasm after another.. the most sexy of orgasms is when she turns slight sideways while gripping her slaves head from the rear as she thrusts her loin into his mouth totally controlling his head and face, insuring it is completely smothered with her juices as she climaxes..
Now coming to a more restful position she says.. "get on your back slave".. "yes Maam".. with this.. she squirts some baby oil on his penis..  "Now start stroking yourself" she instructs.. "Would you like to drink me as you masturbate you pathetic pig?" ..
Not Today Piggy!
"Yes Maam"… "Not today piggy".. "today you please me.. one last time".. and with this she straddles his face by kneeling over him.. looks straight down on him with lust and pleasure and begins to grind on his mouth.. "get ready to cum for me slave".. "Yes Maam"..   "oh god I am cumming again.. Slave, let me see your cum now!!".. and with this she leans back watching him stroke his cock .. his hot white load begins erupting all over his stomach.. she moans with desire and once again climaxes directly into his mouth..
After rolling off of him.. "Now go clean yourself you fucking maggot".. "and bring me back something sweet.. I am going to bed now" .. "oh and by the way.. I expect when I return home tomorrow you will have that nice Italian Ragu ready for me.. with meatballs over Rigatoni".. "Just how I like it".. "Yes Maam"..
"and be ready to lick me again".. "I thoroughly enjoyed your mouth today"..