Becoming My Wife's Sexual Toy Through Humiliation; Part 2
After the recent shocking and thrilling turn of events of my sexual life, I discussed in my previous writings (how it all started) , our marriage grew stronger surprisingly. From the verge of divorcing we were now the crazy kinky couple. But for that a lot had to be changed in our roles as a husband and wife. The roles mostly did change when we were in bed. The new found dominance in her personality had made me fall for her again. I was going crazy and was wooed by her new found charm and confidence. It didn't take me more than yesterday's wonderful night to submit my whole world at her mercy, and yes I did that happily.
My Submission, Her Dominance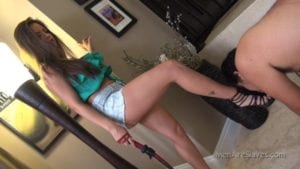 After she had taken control over my body and my sexual pleasures, it was a normal routine for Katie to milk my cock through my ass. I had been turned into a cum boy who was a slut to his wife and was daily used to for her pleasure. There didn't pass a single day when she didn't ride my face and cum in my mouth. In my lucky days she even would let me cum traditionally (with my hand or hers) only if I would lick it all clean. I still remember the last Monday she had let me cum between her butt cheeks which got inside her asshole , which had her furious.
Your Face, Her Seat
She made my face her seat and sat on it till I didn't get my cum with my tongue. My queen was training me everyday as to how to be a good slut , on being good I was rewarded with an amazing hand job or a good prostate milking, on my bad days I was punished with hard spanking which would leave good marks till the next day. All in all I was having the fun of my lifetime and we both couldn't have been better. But yesterday's night was a little different and special , just when I thought my life couldn't be better she proved it wrong ,and made it better. Yesterday was yet another normally day for me till I got home , working in the office I grew impatient with every hour passing , it was my anticipation to see my beautiful masculine wife every day.
Katie's Slut
This feeling was no unusual now , every day I was at the edge to jump off my office chair and rush to home .
Katie had made me her slut and had tranformed my personality into a teenage girl's who would just wait whole day to see her lover and let him love her in all ways possible. It's amazing to be that girl for Katie everyday , it wasnt any different for me to feel like a girl as she use to make me wear her panty everyday , I do not remember the last time she had allowed me to wear any of my underwears , I liked it being in her used panties all day , some days when I would miss her alot , I would smell them to hold a part of her as her scent in my nose.
Flower's for my Mistress
Yesterday was no different ,as I hurried home I brought some flowers to please her , I was  insecure now that no matter what I did I always felt that I am not doing enough for my Queen. As I entered home I saw the most perquisite sight of my day, my love , my queen , my wife -Katie. As I moved forward to her with flowers in my hand I was trying to hold my shyness which was so obvious on my face, I gave her flowers and she took them smiling brightly , " you look amazing sweetheart" I complimented and kissed her hand .
" I know I do babe, you're such a good boy " she thanked me in return while playing with my hair " I hope you aren't tired today sweetie" she asked . I knew what it meant , I said no in excitement to which she giggled and added " I have a surprise for you my little cum princess"
Princess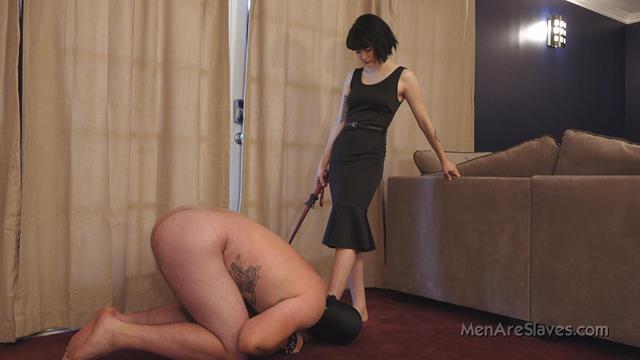 "Princess? A new nick name for me I thought I am your good boy?"
"From today it will be changed baby , now go take a shower ,I am waiting in the bedroom and yes I want that ass hole loose and clean"
"Yes my love" I agreed and went to the washroom. While taking shower I thought as how lucky I am to have a wife who excelled at balancing herself. From being dominant to being loving and caring at the same time. She is a woman to die for, I am no equal to her and will always be submissive to her. Also I was anticipating of what she had planned for me to which I knew what it was in the back of my head , I was quite nervous and excited at the same time.
Seduction at it's Finest!
I came out of the bathroom with a towel tucked around my waist and what I saw was so seductive and terrorising simultaneously.
My wife had a tight french corset which was made of black latex with pairing black latex pants. She had handcuffs in her right hand and her left hand was laying so casually on her waist. Her dominant aura and the confident smile on those blood red lips was mesmerizing. Now what was terrorizing was the thing tied below to her waist. A skin colored strap on of good size around 8″ which was really fat and rigid, and was mocking my manliness flying in mid air. The look on my face was mixture or fear and excitement.
What your Scared NOW!?
"Don't tell me you're scared now" my wife mocked
"But I am"
"Ohh you knew it was coming "
"Yeah but it is bigger , sweetheart"
" I am not your sweetheart now, and it a good size bitch unlike your's" she laughed
I kept my silence in my humiliation
"Drop that towel right now , and get on your knees "
I did as I was told. My dick was in no comparison of her's, her laughter was the evidence. Still it got me hard, her turning full mean while sex was so tempting and arousing for a pathetic slut like me.
Bend Over Sissy!
She then took me by my ear made me bend over on the edge of the bed. She took both my hands and hand cuffed them behind my back , also she had a ball gag. Which I didn't notice and gagged me with it. " This is to keep your slut mouth shut Ken " she mocked me.
Now I was held tight in total submission where my hands were tied and mouth gagged. I wasn't in a more helpless state than this , more helpless and more arousing.
She took a good look at my cock and laughed. She was behind me and came close to my ear ,pulling my hair and whispered. " You're an unbelievable slut , you have no limits you know. Your cock says it all for you that you wanna get fucked like a real bitch. " She then bit my ear and gave a hard spank .
Butt Play Time
Next few mins involved my butts getting good desired spanking and nail rubbing . Then she poured a good amount of lube on my ass hole and was rubbing my asshole , she was teasing me and playing with my anticipation by rubbing the dildo over my asshole , I could hear her giggle whenever I twitched my asshole in excitement or fear. And then she finally slid it in, and boy it was painful. I tried to scream but the ball gag didn't help. She was really slow in going in and out so as to ease me . "Do you know that it is only half way in baby " she said that teasingly.
Now I was in horror as to how much still is there for me. She still didn't go completely in but was pumping that dildo half way.
A Good Prostate Milking
As my regular prostate milking had made me very sensitive around my prostate I started to enjoy it as the penetration was stimulating my prostate more frequently. I started to enjoy the thrusting and started to moan.
This was the green signal which my wife needed , the moment I began to moan. She gave the hardest thrust and got that big boy completely inside. It was so pleasurable and painful at the same time that even that gag couldn't hold my voice. Soon my wife was pounding me the hardest she could. " You like that pounding , don't you slut ?" She would yell such things in the middle of it. Which aroused me further , her pace was exceptional and she would use my ass for better grip and spank it even.
Echoing Moans
The room was echoing with the spanks, her pounding , her cuss words for me and my moaning. Her pounding would put a lot of men to shame including me obviously. After 20 -30 minutes of hard pegging. I ejaculated a ton of cum on the bed , our bodies were sweating and my legs were shaking. After 1 ejaculation and multiple orgasms, I had no strength to stand. She laughed in satisfaction and took my cuffs and gag off and then she instructed me to clean the sheets like a good bitch. I started to lick it all off , she then asked me "tell me now who is the cum princess ?"
"I am "
"And who am I ?"
"My queen ?"
"No , you slut I am your KING" she said. While playing with her strap on still tied to her waist and an winning smile on her face. I couldn't be happier to see her happy