A Night Of Uninhibited Sexual Pleasures
I still remember the last words of the dominant hypnotist: "My submissive, I promised your girlfriend to make you more excited so you can fuck her all night long. Your cock will get very hard and you will have the desire to lick her pussy every two hours."
And indeed, that's exactly what happened. Every two hours or so, I had a furious desire for sex and even more to give my girlfriend cunnilingus, like a good submissive dog despite me being an alpha male. Something that the dominant hypnotist didn't tell me is that when my lips were stuck on my girlfriend's lips, I had this image in my mind of a hot red color which made me lick her with so much more desirable.
And something unthinkable happened, the taste of my girlfriend transformed into the taste of the dominant hypnotist. That caused me to want to see Madame Destiny again. My girlfriend seemed happy to see me in such a sexually heightened state. She enjoyed pleasure like she never had before with my tongue. Unlike Madame Destiny, she wanted to feel the cock of her alpha male inside of her again. We had sex 5 times that evening. That had never happened to me before and each time I got hard again I felt like I was still in my 20s. She noticed the marks on my buttocks but didn't question how they got there and assumed it was because of our night of passionate lovemaking.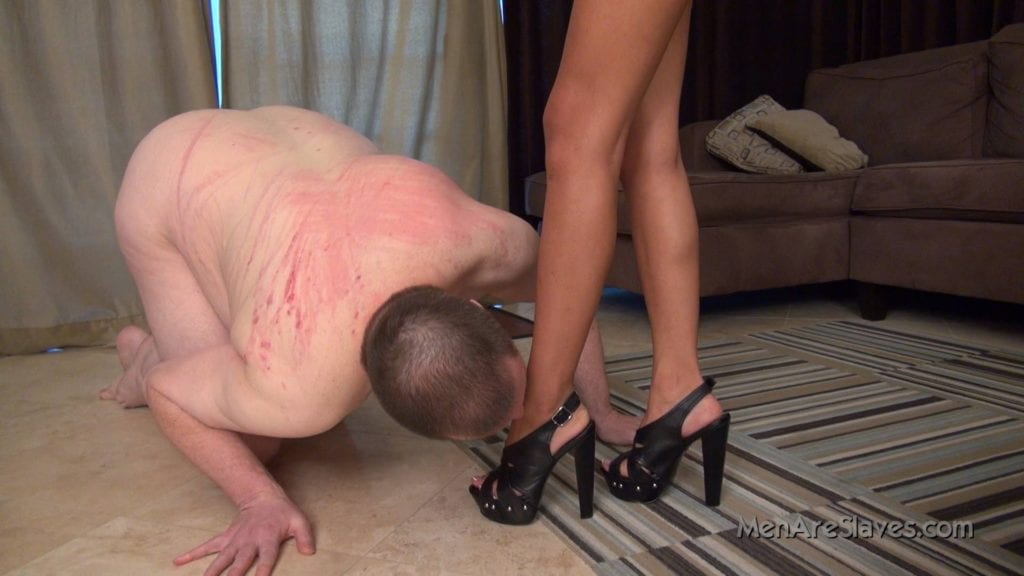 Thinking Of The Dominant Hypnotist
To my surprise, I proposed the next morning that we return to Madame Destiny's show in the evening. I felt a strong need to see her again. When I left that morning to go to work, I was in good spirits yet my thoughts were with the sublime hypnotizing redhead. Suddenly, I remembered she had given my girlfriend her phone number in case of an emergency.
I texted my girlfriend to ask her to give me Madame Destiny's phone number so I could text her about the times for her show this evening. She sent me the number and I immediately started texting, the dominant hypnotist. "Madame, first of all, my girlfriend and I thank you for your support last evening. She will not be able to go to the show tonight, but I will be going and who knows, maybe you will choose me to go onstage and participate again."
I pressed the send button. A few minutes later, I receive a response. "Nice to hear from you again. Are you available this afternoon? If so go to the theater at 12:15 pm. If not, you can come 30 to 45 minutes before the show starts. Enter on the side where the performers enter. You can touch yourself every two hours but you cannot cum. See you tonight!" Unfortunately, I had a lunch meeting at work so I couldn't go during that time. I felt myself getting hard again knowing where the desire came from.
Do you Have A Hardon Now?
My cock was hard all day and I am sure my assistant probably wondered if I was sick because I spent so much time in the bathroom. Unbeknownst to her, I was giving myself handjobs. I was an alpha male in the grips of this dominant hypnotist. I arrived at the theatre one hour in advance. Then, I looked for her text message but couldn't find it, I must've deleted it. I sent her a message letting her know I was at the theater where the performers enter. "I'm coming," she replied. In broad daylight she was radiant. I would learn later that she was approaching fifty but she could've easily passed for a woman 10 years younger. She had me under her spell. I apologized for being early. She burst out laughing. "On the contrary, it's good you arrived early." I blushed to smile at her.
"You have a hardon now?" A little confused by the question, I said, "No Madame." Inevitably, I began to get hard. She smiled, "You're really going to lie to me? I could see the bump through your pants." "Should I take my clothes off?" "For who?" She asked. I confessed to her, "For you." "Follow me," she said. I was bewitched and at her mercy. She had my mind, body, and soul.
Where was she taking me? I felt every part of my body shudder and desire every one of my intimate parts. In fact, I felt an uninhibited sexual desire as opposed to my discreet nature about intimate relationships. We arrived in her dressing room, "You will quickly make me cum and then I will teach you new pleasures and see how your ass reacts to being penetrated. Forget about being an alpha male and give me pleasure with your tongue if you want me to let you cum!"