The Day That Changed My Life
I still remember vividly the day I met my ebony dominatrixes. I was just getting ready to pull out from the gas station when I felt a bump behind me. I looked around and saw a car against my rear bumper. I turned off the car and stepped out to take a look. Sure enough, someone had hit my car. The passenger door from the other car opened and a woman stood up. She looked at me, then she looked back into her car.
"Look what you did. You hit this guy's car", she said looking at the girl on the driver's side of the car.
She then looked back at me and said,
"Sorry, she just got her license."
"Well, there is only a minor scratch to my bumper so I guess I can see if the paint shop can clean it up so we don't need to involve the insurance."
"That sounds good. We would like to pay for that. How much do you think it would cost?"
"Probably less than $100", I said.
"OK, we can do that. But I have no cash on me right now. If it's OK with you, we can go back to the hotel room and get it. You can follow us so you know we are not going to disappear on you."
"Sure, just lead the way."
I pulled over to make room for them to pass me before I started following them. It was only 1/8 mile to the hotel so that wasn't too bad. I parked next to them and the woman I had spoken to waved for me to come inside.
My Ebony Dominatrixes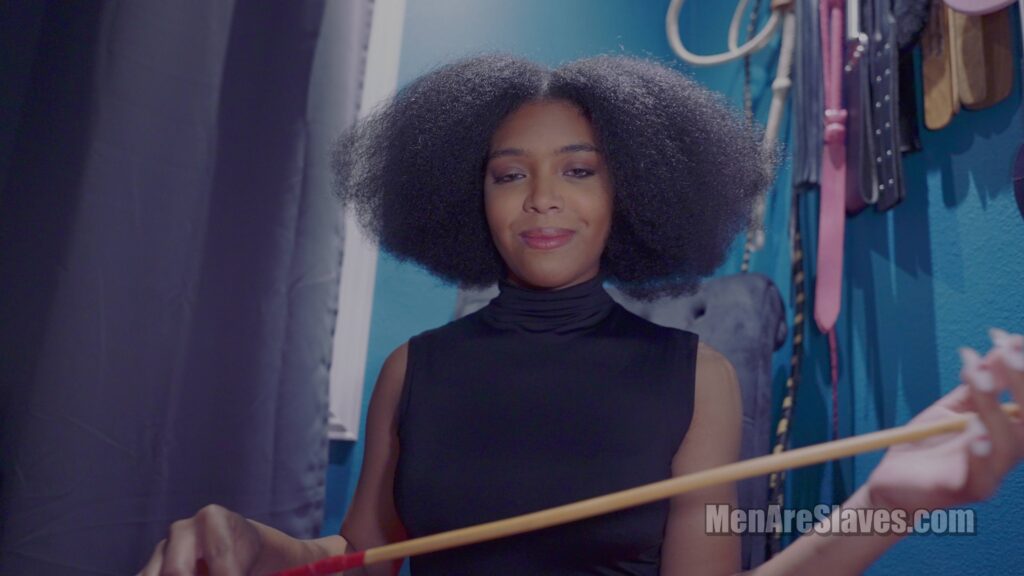 At this time the driver had stepped out as well. As I looked at them, I realized that they were two beautiful black young girls. Maybe they were sisters, who knew. As we got inside, the older girl looked at me and said,
"We're going to the room to get your $100. You can stay here or come with us."
Well, I figured it would be safer to tag along to make sure I got my money. There was an awkward silence in the elevator and I felt like they were staring at me. Once in their room, they closed the door. The older girl walked over to her suitcase to look for something.
Hopefully her wallet. In the meantime, the younger girl had come up behind me. And then without warning, I felt this terrible pain in my side, my knees buckled and I stumbled to the floor. She had tased me. I was somewhat paralyzed down on the floor.  The older girl walked and kneeled down in front of me.
"Hi there, I'm Tori, and behind you is Naomi.  I figured I should tell you so you know who we are. We are going to be your ebony dominatrixes this evening.  No worries, we will not do any real harm to you.  Just a little fun for two ebony dominatrixes like ourselves.
Being Restrained By These Beautiful Black Women
"And yes, I know what you are thinking; you want to report us to the police.  But I think you will find out that it wouldn't get you far.  First of all, you will be walking away from this alive, and second, I will take some pictures along the way that I would assume you would like to keep private.  So now that you understand the situation, we will proceed.  If you try anything, Naomi will tase you again.  And this time she has turned the power-up.  We need you to stand up again so we can remove your clothing.  We will also put these leather restraints on your wrists and ankles.  This way we can handle you more easily."
I was at a complete loss for words.  What the hell just happened?  What were the ebony dominatrixes going to do to me? I didn't have any time to even think about it before the ebony dominatrixes got started.  Once standing I was still somewhat shaky both from the stun gun but also as my mind couldn't figure anything out.  The ebony dominatrixes made a swift removal of my clothes and got the restraints strapped on me.  They placed a metal rod between my ankles that kept my feet locked two feet apart and sat me down on the bed.
My Hard Cock And Facesitting
After moving me into position, they pulled my arms over my head and tied each wrist to the headboard. My legs were pulled up and held in that position by a rope to the headboard.  So there I was; naked, on my back, tied up to a bed by two ebony dominatrixes I didn't know.  While I was trying to understand what was happening, the girls were undressing.  Naomi sat down on the bed and started to touch and tease my dick.  I really had no way to resist and nature took its course.  In no time at all, I had a rock-solid hard-on.
"Wow, take a look at this one, Naomi said. Nice, we will use him well," said Tori.
As Naomi continued to play with my cock, Tori leaned over to my face.
"We will use and abuse you, but if you behave yourself, we may let you get something out of it as well.  I hope you can use your tongue because I am in desperate need of an orgasm."
She climbed up on the bed and straddled my face. Once she found her position she pulled my head up and placed a pillow behind my neck.  She kept pulling my hair until I started to use my tongue.  I was licking her cunt in every way I knew.  I was going for quite some time, and I could hear Tori getting excited. Her pussy was dripping wet. In the meantime, Naomi had inserted a dildo in my ass.  She was working the dildo with one hand and playing with my cock with her other hand.
Stretching Out My Asshole
Tori must have come two or three times before I had a break.  Naomi had kept working with a bigger dildo and plenty of lube so my ass was stretched wide open.  Tori stepped off and I thought I was given a break.  But no, Naomi climbed up and urged me to lick her.  Tori came around with her phone and started to record me. Naomi seems to be quicker to reach her climax.  Then she slid herself over to position her asshole in front of my face.  I knew what was expected and I started to stick my tongue in her rear hole.  Tori gave Naomi a nod to lift her ass up. Tori focused the camera on my face.
"So what do we got here?  A nice white boy that seems to enjoy cleaning out this delicious ebony asshole.  How sweet.  I hope you know you will have to clean my ass next.  I guess you are a really good cunt licking and ass-eating slave?  Is that so, slave?"
My ebony dominatrixes looked at me waiting for an answer.
"Oh no,"  Tori said.  We will not tolerate such language.  Naomi do you have the taser ready.  I think he needs another jolt.  Or, do you want to change your response?  If so, I want you to tell me that you are cunt licking and ass-eating slave.  You must be able to convince me that you are serious and not lying."
Whipping My Bare Ass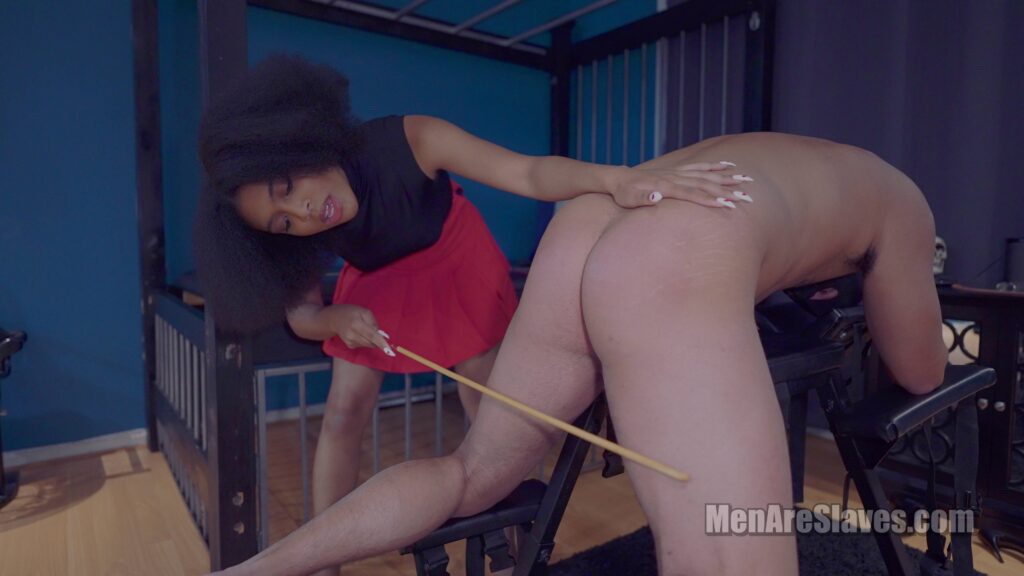 "Thank you for giving me a chance. Yes, I am a cunt licker and ass eater.  I love to use my mouth and tongue to please my ebony dominatrixes."
"Fantastic. You may continue pleasuring Naomi."
Tori put the phone down and put on a strapon with a huge cock.  She guided the tip into my stretched-out ass.  I tried to relax, but it was quite a shock when she pushed full force.  She then gently started to pump my ass. At this time, Naomi stepped off, and it was her turn to record what was happening.  Tori fucked me for a long time.  Naomi started to play with my dick again.  I had resigned. My mind and body had surrendered to the ebony dominatrixes and I just tried to obey them as well as I could.
Once Tori was satisfied, she pulled out. I felt a brief relief, but not too long before Tori stepped up and put her ass in my face.  I started to lick her, and at the same time Naomi must have picked up a whip that she lashed my bare ass with.  I initially screamed out in pain, but Tori muffled the sound with her ass over my mouth.  The pain was unbelievable, and there was nothing I could do about it except keep licking Tori's delicious asshole.  The better I seem to satisfy her, the less she whipped me.  So I kept licking.  When they finally stopped, I was completely exhausted.  I guess they realized my condition, so they gave me a break.
The Golden Shower
Once they came back they both giggled and made comments about my ass being worked over both inside and out.  They untied me from the bed and made me move down on the carpeted floor.  They re-tied my arms over my head to the bedposts.  Then the ebony dominatrixes propped up my head with more pillows.  Naomi then positioned herself over my face again.  I knew what was coming.  More cunt or ass licking.  But I was wrong.  Tori lowered herself down alongside my face with her camera phone in hand.
"Hi there.  I'm not sure if you know what's going on, but here's the deal.  We've been working very hard outside.  To keep up we had to drink a lot of water.  And now we need to use a bathroom.  I just said to Naomi, why use the toilet when we have this white slave boy here.  I told her that I was convinced that he would gladly drink our warm piss rather than waste it in the toilet.  What do you think?  I think you're aware of your situation and will make the right decision without a fight.  Just nod if I am correct."
In my broken condition, I knew exactly how correct she was.  I nodded.  Tori kept recording as Naomi pissed in my mouth.  I swallowed the golden shower as fast as it came, and didn't spill much of it.  Once Naomi was ready, I used my tongue to clean her pussy before she stepped off.  Then it was Tori's turn.  I knew what to do and I realized that it wasn't too bad.  Tori stayed on and let me lick her while Naomi put a condom on my erect dick.  Then I could feel Naomi climb onto my dick and she was fucking me while I gave Tori one more orgasm.  It didn't take me long before my dick couldn't keep up and I ejaculated like never before.
Eat Your Own Cum
Naomi slowed her motion and stepped off. She removed the condom and cleaned my cock off.  The ebony dominatrixes switched places and Tori started to bring new life into my dick.  It didn't take long before I was rock hard again.  She put a new condom on and climbed aboard.  This time I could keep going for a much longer time, which I'm sure Tori loved as she was coming over and over again.  Naomi was sitting on my face letting my tongue satisfy her as well.
When I finally came, it seemed my ebony dominatrixes were satisfied.  They stepped away and let me have a break.  In a couple of minutes, they came back.  They had gotten themselves dressed, which lead me to believe they were ready to let me go.  They untied me and stood me up next to the bed.  Tori had a small plate with her that she put in front of me.
"This is all your cum.  We collected and saved it for you.  I hope you can appreciate this favor and gift from us.  So if you want us to let you go, you must eat all of this first.  I'm not sure if you ever ate your own cum, but I know you will do it today.  So let's wrap up the day and do not make us wait."
Naomi was using the phone to film everything, but it didn't matter.  I had no choice.  I stuck my tongue into the sticky glob of cum and started to lap it up.  Once I was done, Tori tossed the plate on the bed and then she removed all my restraints while Naomi kept showing me the taser gun.
Reliving The Best Moment Of My Life
I just sat there, unable to move or say anything as they packed up their things and walked out the door.  It took me over fifteen minutes after the girls left before I could move.  I got over and checked that the door was closed.  Then I jumped into the shower to clean myself off.  I found my clothes and all my belongings, except that my cash was gone.  As I was leaving the room I was thinking about what had happened.  As I stepped into my car I noticed my ass was in pain after being abused in every way.  It certainly wasn't easy, but I got home after an interesting ride.
I still today, cannot fully come to terms with what happened.  I do have to admit, that there is some part of me that remembers this event as something very wonderful that happened to me.  And yes, I have been seeing a professional dominatrix try to repeat the events that happened that day. However, I am still searching for that ultimate experience again…