The Awakening of my Dominant Women: Mistress Samantha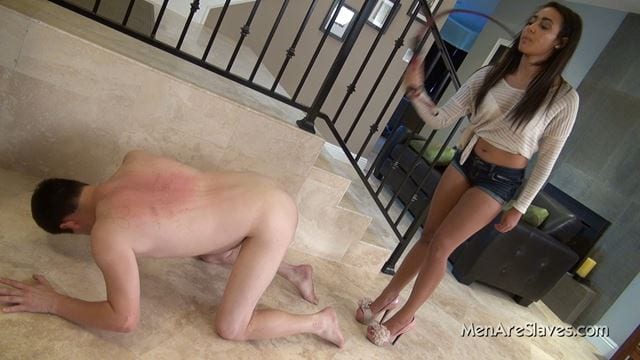 "Have I allowed you, sissy slave, to do anything but lick my feet?" Samantha asked, looking up from her newspaper, looking bored.
-No Mistress, I apologize.
I returned to my task, languorously kissing the soles of her feet as she liked. It had been two months since I was the sex toy slave of Samantha and she had spared me nothing.
I had spent the night tied to the foot of her bed, rolled into a ball on the carpet. On rising, she had demanded a long cunnilingus of nearly an hour that I had carried out with devotion, directly under her duvet, while she was still sleepy.
This morning she was leafing through her favorite newspaper, sipping the coffee I had prepared for her. Meanwhile, lying on the floor, on the cold tiles of the kitchen, I used my tongue to relax my owner's feet. The whip on her the knee of my mistress made me shudder. She never separated from it any more than a few minutes and even carried it with her to sleep. So she was ready in case, suddenly taken in the middle of the night, she would take the liberty of giving me a free correction.
A voice was heard in the adjoining room.
-Mistress, I'll bring you your orange juice in a hurry.
"Good slave." You're going to make me a bath and prepare my things for the day. I have to visit friends and accompany them to the movies.
Lea, a Submissive Slave
A young girl, completely naked and wearing the same electric collar as I, appeared in the kitchen. She advanced on her knees and carried a tray on which stood a glass of orange juice and a towel.
Lea was also Samantha's slave. She had been kidnapped in the same way as me but much earlier. While I had only been at the service of my mistress for two months, Lea had been serving her for nearly three years. On her back and her buttocks, one could see many stripes due to the many lashes she had received over time.
Lea was twenty-two years old, hardly older than I was. She was breathtaking beautiful, with long black hair that Samantha had tied in one braid and large almond-shaped eyes of a pale blue.
Lea approached her mistress's tray and Samantha exchanged her empty cup of coffee with the glass of orange juice. She drank long sips and once finished, she wiped her lips with the towel. Lea held the tray in the air at arm's length, perfectly still.
I continued to kiss my mistress's feet, insisting in the hollow of the toes because it was a very erogenous zone. Samantha finally left her chair and dragged me by my leash to the living room where she dropped onto the couch. Her legs apart and the skirt raised, she presented her buttocks and absently caressed her thigh.
-Lick me a little on the anus, slave, while Lea is preparing my bath.
My Mistress Loves Anal Play!
Samantha loved the anal play, it was something I had come to know. She did not go one day without, she ordered me to give her pleasure with my tongue exploring her ass. According to her, Lea was very good at it, but I was even better. Before the girl was her licking her anus, but I had been assigned to replaced her.
Lying on her stomach, her hind leg raised, Samantha sighed with pleasure pulling on my leash, clasping my face between her thighs.
With application, I passed my tongue along her buttock, lingering minutes on her anus. To accentuate her pleasure, Samantha was performing back and forth with her behind, using me as a simple toy.
I felt my cock moistened gently. Samantha grabbed me by the hair and, by herself, moved my head up and down, my tongue out as her sex-toy. Then she rubbed my face against her ass faster and faster, even making me grimace with pain.
-Hummm … Is my bath ready Lea? Samantha asked without stopping her movement.
-Yes Mistress, just another few minutes!
"For every minute more, you … Oooh, yes … You'll get three lashes tonight! Is that clear ?
-Very clear Mistress.
Samantha stopped her gesture and pushed me away. She turned on her back and pulled on my leash so I got closer to her. She inserted a finger into her anus, rotated it several times and pulled it out.
-Open! She ordered.
So I obeyed and she dipped her finger into my mouth.
"I do not get tired of it," she said, laughing and pushing me violently, so much so that I fell off the couch.
A Bath for my Mistress
Her bath was finished, she went to the bathroom upstairs. Then I followed her on all fours, the only way I could travel. Lea was waiting in front of the bathtub on her knees, her arms behind her and her eyes lowered.
Together, we helped our Mistress undress and get into the bubble bath. We were both cold by dragging ourselves on the ground and passing our lives naked, and the warmth of the bath water gave us great desire but we did not let her see that.
Then Samantha basked, stretching her legs in the bathtub and stroking her breasts.
"Come on, slaves! Entertain me!
Lea and I began to embrace and mutually masturbate each other. Lea held my penis firmly and made a sudden back and forth motion with her hand. For my part, I kissed her neck and kneaded her breasts with my two free hands.
The harsh and gentle caresses that Lea offered me were not at all agreeable because Samantha did not like that we were really having fun without her intervention. So, what we were doing was only to entertain her, not to satisfy us.
Small Entertainment for Mistress Samantha
She turned her head towards me.
-Slave. Leah, I want to hear you talk.
I seized my partner slave by the hips and inserted my cock now hard and erect between her thighs, making her gently penetrate her ass. It was very narrow.
I began to sodomize her vigorously, pushing my penis a little further in her anus with each movement. Lea moaned with pleasure and rubbed her clitoris energetically. The sounds she produced visibly satisfied her mistress because Samantha masturbated, under water, devouring our eyes.
She even went halfway out of the bath to spank Lea's ass, as I accelerated my movement.
It lasted almost ten minutes before Samantha ordered me to stop and let Lea suck me. During all this time I had to refrain from ejaculating, which was very painful, and I knew that Samantha would not allow me to do it other than under the action of her feet or her own hands.
So it was extremely frustrating and unpleasant.
After a good half hour spent relaxing watching her slave sucking me, Samantha came out of the bath. Lea went down to the living room to prepare our Mistresses clothes, while I dried off Samantha and coat her feet, her legs and her hands with cream.
Samantha liked this morning because she stroked my head and slipped a piece of chocolate between my lips.
"Here, it's for your performance, slave," she said.