My Femdom Life
Dear Diary,
One of the many men who covet my gorgeous body is staring at me in the restaurant as we dine. Little does he know about my secret Femdom life. From across the table, his date can see the key that cages my sub's dick dangling between my breasts while I am wearing a sexy outfit with a plunging neckline and matching thigh highs with heels. My submissive man looks like the Boss that he is, but little do the onlookers know who really is in control.
Later that night, I drop my outfit to the floor and I make him strip. When he drops his trousers, he reveals his white sissy panties. Our thongs match and I remove mine, push him to his knees and make him lick my clit. I can see his cock get rock hard in the little chastity cage I put him in. I grab my nipples as I cum. After the rush fades, I want more so I get up and grab my strap on.
He wants this Femdom life so now I am going to give him what he wants by fucking him hard in the ass. I push and bend him over the dining room table moving his panties to the side. Who does this pathetic excuse for a man think he is? This is happening now and I am going to make his cock rock hard in its cage.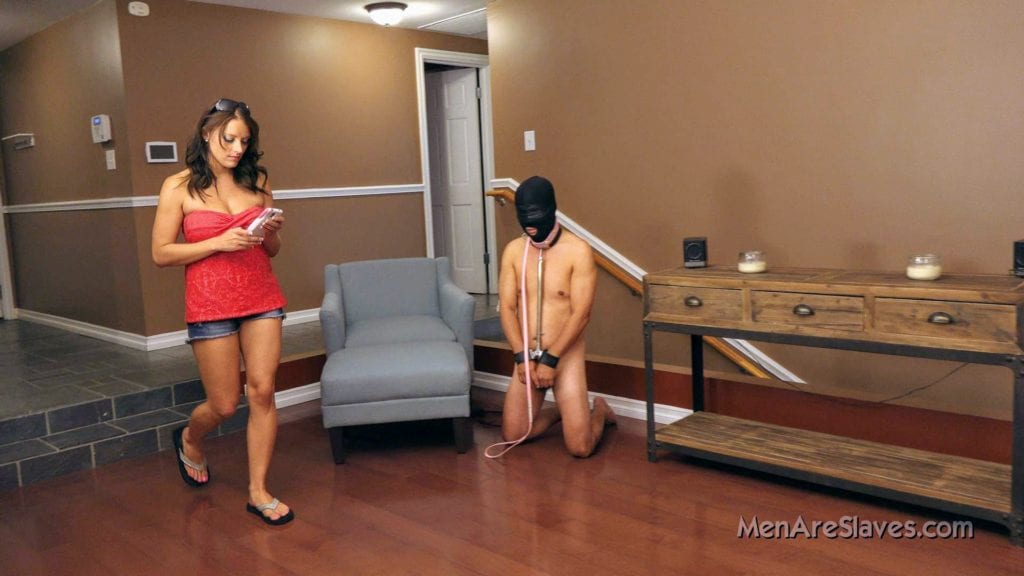 He Belongs To Me
I love the part just before I fuck his tight little asshole. I like to savor this part and move the tip of my dick slowly as I sneak it in his tight little pussy. Even though I feel him clench and resist a little bit, my slick jelly dong beats down the last of his resistance and I feel my girth move right into his willing butt hole. My cock slides balls deep into my slave of a husband.
This is my favorite part and my nipples harden as I slide my nine inches slowly in and out of his ass. This bitch gives his ass to me willingly. I own this moment in every sense of the word. Picture this, you literally have a grown man's dick in a plastic cage with the key between your breasts, meanwhile, you are taking a long dildo and shoving it up to his ass while it rubs your naked clit.
This is power, I call the shots and at that moment I am in total utter control, then I slap his ass and get rough. Oh, Mistress, you hear him cry, "You like that huh…. you like when we fuck? I am going to make you cum tonight right inside that pathetic little chastity belt of yours…."