Good morning Goddess,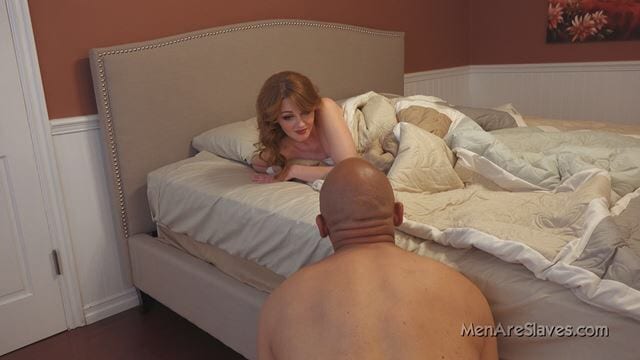 I obeyed You and finally told my Girlfriend about our sessions and gave Her the letter You wrote to Her. She was at first very angry with me and shocked. She needed some time to absorb it. She's angry that I hadn't told Her about You sooner, but is still glad that You wrote to Her. After having a few days to think about it, She has considered the arrangement You have proposed with an open mind and said perhaps we could move slowly toward making it real.
She said that in a way it didn't come as a complete surprise as I have been subtly submissive to Her in the past, both domestically and sexually. And I think it helps that she realizes the session play that You and I share is not a threat to Her or our relationship.
Our Relationship
She sees how this can actually be designed for Her benefit through training me to be even more submissively focused on Her happiness and pleasure. Then she also said that while She is not quite yet ready to meet with You, the part in the arrangement about my giving Her oral sex every morning is something She has decided will begin immediately!
She said to thank You very much for the suggestion. (That part of the arrangement actually started this morning, so it appears we are moving forward quickly!) She also is open to some of the other things, including the chastity arrangement and was curious to seeing how You might help us put it into practice.
I have followed Your instructions and ordered the chastity device You have chosen for me. It should be delivered to You in a few days.
Chastity Device
In the meantime i have followed Your directive to abstain from masturbation without Your or my Girlfriend's permission. And of course I am to provide sexual pleasure for Her whenever She wishes. I am both excited and nervous to enter into this enhanced submission to You, my Goddess, and now my Girlfriend, who seems open to becoming a dominant Mistress, enslaving me with Your guidance.
She has asked that I write out and describe exactly what happens when we session together to help Her better understand. Here is what I wrote for Her about our last session. I kneeled naked before Her last night as she sat on
Her bed and read it silently to Herself:
"Goddess greeted me at the door and smiled as I kneeled before Her to kiss Her feet. She led me to the living room and I follow Her previous instructions to me to remove all my clothes and kneel before Her. Goddess likes to sit back while I massage Her feet as we talk in depth about my overt submission to Her, my stealth submission to You and submissive deference to all Women. We talk about everything from the philosophy of Female Supremacy to how even something as simple as washing dishes or doing laundry can be a subtle form of submission to a Woman.
I usually will do some nude chores for Her, serve Her drinks and kneel before Her so She may use me a footstool. There are a few different footstool positions She likes. 
Sometimes I am on all fours with Her legs on my back.
Other times She will have me kneel facing Her with Her legs resting on one or both of my shoulders as she watches the TV behind me, not allowing me to watch as I am only there to serve and worship Her. Sometimes She allows me to kiss Her as She changes positions and gently brushes Her foot across my face, pausing so that I may kiss, lick and clean between Her toes.
Goddess has also given me a directive to submit a slave contract to both You and Her. We are working on it together. I sit at Her feet with pen and notebook in hand and write down ideas to put into the agreement . Slave contracts work to clarify the terms of ownership the Mistress shall have over Her slave, slavery defined in part as submission, obedience, protocol, punishment guidelines, etc.
Requirements & Guidelines
It is being written with You in mind, and one of the requirements is that I should always address You as Mistress and Her as Goddess. I will live to serve and obey both of You, with Goddess guiding us along this new relationship path. I hope so much that You are open to trying to see if it is something You might like."

After She finished reading she looked down to me and caressed my cheek and smiled. I could tell she was intrigued.
She then spoke to me words I will never forget: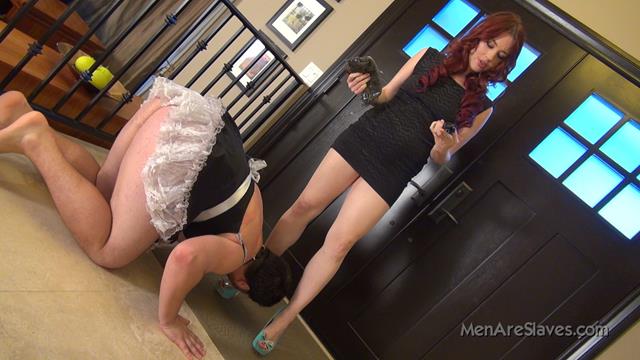 "Ok, in private You may address me as Mistress. And I will in kind refer to you as my slave. I am very interested and willing to explore this with You my dear, in privacy with your Goddess friend who I intend to meet with at some point. But in our social life, we will continue as before, and this arrangement will be between the three of us."
I looked up into Her beautiful eyes, so loving and accepting. I wept a little and put my head into Her lap.
"Thank You, Mistress. I love You" was all I could say.
Thanks so much Goddess for guiding me to open up to my Girlfriend, (now my Mistress thanks to You!). We both look forward to this exploration with You.
With submissive adoration,
slave j