Hello Goddess,
For today's devotion, Mistress has told me to write about our recent experience with You so that we may also share it with the readers of Femdoming Magazine. Thank You again so very much for the wonderful evening, Goddess! Your guidance is changing our relationship and our lives. Here is today's written devotion…
Mistress announced to me that Saturday morning while I orally pleasured Her that we would be visiting You, our Goddess, together for the first time. My heart skipped a beat with nervous anticipation as I knew that this would involve my first punishment as Her slave. I had no idea what it would be, but Mistress assured me that the two of You had spoken about it and it had been decided. It was time for me to be punished for not telling Her about You sooner.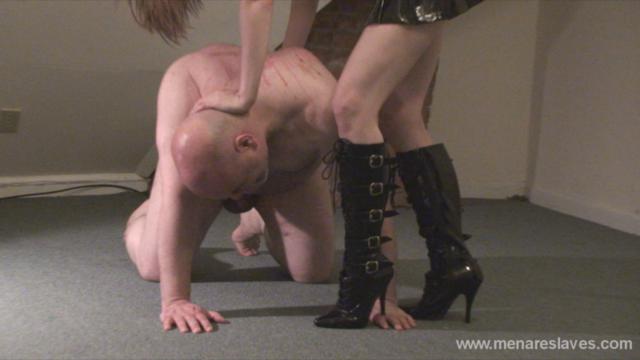 The Punishment
She said that it would be the best thing for my training and our relationship. It would also be a good opportunity for Her to demonstrate to me the experience of punishment and how it will be effective at making me a better, more obedient slave. I understand that it will need to be something that I would prefer to avoid for it to be an effective behavior modification tool. But at the same time, I am to embrace it as part of my training and an opportunity to demonstrate the degree of my submission to Her.
A Mistress punishing Her slave can is a very intimate experience, and I know this will bring us closer. Mistress knows that ultimately it will need to be Her who administers the punishment, whatever it is.
Deciding on the suiting punishment
She told me when it comes to corporal, She wanted to watch You first and then when She felt more comfortable with it, She would participate. Even though She is still a little apprehensive, She knows that it is important for Her to establish that connection with me, knowing that it is Her hand that delivers the physical pain, asserting Her dominance over me, enhancing our intimate Mistress/slave connection.
She already has been looking around the house for possible implements, and has teased me by leaving a different item on my pillow every night. One night it was a hairbrush. Another time it was a large wooden serving spoon. Next was an old ping paddle she found in the closet. She smiled at my surprise each evening when I first spotted Her future punishment device. Then She would have me bring the implement to Her and kneel before Her presenting it with my head bowed.
At Her feet, Submitted
She would pick up my chin and hold the toy up to my lips for me to kiss, all the while looking deeply into my eyes, searching for my emotion, which was a mixture of fear and excitement. She has come to have a very intense look in Her eye during these moments. I feel it represents a significant point in our relationship as she moved closer toward accepting Her new responsibility as a Mistress to punish Her slave.
Before we left to go over to Your place, Mistress had me gather up scissors, shaving cream and razors and put them in Her bag. She then took off Her panties and gave them to me to put on, along with a robe and slippers. This is all I would be allowed to wear for the drive over.
The trip to a new experience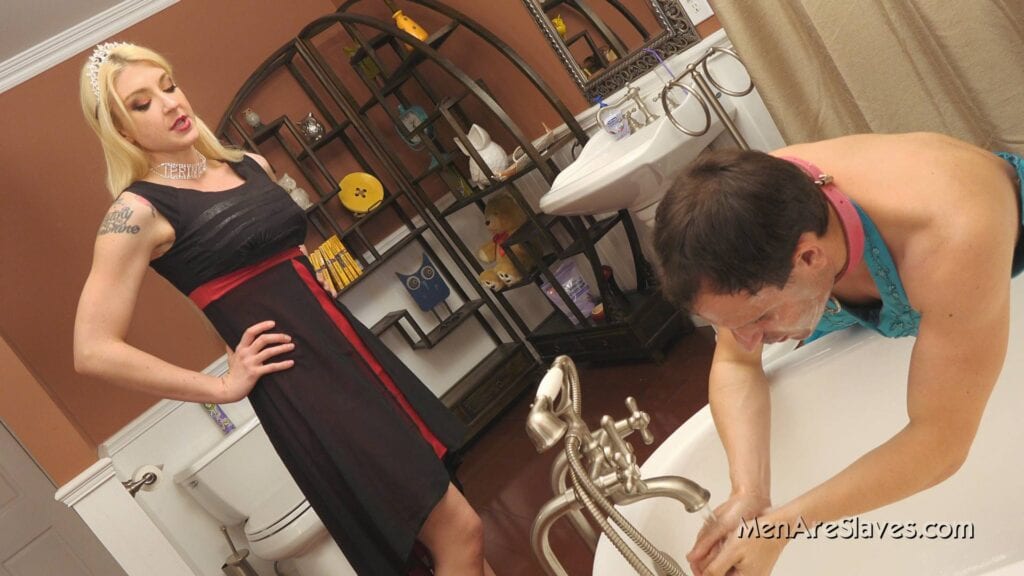 She went into the bathroom and made Herself absolutely gorgeous, putting on the gothic style makeup I love so much, with a black leather skirt, thigh high black boots and a very cool looking hat. She was dressed for the occasion and turned heads while we walked to the car. We were quite the pair! Me in my robe and Her so done up.
We knocked at Your door and were surprised to see Your younger sister Ashley greet us. She smiled and invited us in and led us to the living room. She invited Mistress to sit down and took Her coat and my robe. Ashley took a good look up and down at me wearing nothing but Mistress' panties. She giggled along with Mistress as I move to sit in a submissive position on the floor at Mistress feet.
How Cute!
"That's pretty cute, Mistress" she commented. "What a nice idea to have a panty slave tonight!"
"Thank You Ashley!"
"Sit back and relax and my sister and I will be out soon." She then disappeared into the next room, leaving us alone for a brief, pre-punishment session moment together.
"I love You so much Mistress" I said and laid my head in Her lap. Mistress caressed my hair and whispered to me.
"You are my slave and I love You too."
With that You entered and introduced Yourself to Mistress, she got up and embraced You. I took pleasure in seeing the two of You finally meet.