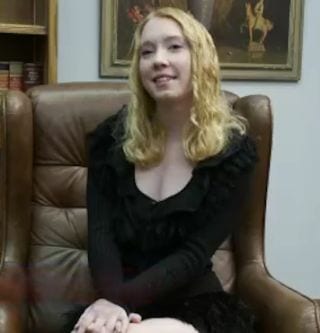 Kink.com, the company behind the hymen cam, has apologized for, well, being normative about female virginity. And the apology is pretty convincing!
To recap, tomorrow, Kink.com will livestream the first time Nicki (or Nikki — it's spelled both ways on the site) Blue will have vaginal sex. She's already had anal and oral sex in her personal and professional life, and several observers took issue with the way the event was being marketed with language like "deflowering" and "sacrificing innocence." (Here's a — obviously NSFW — video where Blue describes why she wants to do it. In it, she cheerfully discusses her love of webcamming and kink, says she wants to explain to people what a "real virgin" is, and describes experiencing pain while trying to put in a tampon.)
Peter Acworth, the founder of Kink.com, was profiled in the Times magazine a couple of years ago as the representative of a new kind of pornographer — well-educated, sensitive, Internet-savvy. And indeed, when we first wrote about the virginity stunt earlier this week, plenty of readers responded to either defend the sex-positivity of the company or express their disappointment at its inability to meet their high standards for it.
They may now be pleased with the Acworth's apology, as Maggie Mayhem, a vocal critic of the packaging of the scene, was. The site's advertising is NSFW, so we'll reprint the apology in full here.
Sexuality and pornography are very charged topics that mean extraordinarily different things to different people. No matter what choices one makes as a porn producer, there will be critics. At Kink, we realize that what we do isn't for everyone and we're okay with that. But we also pride ourselves on our ability to truly listen and recognize when we've made a mistake, as we did recently with the way we marketed the "deflowering of a virgin" on The Upper Floor.

Several months ago, a young lady named Nicki Blue approached Kink with a very specific and determined request – to be penetrated vaginally for the first time in front of an audience and broadcast it live on the internet. She had already been exploring her sexuality quite extensively, including anal and oral sex, but she had reserved her vagina – with its corona in tact – for the moment when she could live out this particular fantasy.

I was extremely honored that Nicki felt that Kink was the place where she could be comfortable acting out what had been a longstanding and powerful fantasy – one that hinged entirely on her concept of virginity. A concept that was not worded in a medically factual way, but nevertheless has profound sexual meaning for her and many others.

A lot of discussion and thought was given to whether holding this kind of event fit into Kink's mission – to demystify and celebrate alternative sexualities by providing the most ethical and authentic kinky adult entertainment. We debated internally for months, but finally came to the conclusion that we are in the business of fantasy fulfillment and that we could help her have the experience she was looking for in a way that would be positive for everyone – Nicki herself, the gentlemen she would be acting out the fantasy with, and the members with whom she would be sharing this experience.

Instead of showing our gratitude to Nicki for choosing Kink to fulfill her sexual fantasy – to break her hymen during her first vaginal sex experience in front of thousands of fans – we marketed it in a way that relied on sexist tropes and myths about the female body that we should not have perpetuated. And that fact was rightfully brought to our attention by bloggers who hold us to a much higher standard than that. We truly thank them for it and are gratified to see issues surrounding female sexuality, virginity and sexism being discussed in public forums -even if it was as a result of our screw up.

The controversy also sparked some very serious internal discussions at Kink about where things went awry, what our values are as a company, and how we can do better in the future. For now, we're 100% committed to helping ensure that Nicki's first vaginal sex experience on Saturday is an amazing, unforgettable experience for everyone involved. We hope to see you there.
The press release has been rewritten, too, and the new headline is, "Nicki Blue Picks Kink.Com For Her First Vaginal Penetration." Okay, so maybe it's less catchy, but it's more accurate — and far less alienating to the base.
Maggie Mayhem wrote in an update to her original critique that she's pretty pleased:
While this might seem small, it is rare for a multi-million dollar corporation to respond so quickly to criticism. They are balancing the desire to have a successful and popular shoot, the unique components of Ms. Blue's fantasy, and the concerns of the community. It is an unenviable position to be in and not only do I hope that more porn companies will look at the way Kink has addressed all of these concerns, I hope that more companies and businesses in general would also take note. Ethics and profit are not mutually exclusive. That is the very building block that Kink.Com developed an empire around.
Everybody wins! Including Kink, which just got a whole lot more visibility for its livestream tomorrow.
[fblike]
http://jezebel.com/5733838/pornographer-never-meant-to-offend-with-hymen-cam