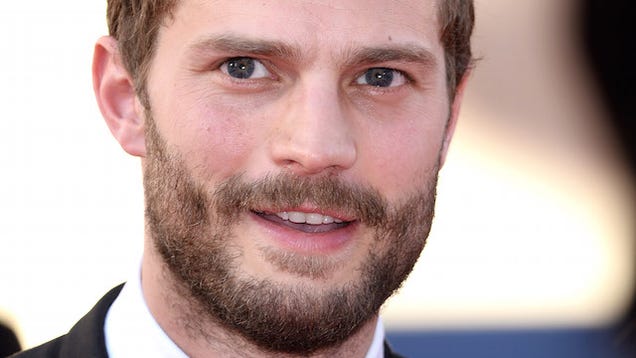 To research his role as prolific knot enthusiast Christian Grey in the upcoming Fifty Shades of Grey movie, actor Jamie Dornan spent leather-clad (I'D IMAGINE) evening at a sex club.
Via Elle UK:
So how does a nice lad from Holywood, Co. Down, prepare to play THIS sexual sadist (as opposed to the sexual sadist serial killer he plays in The Fall)?

He visits a sex-dungeon of course. "I went there, they offered me a beer, and they did…whatever they were into. I saw a dominant with one of his two submissives," he says.

There was plenty of kink… and plenty laughter. "I was like: 'Come on guys I know I'm not paying for this but I am expecting a show.' It was an interesting evening. Then going back to my wife and newborn baby afterwards… I had a long shower before touching either of them."
To quote the one line I remember from Fifty Shades, "OH JEEZ."
This movie is going to be a delightful disaster, ergo we should all get drunk and go see it. Also, I've recently binge-watched The Fall and have some…complicated feelings about Jamie Dornan. Please advise.
http://jezebel.com/jamie-dornan-of-fifty-shades-learned-how-to-sex-from-a-1672169947
Jamie Dornan of Fifty Shades Learned How to Sex From a Real Dungeon – Femdom Lifestyle
[fblike]