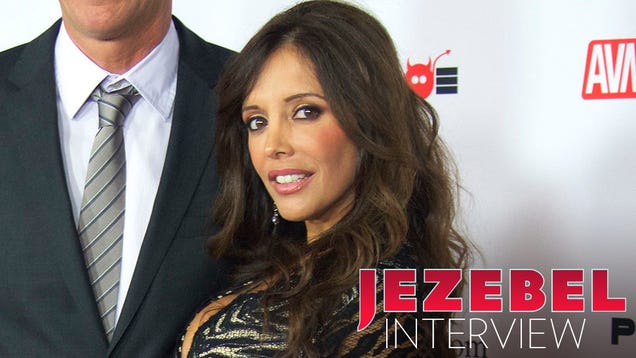 "Do you like the doggy style?" the interviewer ahead of me asks. "Do you like the anal and sex toys? In your personal life? Do you speak Spanish?"
I'm beginning to get annoyed. We were supposed to meet Francesca Le—a "motherfucking sex monster," as Joanna Angel describes her with pure admiration—and her husband five minutes ago. But this reporter, who's filming for a Spanish-language channel, seems personally offended by Le's inability to speak her mother tongue.
"I understand it," Le laughs (for the third time)."But I don't speak it." She and her husband Mark Wood are sitting on a couch in a giant green room (I know this because I keep poking my head in) and being grilled about their favorite positions. Double penetration, black men, gagging on dick: everything you would ever want to know about a stranger's sex life is in there. I'm beginning to think that my questions–"What is it like working together?"; "Is there anything you do as a director that's informed by your performing past?"—are the inappropriate ones. The interview's running longer than John Holmes' dick, and after two even longer days at the Adult Entertainment Expo (AEE), I want some MILF interview time of my own.
It's another 10 minutes before Allen, my photographer/partner, and I are allowed in. But before we can start talking, the other interview has to back out of the room slowly while asking questions about dildos, and Le and Wood get freshened up and have a drink. A business associate (another performer? I can't tell) wanders in and talks to them about whether they should get into a certain line of extreme anal videos before excusing himself to Skype with his kid. When Le, Wood and I do start talking, he's in the other room, telling a small child that he loves them. This background noise makes this chat with LeWood, as Le and Wood's production company is called, one of the weirdest interviews I do at the convention. It's also one of the best.
"Do you speak Spanish?" I ask like an asshole as soon as we sit down.
"No," Le says. "That's so funny! People always ask!" Le is tiny and glamorous, wears enough mascara for two, and more impressively, makes it work. Wood is tall and lanky and generally unassuming.
Le is clearly the star of this show. She and Wood interview as a couple, but when we ask to take pictures, Wood asks, "Me too?" deferentially. He looks to her first when we ask questions, appearing as if he's just kind of there for the ride. Wood is an integral part of the business, but we all know: Le is the real moneymaker here.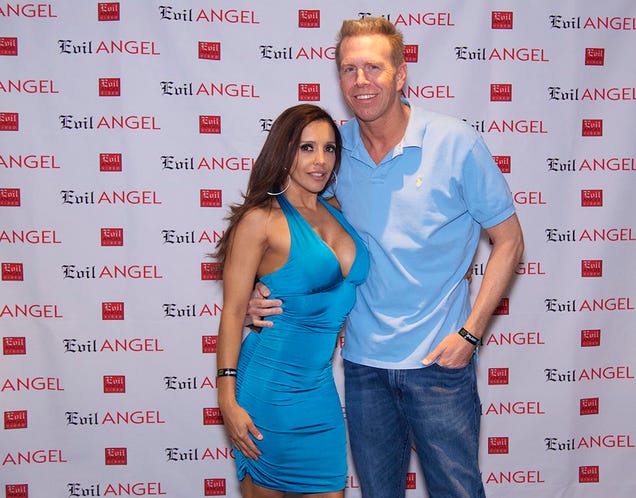 Yes, you too, Mark Wood.
This thought of women running things is echoed in an interview I conduct with James Deen earlier in the week. "The women get paid more because they're the ones selling the film," Deen says. "Say I'm in MILFmania #6. The real star is the MILF on the cover, not me. I'm just some guy. I can be replaced." He snaps his fingers. The MILF causing the mania is who's really in charge. And in this case, that MILF is Le, who I (#controversial) much prefer to reigning "Stacey's Mom" Lisa Ann.
"You're up for MILF of the year!" I say to Le. "That must be exciting!"
"Yes," Le says. She smiles, looking genuinely excited, although she hasn't prepared a speech and doesn't think she'll win. With over 50 people up for the award, her odds are pretty fucking slim.
Instead of asking her who I think will win—the winner, likely, will be a surprise to everyone—I ask Le about the strange situation of being labeled a MILF.
For me, and probably many of you, a MILF is someone with a kid of around high school age, at least. A MILF is not someone who delivered three days ago. But in the heterosexual porn industry, a woman becomes a MILF when she's no longer young enough to be a "starlet." And that age is somewhere between 27 and whenever "they can market you as a MILF," according to Julia Ann, past Hottest MILF of The Year winner and star of MILF Trainer (which, yes, is about MILFs training other MILFs.)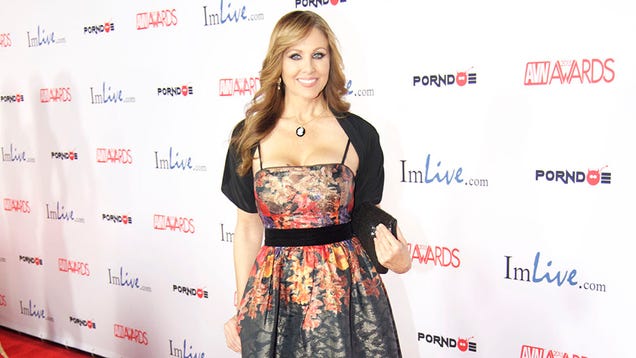 Julia Ann doesn't mind being called a MILF as long as the label is getting her work ("It's all marketing," she tells a fan/Fox News reporter on the AVN red carpet on Saturday night). Neither does Karen Summer, who at 52 is just returning to the adult industry after a 20-year-absence. She's shooting MILF films for Dogfart Network and laughs that she doesn't mind being a "MILF or a GILF as long as I'm working."Summer, who actually does have two grandchildren of her own, isn't afraid to get older. "QUEEN MILF" Lisa Ann, whom I mistake for Kyle Richards when I meet her, has just retired at age 42. But she's still playing up her old MILF persona for all it's worth, interviewing performers on the red carpet with a good-looking college boy who she's "great friends" with, wink, wink.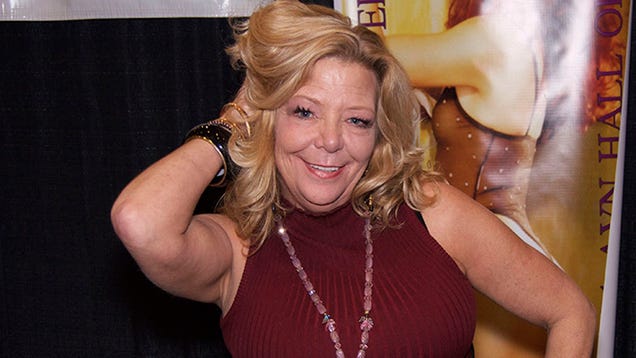 It's worth noting that some women in porn get older but don't become MILFs. Kelly Shibari is 43 but is only referred to as "plus-sized." Joanna Angel is 34, but she's "goth" or "alternative" rather than MILFy.
Le, who is 42 and has been in the business since 1990, says it's hard to age in the porn industry, and that she's grateful for every day that she's shooting, directing and doing what she loves. I ask if there's anything special that she and her husband do in terms of directing—they have been in hundreds of films, all told—and she says it's all about realism, even when the scenes are super hardcore. "Like you've got people on the edge of bathtubs having anal sex while their entire ass is covered in oil. Come on, that's not possible."
I look at Le's intensely smoky eye makeup and think about how many films she's done in the gonzo style, a catch-all term for painfully graphic porn. One popular gonzo trope is that of a woman being choked so hard by a penis down her throat that she cries or vomits; the mascara is added for dramatic effect, running down the face as the woman cries tears of pain. Some companies, like Kink, include interviews after each scene of the performers discussing how much they enjoyed the scene (to make sure the viewer understands everyone was into it), but that's not always the case.
A lot of Le's videos don't include these interviews. I imagine that this is due to the fact that having the performer smile and say "That was awesome!" might take away from the fantasy of hard sex and degradation. Many of Le's scenes are shot by her husband—they direct each other to keep "the money in the family"—which might add safety, but Le has shot for everyone. Both Le and Wood are well-regarded in the industry and it's easy to see why. I can't imagine them not being nice, even when filming the type of scenes that performer Derrick Pierce describes as requiring to "go dead behind the eyes and just convince yourself the girl wants it."
When I watch one of Le's gonzo scenes later, the person who's crying and spitting up while swearing at the camera is a completely different one than the woman who gives me a hug and calls me honey every time she sees me around after our interview. It's living, regurgitating proof that there really is acting in porn, not in terms of reading lines but in terms of the acts and reactions each scene requires.
And gonzo scenes require a lot. It's difficult for me to admit that this style of porn makes me fairly uncomfortable, both on the occasions when I've seen gonzo videos as well as when witnessing actors themselves describe what they have to do in order to get through the shoots. I am trying to be sex-positive 24/7 at this convention, embracing both the romantic fare I used to label "women-friendly!!!" when I worked in a video store as well as the stuff Le and I are talking about now, which legitimately makes me worry about the performers' safety, especially when that performer is new.
Because gonzo isn't something that's reserved for only performers of Le's caliber. According to Jenna Jameson, gonzo is one of the ways that new performers are broken into the business, leaving them emotionally and physically scarred. While I recognize that this style of pornography can be empowering to the female performers—and many people I meet gush about how being humiliated is a huge turn-on—I'm certain that for others it's a "cost of entrance" to the industry that might be too high.
From Jameson's book:
"Most girls get their first experience in gonzo films – in which they're taken to a crappy studio apartment in Mission Hills and penetrated in every hole possible by some abusive asshole who thinks her name is Bitch. And these girls, some of whom have the potential to become major stars in the industry, go home afterward and pledge never to do it again because it was such a terrible experience." (Pg. 132)

"In a worst-case scenario, a gonzo director will take a girl to a hotel room and have their friends shoot a cheap scene in which she is humiliated in every orifice possible. She walks home with three thousand dollars, bowed legs, and a terrible impression of the industry. It'll be her first and last movie, and she'll regret it – to her dying day." (Pg. 325)
These days—perhaps to prevent this from happening to newcomers—performers and directors emphasize doing research before getting into porn. James Deen tells me that anyone who's even remotely interested needs to visit the convention site of APAC, the Adult Performer Advocacy Committee, and watch their "Porn 101" video, which details everything a wannabe porn star needs to know before he or she even contacts a studio or an agency (including the fact that "video is forever" and that "people will know" regardless of whether you do over 500 scenes or only one). Steady work, everyone says constantly, is not guaranteed.
One of this video's major takeaways is "Don't do anything you're uncomfortable with." But how many people are actually taking that advice?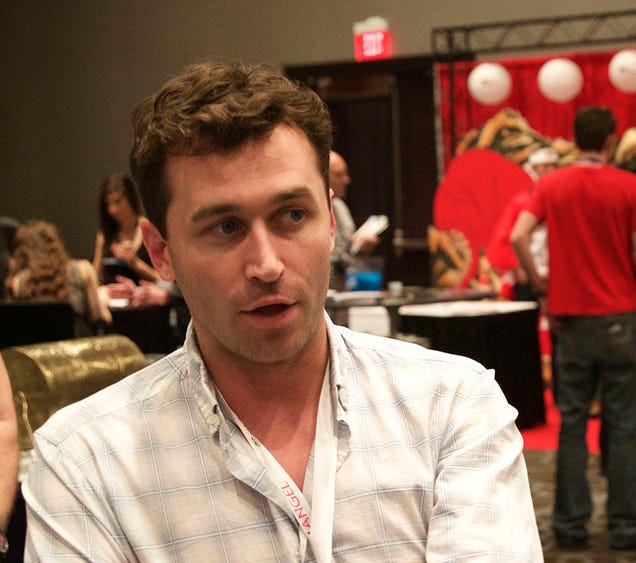 James Deen is serious about two things: Performers' safety and how much Jenn Tisdale rocks (which he specifically asked to be included).
At AEE, I talk to one woman who's trying to break into the business by starring in anAmerican Idol-style porn competition. She says she's willing to do "whatever" to become successful, even though she already knows she's going to have to leave her job at a church, her Christian college (which she loves) and possibly her family, who she hasn't told about her goal to enter the adult industry. She says she's thought of those consequences, but not much further than that. And—even though I agree that even gonzo porn can be both empowering and feminist based on the performer's mindset—I can't help but feel like telling her that she should think even harder. Those first consequences seem like deal-breakers, not just beginners' risks.
Because maybe for porn actors, nothing could be more important than to identify and stick to those deal-breakers. Even Francesca Le, who's done and loved basically everything, is uncomfortable with one thing: mother-son scenes. Wood's okay with his own stepfather-stepdaughter and horny uncle scenarios, but Le says there's a new trend in MILF-porn to make it seem like the mother and son in a scene are actually related—the AVNs even have a "taboo breaking" category—but she isn't down with this. She doesn't have kids and she doesn't mind performing with younger men, but she does have a problem promoting incest. It just feels icky to her, much more unhealthy than the violent and graphic sex scenes she shoots. Those power differentials that are mutually agreed upon, unlike a scenario where a parent takes advantage of a child.
Before we leave I ask Le if she's got any advice for someone who's getting into the adult industry, including people who are here at the AEE to break in.
"Do as much as you can," Le says. Wood agrees. "Actresses don't have a long shelf life, so get as much money as you can and do as much as you can as quickly as you can." Le's story is unusual, as are the stories of Chanel Preston, Jessica Drake and Asa Akira. They's been in the business for many years, but if you compare the red carpet of the AVNs from year to year, only a few faces are familiar (even between 2014 and 2015). Many actresses just disappear.
"How long is the shelf-life?" Allen interrupts me as I'm trying to wrap it up and ask for photos. "How long can a woman expect to be doing this on average?"
"On average? A year," Le says. "Two years max."
So while MILFs are in demand, Le is a major exception to almost all of the industry's rules. While many MILFS come into the business as such, Le went from being a starlet to a hot mom. Not everyone enjoys such longevity. Transitioning into a GILF? I didn't ask Le about that due to the fact that an adult industry hopeful showed up to audition for a film, but if anyone's going to be able to do it, it's her.
Images by Allen Corona
[fblike]
 http://jezebel.com/an-interview-with-francesca-le-porns-most-extreme-milf-1681733384