Introducing Miss Allison Leigh BDSM Mistress
Meet a True BDSM Mistress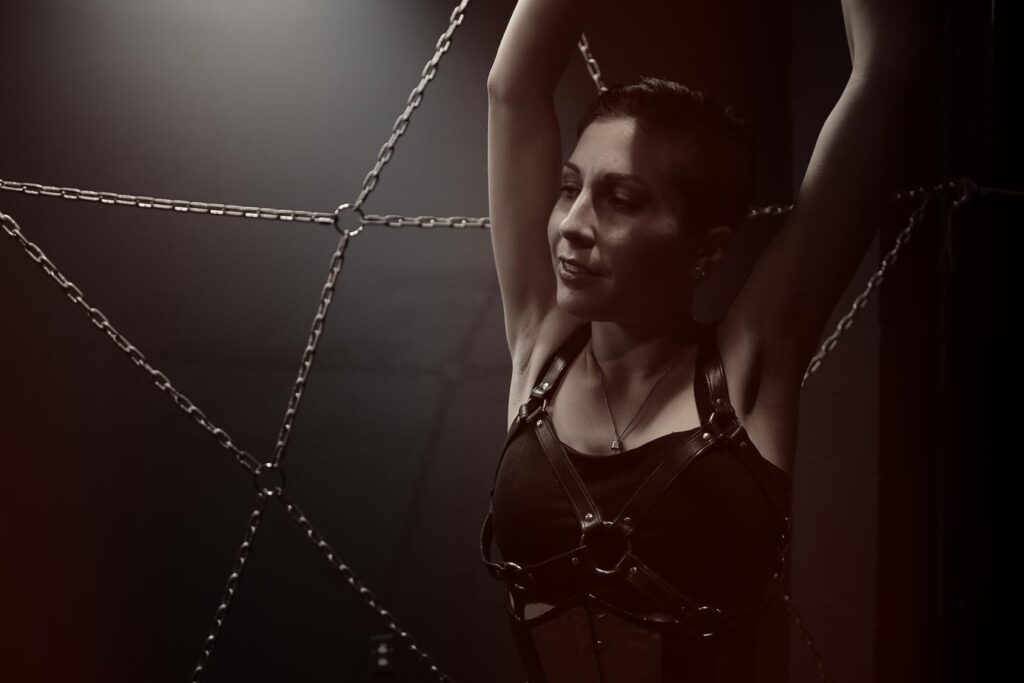 So, what does a BDSM Mistress do?
A  BDSM Mistress acts as the catalyst to help the submissive realize their true potential in whatever it is they wish to be.
 When did you first realize that you were a Dominant Female and when did that knowledge manifest itself?
I don't know that I ever 'realized' my sexuality. I've been kinky since I was a kid, and some of my earliest sexual experiences involved one or the other of us being tied down.
Do you feel that you were born to be a Dominatrix and dominant person or was it something that you learned and grew into?
Everything in life takes learning and practice, and learning to be a responsible and effective Dominant is no different. Anyone who tells you they were born with their skills is either lying, or has the skills of a newborn. I have been in the lifestyle for eight years now, and all of that time was spent learning and growing.
 Did you start work as a Pro-Domme alongside another Domme as a kind of apprentice?
I worked in a professional BDSM dungeon when I first started working professionally, and worked closely with some of the women there to learn skills that I wasn't familiar with.
 Once you realized that you were a Dominant Female was it a smooth move into being a Pro-Domme?
It took a lot to move from being kinky and in the community to being a professional dominatrix. Being a sex worker isn't for everyone, and I didn't undertake it lightly. You dedicate your life to your craft.
What kind of training did you have to go through to get to where you are today?
I am thankful for the mentors that I have met upon my journey, but there's definitely no "dominatrix training school"- You learn by experience. I started my journey as a Switch, and learned through years of bottoming and topping, as well as workshops, classes, and research.
Do You Dominate just male subs or do you also dominate Female subs? If so is it done in the same way?
I love to Dominate submissives of all genders. My approach toward a female sub is a little different than my approach with a male, but it's more about who they are as a person- what they are motivated by.
How do you perceive the "lifestyle" as being viewed in mainstream society?
I live in kink-central- Los Angeles- so I think my view of how BDSM gets viewed is probably a little skewed. Most of the time, when I tell someone that I am a proDomme and write porn, I'm greeted with an enthusiastic response. I don't think that it would be quite the same in a more rural locale. People do get a skewed view of your daily life, though.
 How do you feel about the way that Pro-Dommes get portrayed in the media?
I don't think I have seen many representations of professional Dominants in the media.
How long have you been a Pro-Domme and have You seen many changes within that time?
I have been in professional BDSM for just a few years, but I have seen the market change quite a bit in that time. We're highly affected by the national and global economies, as we're catering to a luxury market. Clients have to have the means to afford their fantasies. I've also seen a rise in the number of professional Dominants and fetish models- a sure sign that fetish is moving toward greater overall acceptance.
What would you say is your prime attribute that makes you a Dominant Woman?
I don't think there is one attribute that can make a Dominant of any gender- sexuality is such a complex thing. On top of the desire and passion for Dominance and the arts associated with it, you are playing a thousand other roles. Empathy, strong communication skills, and compassion through strength all play a big role.
Do you consider yourself as being a Dominatrix in all aspects of your life or do you separate this from a more "vanilla" life?
It's hard to separate a fulltime job from the rest of your life. I may not be "Mistress" at home, but I am still dealing with the adult industry 24/- planning events, advertising, booking clients, and writing and producing is a round-the-clock job. I may not keep a bevy of slaves at my disposal, but kink is never very far off.
 Do your friends and family know what you do? What was their reaction when they first found out?
I make every effort to be as transparent as possible with my friends and family, with very few exceptions. No good comes from trying to live a double life. I'm blessed to have a very progressive social network where my career is less of a novelty. My parents do know what I do- and while they probably don't fully "get" it, I think they've come to expect this sort of behavior from me. I was attending kink clubs the moment I was old enough to get in, and after I literally moved out and joined the circus, I think this may have been a welcome change.
What satisfies you the most about being a Mistress?
The most satisfying thing about being a BDSM Mistress is owning your own life to the extent that you have made pleasure into profit.
What was the last request that surprised You?
I'm pretty jaded when it comes to people's kinks- even when it's not something I am into personally, I almost always understand where they're coming from and how it fits into the D/s dynamic.
 What was your most memorable session?
I don't talk about my sessions in the public sphere, I find that it sensationalizes very private and intimate moments. Every session I do brings something unique to the table.
What is your favorite footwear?
I love designer heels- anything with a covered platform and metal accents. I think the ones I wear the most often are my Liuchiny sandals.
Keep your eyes out for the next two parts of Miss Allison Leigh's interview!