Mistress Lady Wednesday – Part 4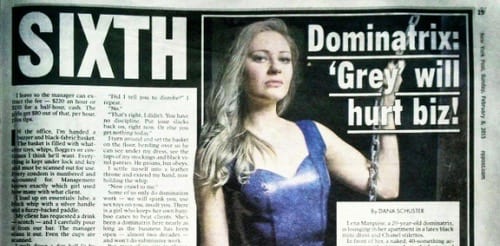 Have you ever considered being the submissive partner in a scene in order to better understand a bottom's headspace?
Being a masochist, I bottom frequently to receive or inflict pain upon myself.
However, I do not have the desire nor the capacity to be submissive; a male Dom friend tried to turn the tables few seconds once after some friendly rope bondage suspension play. It felt as unnatural as how most single sexual orientation beings feel about playing with the other sex. I became nauseous and somewhat traumatized.
 Is BDSM (Bondage, Dominance, Sadism and Masochism) something you've always been into?
Yes. Since as long as I can remember.
What fetish do you enjoy performing the most?
 Financial Domination.
Do you consider yourself a sensual domme, strict domme, or both?
 Both, see below.
Have you found personal intimacy and personal eroticism in BDSM relations? Is your personality the same out of scene as in scene?
 Yes and sometime; My mood often changes throughout the day regardless of the scene, despite the scene having a large impact on My mood, I range from sweet to vicious in most activities, including scenes.
What, if anything, makes you really angry at a sub, and not in a good way?
Inconsistency and deceit.
When working with another Mistress do you ever have a bit of friendly competition?
 Never, quite the opposite in fact. Anyone I work with and I will be a supporting team for one another.
 How important is after care to you?
Very.
Do you switch?
 No.
What got you into the business?
Performing at a Fetish night at a club called Manray in Cambridge, MA in 2003 when I first found other kinky members of a community I didn't know existed. Later, friend at my university who wanted to invest in me as a dungeon owner and operator. I spent two years performing, reading, practicing the art form of Domination and writing a dungeon business plan from 2005-2007. The investor backed out, and so I moved to nyc.

How popular are your services?
I receive inquiries ranging in frequency from multiple times a day to once a week; the ratio of potential to actual is 10 to 1, which has changed drastically from a ratio of 3 to 1 since 2010. The Art of Domination unfortunately falls into the bracket of luxury services which have plummeted with the economy during the last major crisis.
What is a typical client looking for?
To feel the gratification of being used to their full potential.
Everyone has a unique sense of how they would like to be used, much like I have a sense of how each individual can be used for a unique potential. I create each experience based on what is unsaid, the 'real' taboo for each person, which I call soft and hard limits – to define what each sub, slave or fetishist undergoes during their experience with Me.
What is it (do you think) that draws men to interact with a Dominatrix?
The same desires that draw Man to any higher power than themselves.
The desire for nurturing validation. A need to believe that for a moment, or all eternity there is a Thing greater than their own mortal accomplishment that has lived before and will live on, and to serve it is to become an extension; a part of that Thing's legacy. Thus, perhaps it is the recognition and fear of our inevitable mortality that drives a majority of us to act on such impulse – as it drives those who seek the holy grail or the philosophers stone.
What part of their psyche/sexual desires are fulfilled by the interaction?
It can be equated that men transpose the qualities of the the divine unto a Dominatrix in order to fulfill a self proclaimed destiny. The act of them masturbating psychically or physically to that fantasy is ironic but also balances well the idea of seeking immortality while enacting the arguably blasphemous act of extracting and destroying millions of potential lives.
 Again we would like to thank Lady Wednesday so much for taking the time to fill out our Q&A. I have attached her page here for any of you who would like to pay her a visit! Hope you have all enjoyed and have found this very informative!
[fblike]
 Interview with a true Femdom Mistress