Giving Myself to my Slave Husband's Boss and His Wife
Nancy stepped out of the shower and dried herself with a large soft towel, splashed on some perfume and used the mirror to put on her make-up and fix her hair. Then she walked into her bedroom naked and picked up a lacy pink baby doll nighty. Kevin, her husband sat on the end of the bed, "Nancy, I don't want you to do this. Let me call them and tell them not to come."
Nancy slipped the nighty around her shoulders and loosely tied it in the front. It just covered her already hard nipples and left the cleavage between her large firm tits fully exposed. It was open all the way down and did not hide her freshly shaved pussy mound. Her outer lips were closed and reminded Kevin of a clam shell. She put some scented lotion on her finger, slipped it between her cunt lips and rubbed herself right on her fun button, moaned and then pulled up the tiny matching panties that just covered her puffy lips. The pink fabric was lacy and slightly see thru and left nothing to the imagination.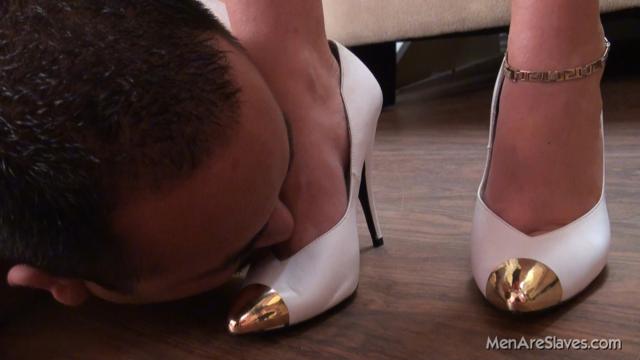 Kevin stood up and walked over to his wife. She was so beautiful. He had always felt that if she ever were to try out to be a Playboy centerfold, she would be selected. He wanted to pull her close to him and kiss her over and over but she pushed him away. "Your asshole boss and his wife will be here any minute and I don't want to have to go back and fix my make-up again." He again told her that he did not want her to do this. "When he had me come to his office the other day, he told me that one of two things was going to happen. Either, one, you would be fired or two, you would get a promotion. The choice was up to me. For you to get the promotion, I had to agree to willingly and enthusiastically be a fuck slut for him and his wife, starting tonight."
Nancy was great in bed in addition to being beautiful. There was not much sexual that they had not frequently done with each other and completely enjoyed. She loved Kevin's hard thick seven inches and the large amount of cum he filled her three holes with. She was 5'5″ and weighed 110 pounds. She had a long blond hair that came down to her shoulder blades and great body, topped off by a great pair of firm 36-C breasts that she enjoyed showing in clothing that made men drool without being too slutty. She and Kevin were married three years ago. Kevin had only had sex with a couple of girls as he grew up and Nancy was a virgin till just a few days before the wedding when they fucked after the practice run thru of the wedding ceremony. There had been too much wine.
The doorbell rang and Kevin took a deep breath and went to open it. His boss, Mr. Wilson and his wife, Maria walked in. They were about twenty years older than Kevin and Nancy. They were dressed in very businesslike clothes. "Kevin, I understand that there might be a promotion in your future, congratulations. You deserve it." He walked past Kevin and up to Nancy. He put his arms around her, pulled her tight to him so her tits were pressed tightly against his chest and gave her a hard, deep kiss. Kevin wanted to grab him and pull him away but he stopped himself from doing it. Nancy had decided that she wanted to go thru with this. "Hello Nancy. You're looking lovely tonight. You may call me Don. This is my wife, Maria. She is looking forward to getting to know you as much as I am. Go say hello to her." Nancy walked over and held out her hand. Maria reached out and pulled Nancy's top wider apart so that her tits were fully exposed. She cupped them in her hands and gave them a squeeze. "How very very nice my dear." Finally Maria pulled Nancy to her and kissed her the same way that her husband had just done. Nancy did not try to pull away.
Donald Wilson looked at Kevin and Nancy, "Let's go to your bedroom, shall we?" He took Nancy's hand and she led the way. When they entered the room Don looked around. "You don't have a chair in your bedroom. Kevin, why don't you go get a chair and turn on some soft music while you're at it. I think you will want to watch us and your beautiful wife having a very enjoyable time together." Nancy remembered that she had been told that she had to show that she liked what was happening. Kevin brought in a chair, turned on the CD player and sat down with a gloomy look on his face.
"Nancy, my dear, why don't you dance a little while you take off those pretty things." Nancy swayed her hips and chest as she untied the ribbon that held her teddy together. She flexed her shoulders which let the top slide down her arms and fall to the floor, pushing her firm young breasts out in front of her. Then she stepped out of the four inch heels that she was wearing. Finally she slowly pulled down the lacy pink panties which was the last remaining item of clothing she had on. She continued to sway and dance in front of her husband's boss and his Hispanic wife.
Don walked up to her, reached down and slid his fingers between Nancy's legs. He split her cleanly shaved pussy lips and rubbed his finger against her clit. Nancy jumped and moaned. Two fingers found her hole and slipped deeply in. Don was delighted to find that Nancy's cunt was soaking wet as he plunged his fingers into Nancy's box. He backed away, "Now please undress us."
Nancy went back and forth between Don and Maria, removing articles of clothing and fondling their bodies till both stood naked in front of her. Maria was 5'2″ and weighed around 160 pounds. She had a small chest but big nipples that were long and hard. Don was 5'8″ and on the flabby side. His pecker was only 6 inches but it was nice and hard with a pronounced up curve. Don's underpants were the last thing to come off. She was on her knees in front of him taking them off. She was sure that she knew what he would want her to do so she did it without being told to. Nancy licked the underside of Don's cockhead. It jumped. Then she opened her lips and slid her mouth over her husband's boss's shaft. He let out a loud moan. Don looked at Kevin, "Your wife is very co-operative. See how much she is enjoying herself."
The fourth time that Nancy went down on Don's meat, she pressed her nose deep in his pubic hair. She was good at deepthroating and always enjoyed having her husband's cock all the way in her throat. She held still with him in her throat and swallowed, causing her throat muscles to constrict around Don's shaft. "Oh fuck. Yesss." Nancy worked at sucking his cock as enthusiastically as she could. Before he came down her throat, he told her to stop. When she did, Maria jumped up on the bed, on her back. She spread her legs wide, reached down and with her hands, pulled her pussy lips apart. "Get up here and lick my fuckin' pussy. Eat my cunt till you make me come."
Nancy had never been with another woman but she had seen lesbian sex in quite a few porn videos. Kevin really enjoyed watching it. Nancy got on the bed. She was on her stomach with her face between Maria's legs. She gently slipped her tongue into Maria's slash and slowly licked up and down. Maria reached down and pulled Nancy's face tight to her cunt and started rocking her hips. "Eat my cunt, slut. Suck my fuckin' clit hard. Drive your tongue up my pussy like it's a fuckin' prick." Nancy worked hard at doing just what Maria wanted.
It wasn't long before Nancy brought Maria to a strong orgasm. She grabbed the sheets, rolled her eyes up in her head and rolled her head back and forth while loudly crying out her pleasure. Her pussy flooded. Nancy got a mouthful of girl cum. It was warm and slippery and about the thickness of warm honey. Nancy swallowed what she could and the rest dripped down onto her and Kevin's bed. Maria collapsed onto the bed and Nancy started to get up. Maria grabbed her head, "Don't you fuckin' stop. Keep doing it. Make me come again, Slut." Nancy looked over at Kevin and noticed that he had started rubbing his crotch. Her jaw was getting tired but she dived back in and started working at bringing Maria to another climax.
Don got on the bed and lifted Nancy's hips up so she was on her knees. He reached under her and shoved two fingers into her cunt. Finding that she was nice and wet and open, he removed his fingers and lined his 6 inch cock up to her fuck hole. He didn't make any move to put a condom on so Nancy was happy the she was not in a fertile point in her cycle. He was balls deep with the first push. He held her hips and started pounding away like a rabbit in heat. As he fucked Kevin's wife he looked straight into his eyes. "Kevin, your wife has a really nice tight cunt. It really feels good. She's going to make me blow a huge load right in her fucking womb. I bet she is going to love it. Nancy, are you going to love my load of cum shooting into you?" Nancy briefly stopped eating Maria. "Oh fuck yes. I love your cock fucking my cunt. I want you to fill me with a gallon of your baby seed. You fuck so good. Make me your horny bitch."
Kevin heard what she said and marveled at how good of an act she was putting on. Nancy went back to eating out Maria and thought about if she should tell Kevin that she was really loving what was happening to her. She loved how she was being sexually dominated and loved eating another woman's pussy while that woman's husband fucked her hard and fast. How would he react? She was hoping that Don would shove his cock up her ass hole and fuck her that way too, but he didn't. She looked back over at Kevin. Now he had his cock out, stroking it as he watched the scene in front of him.
Nancy brought Maria to another mind blowing orgasm. The sound of his wife screaming with pleasure helped bring Don to his peak and he dumped his load of sauce into Nancy's spasming pussy. The three of them shared an almost simultaneous climax. They were all breathing hard. Don rolled off and took his cum covered prick up to Nancy's face to be sucked clean as it shrank away. She did it without hesitation.
"OK, Kevin. Get up there and fuck Maria. She likes a young guy fucking her with a big hard cock as much as she likes another woman eating her out. Do it good and give her one more orgasm. Fill her with your thick man yogurt." Kevin was so turned on that he jumped at the chance to bury his cock in a pussy, any pussy. Maria wasn't very tight but Kevin was so horny just then that he plowed her hard and fast and filled her with his seed in just a couple minutes. Maria was so happy about his big young cock that she was still happy with the fuck even though it did not last long enough to bring her to another hard orgasm. Finally everyone was worn out and satisfied. Don told Kevin to come to his office the next day and they would talk about the future.
That next day Kevin went to see Mr. Wilson. "Close the door and let's talk. We had a good evening with your wife and you last night. She seemed willing enough and if she is going to continue to be willing, you will get the job of department manager. How does that sound?" Kevin replied, "We haven't talked about if she is willing to do any more with you two but I think she will."
"Here's $50 so you can take her out to a nice lunch. Call her and tell her to come meet you. Send her to my office first. I'll feed her a nice big cum appetizer. It is pure protein and very good for her. I have a very important customer coming from Germany next week and he is bringing his seventeen year old son with him for the first time. I want Nancy to go to the hotel and spend the night with the two of them. If she does a good job at that, you will get the promotion." "She agreed to be your sex toy and I think she will do it again but that did not mean that she would be the company whore. I don't think she will go for that." "We'll see, Kevin. Call her and get her to my office and I will talk to her about it."
Kevin called home and told Nancy to come down to the office and go out to lunch with him. About an hour later she arrived. Kevin greeted her with a kiss. "Mr. Wilson wants to see you before we leave." Nancy went to Mr. Wilson's office and his secretary showed her in and shut the door, "Hello Nancy. It's so nice to see you again. We very much enjoyed our evening with you." Nancy smiled, "Hello Mr. Wilson. I have to admit that I did not expect to enjoy it at all but I did." "Call me Don, remember?" Don stood up from behind his big desk and walked over to a couch. He dropped his pants, "Why don't you come over here and show me that you enjoyed the evening."
Nancy went to the couch. On the way, she slipped off her blouse and undid her bra. She had worn a front buttoning blouse and a front opening bra just in case she had a chance to show her husband's boss that she was willing to keep servicing him to help Kevin's career. Nancy dropped to her knees in front of him, took his balls in her hand and slid her mouth over his manhood. "I don't want you to blow me, my dear. I want to face fuck you. Just keep your lips tight on my shaft and let me have all the fun this time." He grabbed her head and held it still while he thrust his hips forward and started fucking her throat like it was a cunt. Knowing that she could handle it, he shoved his dick straight down her tight throat. She could feel his pecker sliding up and down inside her throat and rubbing against the walls, and his balls bouncing off her chin. At the same time he reached down and gave her nipples a hard pinch, causing Nancy to moan in a combination of pain and pleasure and allowing him to push a little deeper into Nancy's tight throat. Nancy could not be more pleased about how he was treating her. She had quickly learned that she loved being sexually dominated. She thought that she might even come from the sensation of him roughly fucking her that way.
Minutes later he pulled out, gave himself a couple jerks and blasted his load all over her face and in her wide open mouth. Her face was a mess. "Scrape it off your face with your fingers and then suck your fingers clean. Then take me back in your mouth like a good little slut and make sure I'm clean." Nancy did as she was told. Finally, Nancy went over to the sink at the side of the room and cleaned herself up.
"I have an important client coming here next week from Germany. He is bringing his son who just turned seventeen with him. He told me that his son is a virgin and I suggested that maybe he would not still be one when he got home. I want you to go to their hotel and spend the night with them. I want you to give them the hottest fucking night that they could ever dream of. I told Kevin that if you did that, he would get the promotion. Here is $500 to buy you some really nice clothes for the evening and whatever else you might want. Are you willing?"
Nancy looked at Don, "I've been trying to decide how to tell Kevin how much I was turned on by what happened to me last night, how to tell him how good it was for me and how much I want more of it. Count me in." She took the money. Nancy put her bra and blouse back on and left the boss's office and went to her husband's desk, "Well, you promised to take me to lunch." She had kept one glob of Don's cum on her finger. Nancy gave Kevin a kiss and then wiped her finger across her husband's lips. He gave her a dirty look. "Did Mr. Wilson talk to you about spending some time with clients to help the company make a sale?" "Yes." "Well?" "I think I am going to do it. I want you to have that promotion and he said that if I said no, he would find another guy with a wife that would say yes and her husband would get the promotion. Don and Maria are coming over again Friday night. Let's go get that lunch. I'm starved." Before Kevin returned to work and she went home, Nancy gave him a blowjob in the car in the parking lot.
That afternoon Kevin was called back to Mr. Wilson's office. "Sit down Kevin. It looks like you have the promotion and I think there is a nice perk that goes with it that you will like. You will get your own office and your own secretary. I've decided to take Monifa out of the pool and make her your secretary. Monifa (which meant luck in the Yarbi language) was a nineteen year old black girl that had been hired about six months before. She was very attractive and had a happy, bubbly personality. She flirted with all the guys and had a reputation for doing more than flirting.
"Before Monifa was hired she came to my office for two private interviews. She was happy to show me how much she wanted the job and how hard she would work to keep it, if you know what I mean. In your new position, you will need to travel to meet with clients a couple times a month. I think it would be a good idea for you to take your secretary with you to take notes and do whatever else you might need. I'm sorry but the company can only afford to pay for one room so you will have to share. I talked to Monifa and she does not have a problem with that arrangement."
Kevin walked down the hall to look over his new office and to think about the new life that he and Nancy were about to start.
https://femdoming.com/wp-admin/post-new.php