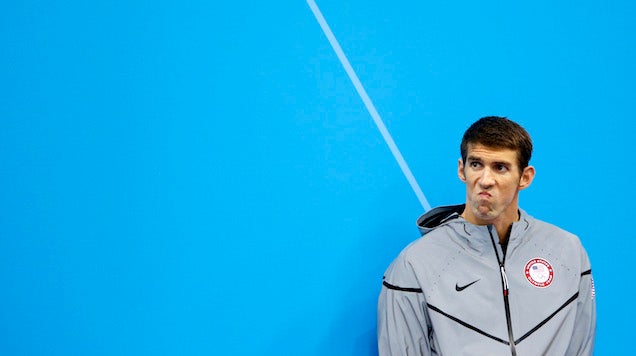 The image of Michael Phelps as a fish in the streets and a real kinky guy in the sheets just got a big boost from Kim Petro, a plus-size dominatrix who apparently passed a lie detector test before selling her story to theNational Enquirer.
Petro claims Phelps contacted her off her "busty festish" Craigslist ad in February 2013. They allegedly negotiated a $900 "donation" before Phelps initiated Phase One of the age-old urination mating dance: hydration.
Phelps, Petro claims, called her on his cell phone, saying his name was Fabian Marasciullo, a Miami music producer who is close to Phelps' good friend, rapper Lil' Wayne.

'When he said drink some water before I get to the hotel, I knew what I was in for,' said Petro. 'I was going to go to the bathroom anyway – I figured I might as well get paid for it!'

When she got to [New York's London Hotel] she claims Phelps removed his shirt and then shorts to reveal that he was wearing 'skimpy women's underwear.'

They then smoked a little weed according to Petro and got down to business.

'I got above him [on the bed] to [urinate on him],' said Petro.'After I was done, he asked if it was okay to [pleasure himself]. Of course, I'm going to bend the rules a little for a famous Olympian, so he pulled down his panties.'

That is when she claims she noticed he had a string tied around his genitals.
She says she recognized him right away and apparently provided "a cellphone number that The ENQUIRER independently verified as belonging to the Olympic legend."
But it was to be their only encounter.
Since then, Phelps has sort of been getting his shit together—he took care of that DUI thing, he's reportedly gearing up to compete in swimming again and he just got engaged to a beauty queen. He probably still pees in pools though.
[fblike]
http://gawker.com/dominatrix-claims-she-peed-on-michael-phelps-at-his-req-1692276947