Detox Diet Required By Mistress Dominatrix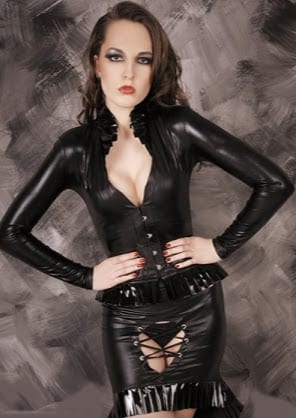 In the house of Mistress Dominatrix on a sunny day, I hear the Billy Joel cover echoing throughout the house built around a courtyard: "She steals like a thief but she's always a woman to me….she'll promise you more than the Garden of Eden..she takes care of herself..she can't wait if she wants..and she never gives in, never gives out..she simply changes her mind. She's got a way about her..don't know what it is..she's got a smile that heals me."
I was just recuperating from the long voyage. The distant rooster could be heard in this sleepy town that radiated magnificence, history, and lots of music at night. I had been given some tacos and green tea by (Mistress Apprentice) Maria. She put it on the floor in a dog bowl, "Do you have coffee?" I asked. "No coffee for you Señor. You are on a detox diet set out by Mistress Dominatrix. You're not at the Four Seasons here, Señor. Snap out of it."
She pushed her shoes in my face and said, "Lick my shoes until they shine," she kept talking while she rubbed herself around her pussy. I did not dare look up and focused on her shoes that seemed to have been laced by a hallucinogenic or was I just in subspace or a mind fog caused by the total power exchange giving all my energy to my Mistresses.
My Submissive Slut
I had been trained to serve them willingly and gladly. My submissive sissy bitch side wants to come out. I guess at some point, I have to step into my kinky boots and finally be my own Idea of perfect. Becoming obedient, asking for permission for all my acts and bodily emissions. I will forget my own needs. My only desire will be to please my Mistress Dominatrix. The Hypno-tape that inspired these thoughts in my mind was spoken by a sexy Mistress Dominatrix. Become an obedient housemaid..check; put on a dog collar..check; put in a butt plug..check. What else do you require from me, Mistress Dominatrix?
When I was done licking Maria's boots. She led me to another room where Mistress Dominatrix was waiting for me. When I entered the room, I knelt in front of my divine goddess as she started speaking to me. "Your job is merely to obey and serve. You're my submissive little slut. You will do what you're told. At 9:00 am, you will have a seance with Alejandra, the local cobbler at the leather shop. I think it is time to fit you into the hand-measured gear and restraints required for your training.  "Also, at 10 am, you will get fully shaved and get prepped for your first enema," she asked. "Yes Mistress." There are also some piercings and tattoos planned. You will get fully screwed, glued, and tattooed", she said.
It's Time Women Had A Chance To Rule The World
I was no longer a slave to banksters, corporate America, or the 8 to 5 grind. I was just a slave to Mistress. At last free while in bondage amongst these Pagan Goddesses that want to invent a new era for humanity…where women rule the world and men were there only to serve their divine femdom goddesses. I was making $420 a week for a 40-hour shift as a maid in various Femdom organizations. My work week was hectic. Here I was helping empower these Women by being a manservant to them. Would I regret it one day? Possibly..but I say, hey… men had their chance and they blew it so let's have the gals lead us in all their Wisdom.