The Wild and Tricky Kinky Neighbor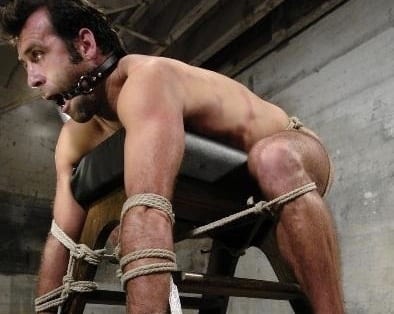 William and his wife had lived in their place for a long time. They moved into the quiet small town a number of years ago, and they enjoyed the small quaint nature of the town, and they knew all of their neighbors, usually by first name. They all usually arrived home around the same time, shared parties together, had bonfires at the beach, and all knew each other pretty well. It was all G rated social gathering, and they all shared exciting friendship neighbor type fun. It was the height of the summer, when the couple two doors down moved out and the new neighbor moved in, and wow she was amazing.
William was a construction guy who worked on big skyscrapers in the city, and his wife Wendy was a secretary for a company near where William worked. They looked at the new neighbor moving in, and looked with anxiety as the new neighbor unloaded boxes from her car, and got herself acquainted with the neighborhood. They both eventually introduced themselves to Barbara, and Barbara was a mature but busty vision that William couldn't keep his eyes off of.
Barbara invited both of them in, and embarrassed for the way the place looked, shared a bottle of wine with them. They talked about how Barbara had moved from across the state and just had a divorce, and was trying to get setup in the new area with her job transfer and new life. They all had a very nice talk and the night went along well and the couple retreated back to their house. When they got home, William remembered that he had something that Barbara could use in regards to hanging up some pictures, and went over to her house. From then, it got interesting.
He knocked on her door, and she answered with a smile. She said, "I hoped you would return alone". and William was a little shy. Barbara grabbed him by his arms, threw him to the ground, and started kissing him. He couldn't believe the dominating and aggressive ways that Barbara had, and she did it like she had done it before. She took off his shirt, tore off his pants and he was hard in seconds. She mounted herself over his hard cock and started riding him and she took total control of him as she went on for about an hour. She told him how to do her, how to please her, and how to make sure she orgasmed, and William was in total happiness from her time. She told him to go, and told him that she will have him over again in the future, and William went home to return to his wife and quickly took a shower and crashed. His wife asked how it went it with her, and he muddled under his breath, "Fine honey, she's a nice woman, love you", and off he went.
It was a few weeks later, and Barbara was outside in her yard in a tight bikini. She had all the kinky neighbors staring at her sexy body, and she loved the attention. William was on his early evening walk and he stopped by to say hi. She told him to go to the backyard and get on his knees there. He couldn't believe that she was going to control him again and he rushed off to the backyard under the nightfall. She grabbed his head, rubbed it into her breasts, and used his head to give her happiness. She then took his head, removed her bikini top, and told him to eat her and do it well, or he won't do it ever again. He took his time, and she slapped him on the back of the head every time he wandered off, and he finished her off with style. She told him to leave, and he did to return to home and be with his wife. He couldn't believe that he was cheating on his wife, but she did things to him that his submissive wife would never do to him.
William soon learned that as much as he loved his wife, he loved a dominating and overpowering woman commanding and telling him what to do. He led his happy life with his wife, but the power of his new controlling woman was something that he had to experience more often, and Barbara had the sexual libido to make this happen with him. When he drove by her house, he would smile at her and she would smile back, but knew that she owned him and knew that he was her slave.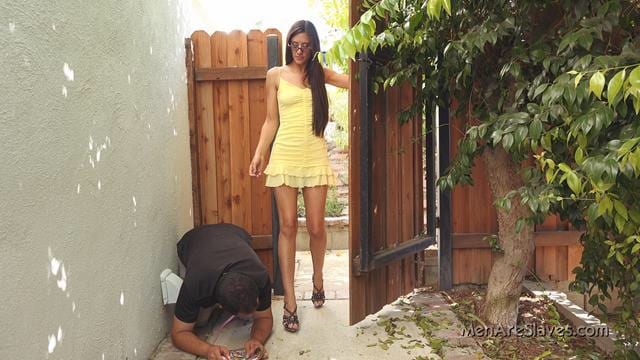 In what seemed to be like any other day, William was home alone as his wife was out with the family for the day. He went into the backyard, and found Barbara in a sexy teddy and heels under a robe, and he was shocked. She told him that she wanted him on his turf, in his bed, and wanted to get pleased where he lives. This was totally shocking to William, and he was scared but excited at the same time. As he approached, she turned him around and tied his hands behind his back. She was in control, and she took him to the bedroom upstairs. She bent him over, and opened her purse. She had a red harness and strap-on, and told William that she was going to fuck him this time and that he would be the woman today. She lubed him up with the saliva on her tongue, and fucked him over and over again with her eight inch dildo. She repeatedly violated him and his virgin backside had never had this done to him. When she was done, she grabbed the back of his head, told him he did good, and that she would do this again soon. She left as he was bent over on the bed, wondering what had just happened, but knew Barbara was his woman and would do anything she said, now or in the future.
By Venomous Eliza
The Wild and Tricky Kinky Neighbor – Femdom Lifestyle