It was brisk autumn when I met her, we had a marching band class together in high school. Her name is Stephanie. She was a foot shorter than me and was always very shy and quiet, but whenever she saw me her lips always formed the same smile. It was a knowing smile like she was looking forward to something that's going to involve me but that I was clueless about. And with that smile, eyes that seemed to measure me and size me up. I found her very pretty and she started to grow on me, despite the strange smile and how she would say seemingly non-sequitur things to herself, so I would try on occasion to talk to her, but she was very reserved. Everyone has their quirks, right? Maybe she'll open up after a while.
My first talk with Stephanie
It's marching practice, and I've known her for two years now. Stephanie is wearing a cute pair of booty shorts that I'm struggling to keep my eyes off. To my dismay, she catches me staring. With that knowing smile, she asks,
"uh- yeah, they're… nice,"
I reply, slightly embarrassed.
"Nice? Well, I'm glad you like them. I should put you in them myself if you're going to keep staring like that, you'd look much cuter in it with your figure and those legs of yours," she says with that smile, but with an unexpected amount of sternness in her voice.
I'm taken a little aback by the sternness and the comment about my figure and legs, but that smile disarms me. Maybe she prefers guys with slimmer bodies, and she just isn't used to flirting so much?
I might actually have a chance with her!
"Well, it's a free country," I sass back with a wink.
She laughs an adorable laugh and says,
"enjoy your freedom" then looks at the ground with her beautiful brown eyes with that knowing smile and mutters what I could only make out as "while it lasts" while walking away to her next class.
 The next day during band class, she walks by a trash bin and tosses a wadded-up paper, but misses. I'm standing closer to the bin, talking to a friend. Stephanie commands,
"pick up that paper and put it in the trash for me" and pauses a little before adding a slightly disembodied "…please?" with that smile.
"What, am I your maid now?"
"You Belong to ME"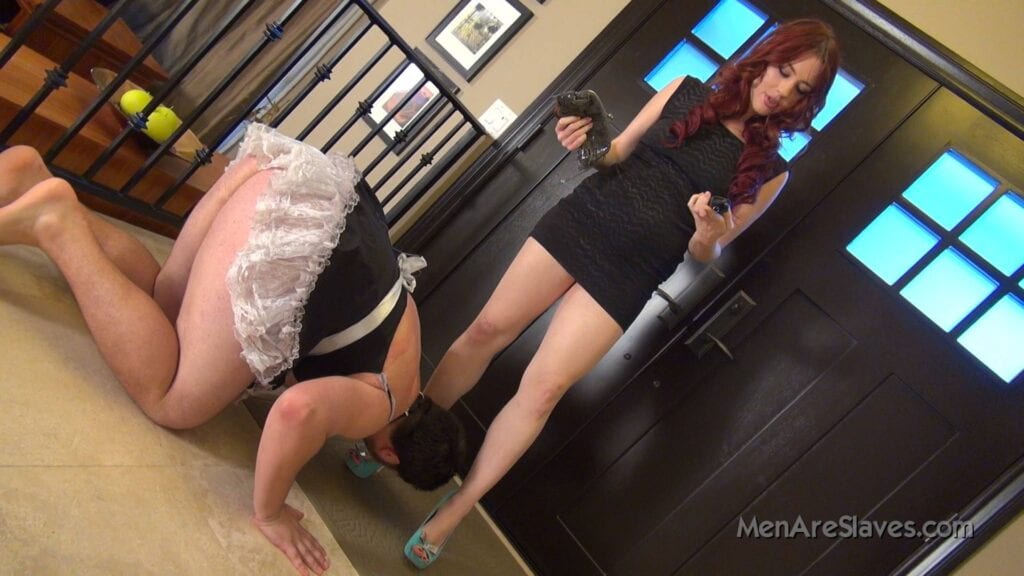 I tease her and pick it up to throw it away anyways.
"No." she laughs, and then with that knowing smile she mutters "not yet…" and then looks at me with those eyes that seem to size me up "You'll make a cute little maid though, and you'll be all mine."
At this point, I'm disturbed a little, but still, I laugh it off, assuming that it's just her strange sense of humor and that she just flirts strangely.
    I'm talking with a group of friends in the band room after school before I fetch my instrument and go home. Stephanie walks up and wants to show me something and asks me to come to her car. I say goodbye to my friends for what I don't know will be a long time and walk with her to her car.

She opens the trunk and commands sternly with that knowing smile:
"You're going to belong to me one way or another, so you might as well let me put you in my dress and panties and give yourself to me as my very own maid, or else later when you have no choice in becoming mine, I might not have a dress and lingerie that actually fit you."
From the trunk, she pulls out one hanger that has on it a petite, short satin french maid dress, a single black satin garter with white lace trim, white gloves, a black satin choker with white lace, and a typical white headband. The dress has white lace trim on the collar, the small perfectly round puff-ball sleeves, as well as the hem, with a white petticoat underneath that creates a perfect little flare for the small dress.
My New Outfit for a new femdom lifestyle?
With the other hand she pulls out another hanger, on which is a corset with white ruffles, and a pair of small black satin bikini panties with a little pink bow on the front, the panties are trimmed with white lace and have terraced of white ruffles on the bum.
I gulp, embarrassed but not actually too surprised considering the strange flirting she's been doing.
"'that actually fits' me??" I say, scoffing playfully at her claim, "I'm pretty sure that's all YOUR size, you'd look much cuter in it." I wink.
She smiles that smile and says,
"but it's not nearly as bad as it could be, you need to be in MY dress and MY panties to make it unmistakably clear that you're MY little maid.

"Besides, I'd prefer to keep you in a dress that's a little too small for you as well, because you'll look so much more kawaii. So it's a double win, right?!"
I stammer, with some submissiveness in my voice. What am I saying?? She's insane!
"I knew you'd understand, I've been waiting for this to happen for a while and I'm so glad you're finally going to be mine!" She says gleefully, with a smile I see for the first time: that of pure joy.
"Umm.. Stephanie? I am sorry but I think there's been a misunderstanding, I'm actually not interested in that sort of thing… I'll talk to you tomorrow, ok?" I say sympathetically, actually feeling bad for saying what I'm saying, even though it's a free country.
Then I tried to resist her but…
I have the freedom to not feel obligated to let my crush put me in one of her own dainty, feminine outfits that's a size smaller than me! I turn and walk away, but then I hear sniffles.Then, I turn back to see her kneeling on the asphalt, tears streaming from her face,
"I'm s-so sorry, I really thought you liked me, n-nevermind" she sobs, looking at me with adorable, irresistible, but disappointed eyes.
Guilt sweeps over me and I feel terrible. I did it already, I broke the heart of the girl I adore, just when I got to see her at her happiest and most radiant.
Way to go, man. Maybe I could just let her put me in her dress for a little bit? Maybe this is how I can express that I really care about her…
…I am Falling in Love!
"Stephanie…listen, I really like you and I think I'm falling in love with you, and to be honest this is really strange for me… but if it means that much to you, maybe you can put me in your dress for a little bit,"

I say softly, drying the tears from her eyes.
She lights up with that smile of pure joy again, and replies excitedly,
"I love you too, that's why I want you so bad!"
She then energetically shoves me into her car and drives me to her place.
   With me cringing the entire time, she strips me down, tapes my manhood in place to make a panty-line, and ensures that my legs are perfectly smooth and hairless. She then slips her ruffled panties up my legs, the satin gliding effortlessly over my now-smooth, soft skin, proudly securing the ruffles on my bum.
As if ceremoniously commencing her conquest of my independence and masculinity, leaving me with a strong compressing sensation on my crotch because of the tightness.
She slides the silky garter up mid-thigh. Next, she puts on the corset, leaving me literally breathless,
"See, now my dress won't be too small for you!" she winks.
What have I gotten myself into… She positions my arms straight up, slides the dress down my arms, my arms slipping through the perfect puff-ball sleeves, and tugs it in place. Even with the tugging, the lacy edge of the flared-out skirt is barely level with the bottom of my pantied, ruffled bum, I notice with embarrassment, feeling more vulnerable than I've ever felt in my life.
Inspection of my new outfit
"Teehee! you've always looked so cute when you're vulnerable and confused, but this is about to be too much more for me!" She exclaimed with a sensual eyebrow waggle.
To my shock, I hear a clicking noise, I turn to see her holding a key victoriously, with all my boy clothes gone from the floor where I had laid them. I connect the dots, she actually locked me into her dress! Now imprisoned in her satin, I blurt out
"nothing personal, darling, I just want to enforce the fact that you belong to ME." she interrupts, with that happy smile on her face, and proceeds to stretch open her panties' waistband, dropping the key (which now seemed to hold every drop of my masculinity) into her panties, snapping the waistband shut.
After she inspects me and lifts up my skirt (much to my discomfort) as if I'm just another one of her dolls, she gushes, "
You look sooo adorable, my perfect little maid. I've wanted to take you as rightfully mine for some time now, and I've gone through so much effort and planning, so I'm very relieved you've surrendered to your love for me and let me have you so I wouldn't have to take more drastic measures to help you realize that you were meant to be mine! Come on to bed, we have a big day ahead of us, sweetie!"
She plants a kiss on my cheek and locks a thick satin collar around my neck and cuffs my dainty gloved hands together with satin handcuffs.
Trapped in her panties Just to See Her Happy!
Trapped helplessly in her panties and realizing it's eternally to late to turn back, I hopelessly let her pull me by the firm, velvet rope attached to the collar into her bedroom, where she ties it securely to the bedpost, with only enough slack for me to sit up against the bed, my now soft, feminine legs stretched across the floor, with nothing but her (I hopelessly admit) cute panties and its ruffles between my bum and the carpet. I struggle for a little, with a sliver of hope of maybe breaking free, but then hesitate as those hopes are dashed with the fear of public embarrassment of being seen trapped in Stephanie's uncomfortably short dress, being unable to escape it without the key, as well as the thought that perhaps maybe it was worth it to submit to her just to see her happy?
Were those tears genuine? Do I really love her enough? It would be awful to see her heartbroken again. Tired from struggling and contemplating these questions, I fall asleep in the short little exquisite outfit that she had finally triumphed in capturing me in, accepting my fate as her "little maid."
"Goodnight, my love" she whispers gently, as gentle as the rustles of my satin skirt as she possessively caresses my upper thigh.
    Next to the bed, a pretty sissy maid sleeps with tears dried on his face, uncertain of his future, tied to the bedpost of his new owner. On the bed, Stephanie sleeps with a happy smile on her face, content with the thought "he's all mine, at long last, and he turned out cuter than I could have ever hoped."