Communicative Sadism
I scream in pain and my legs give away. Mistress Christy prevents me from collapsing on the ground. I am paralyzed by the pain and afraid. The violence of my Dominatrixes has just reached the point of no return. I have an epiphany in which I realize what I am: a toy. There is no consideration for my feelings at this juncture. Is it the alcohol flowing or the communicative sadism that fuels them tonight? Their excitement seems to grow with my pain threshold.
This evening will be long and painful and I really dread what activities my dominant Mistresses will invent, as the notion of limits seemed nonexistent tonight. Nadine leans towards me and says, "So my little bitch your balls hurt, huh? She explodes with laughter before pulling a ballot.
"Hmm interesting, pity I wasn't the one to whip him! The next ballot is …… 10 minutes of sodomy! I choose Christy!" "I get to choose which accessory I will use on him?" Responds to the interested party. "Of course … Chloe, show her your collection, please. I'm sure you have the perfect strapon dildo to fuck our whore with.." "Hmmm, I think I know which one Christy will choose."
Mistress Christy Sodomizes Me
Nadine was right. Mistress Christy only took a few seconds to make her choice. She set her sights on the most beautiful and biggest dildo in the collection. Mistress Michele rarely fucked me with that one. And Mistress Chloe only used it once. It is a black, shiny, huge penis with big balls. Mistress Christy is committed to sodomizing me with this huge penis."My whore, you are going to have the pleasure of getting fucked by your Mistress. Get on all fours on the coffee table and offer your ass to me. I want you arched like a bitch who wants to be fucked."
I positioned myself according to the orders of Mistress Christy arching up, secretly hoping that my perfect obedience will make Mistress Christy more lenient. But I doubted it knowing her ability to show mercy. My 5 Mistresses surrounded me. They are all under the euphoria of alcohol and totally uninhibited. I feel their hands on my body not knowing which hand belong to whom.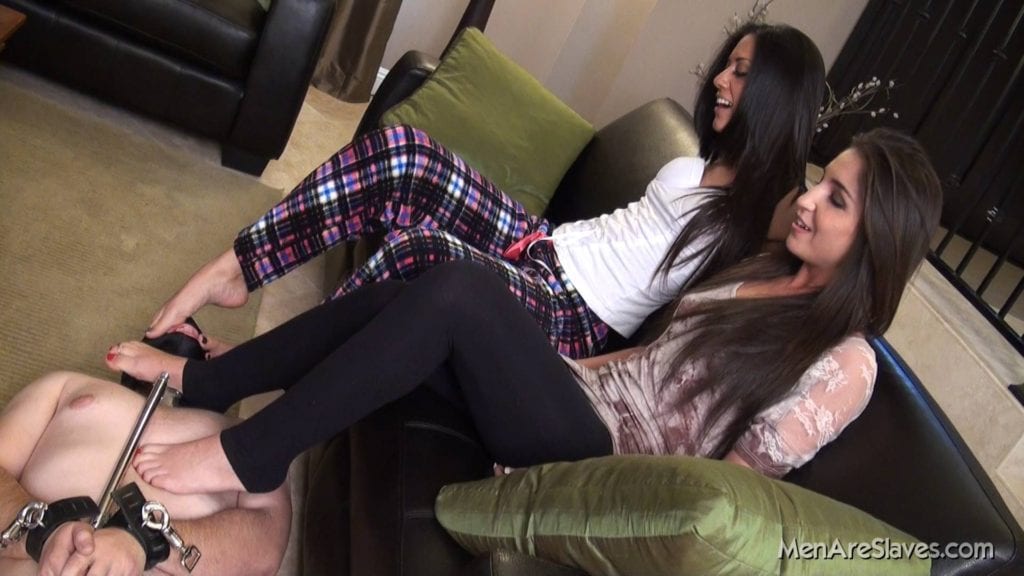 The Artist Nadine
One hand slips on my chest and squeezes my nipple, and the other open my buttocks to better offer my pussy to Mistress Christy. Another grabs my balls and stretches them making me moan in pain. I still haven't recovered from the blows inflicted by Nadine. Mistress Chloe, however, remembers to prep me for the sodomy that is coming to me. "Wait Chris, you have to lubricate him properly, otherwise you'll tear him up … And Michele will be upset if you ruin her new favorite toy!"
I feel the tip of the bottle of lubricant forced into my anus, and the cold liquid flowing copiously. Several times, they stick their fingers inside of me forcefully trying to open me up. I moan and squirm making a vain attempt to escape my tormentors. I take a series of dry slaps on my ass to keep me quiet. Then the silence is done. Mistress Christy caresses my anus with the balls of her strapon. My five Mistresses hold their breath .. Nadine whispers her encouragement, not for me, but for Christy: "Hmm go, Chris, fuck him good. Look, he's opening up … It's fascinating, I think it's the most beautiful show in the world, the ass of a submissive who welcomes the cock of his Mistress!!!" A burst of laughter … "You're an artist Nadine!" Mistress Chloe says laughing.
Teach You Some Respect
Mistress Christy is impatient, she tries to force the dildo into my asshole but my asshole is too small. I moan in pain, I'm close to being torn. I burst into tears and dare to implore the pity of my Mistresses … big mistake. Mistress Chloe goes into a rage:
"You dirty bitch, no one has allowed you to talk to us. You're here just for our pleasure, have you not understood that yet? You are nothing! A slave, a thing to have fun with! Christy, fuck him, go ahead. Fuck this dirty little whore so he understands once and for all! Wait until I have my way with you bitch. I am going to give you the beating of your life for embarrassing me in front of my friends. Teach you some respect. Go ahead Chris, fuck him!"
Mistress Christy does not hesitate. She presses harder and stronger. I scream as I feel my anus give way. My Mistresses encourage Christy as if they were watching a football game at a stadium, while Mistress Nadine sets the clock. "Here we go! Go! Fuck him as hard and deep as you can! Go Christy, go Christy, go Christy!"
Refill Our Glasses
They were intoxicated by alcohol and power. Mistress Christy sinks in deeper putting her hips against my buttocks. I cry without stopping, half smothered by the panties soaked with liquor Mistress Celine stuffed in my mouth. I cry in pain, and my body trembles, paralyzed by this brutal sodomy. Mistress Christy withdraws entirely and sinks in deeper again. The pain is unsustainable. I am on the verge of fainting, stunned by the pain and the cries of my Mistresses. This was a humiliation I had never felt before.
Mistress Christy plays with my ass, withdraws, returns alternates her rhythm between slow and brutally fucking me. Comments from the spectators slap on my ass, and orders from all directions. "Fuck him with your cock! Go deeper! Open him up! … Hmmmm look girls, he likes it. Our slut is fully open… Go there Chris, fuck him even harder … you have 3 minutes left, smash it!" "3…2….1…Time's up!" Mistress Christy retires one last time. I do not feel my loins. I feel my ass gaping and I can barely support my arms and knees. "Stand up slave!" Our glasses are empty. Refill our glasses. Go!!" The order comes from Chloe.
Entitled To Drinking Her Golden Nectar
I get up, staggering, in pain struggling to make my way into the kitchen. I grab champagne from the refrigerator. Surprisingly, I get hard. The two blue pills that my Mistresses made me swallow are taking their effect. My cock is as hard as ever, which makes my Mistresses scream …
"Look at that girls, our slut is excited. He wants more … we will have to take care of that," laughs Sophie. "Don't worry Soph, there is still one ballot left …. you'll see, we'll enjoy him even more! The evening is not over!" comments Mistress Chloe.
I come back with champagne and start refilling the glasses of our guests, taking care not to spill a drop for fear of receiving a femdom punishment. In the state they are in, I do not know what they are capable of inflicting on me. Mistress Christy asks for silence: "Dear friends, I believe that our whore is also entitled to a drink. And I think Celine really wants to give it to him, don't you?"
The Highest Level Of Humiliation
"Yes … I can not take it anymore. I want to be the one to give him a drink!" Bitch, go get a cup for yourself." I come back with a clean champagne flute and hand it to Mistress Celine. "Come on, Celine, relieve yourself. Our little slut is very thirsty, is he not?" I wait a little too much for the answer and Mistress Chloe pinches my loins with a whip. "Yes Mistress, I'm very thirsty, thank you for offering me to drink your champagne!"
Celine filled my glass with urine and puts it on the coffee table in the living room. Surrounded by my Dominas, I get on all fours to drink my glass of golden nectar. This is the highest level of humiliation. I never liked urine. Mistress Michele says that a good submissive must taste the champagne of his Domina. He must adore it. For him, it is an honor to drink it but I can not do it. Except that I don't have a choice but to do it. "Don't give me those looks, swallow the precious liquor of your Domina Celine!"
Somehow I swallow it and thank Mistress Celine for her precious liquor. I do not feel anything, I'm nothing. Nothing human in my eyes. I'm broken, at least that's how I feel. I reach a stage where I am ready to undergo anything, nothing matters to me. Neither my condition, nor the suffering, nor the consequences. Mistress Chloe looks at me for a long time and then launches the start of the last ballot, a ballot not limited to any precise time, which will mark the end of the evening. I have no idea how long the activity will last. It is an endless night of suffering for the pleasure of my Goddess Mistresses.