Conditioning You To Be Our Sex Slave
Mistress Michelle grabs me by the hair and pulls me back to straighten me up. I am no more than a submissive punished by her hand. My face was bathed in Mistress Chloe's cum who enjoyed me abundantly. I immediately got a hard-on, kneeling on the floor with my cock exposed. The soles of Mistress Michelle pressed painfully on my cock.
"My whore … you see your Mistress's juices make you feel good. We're gonna condition you my bitch to be addicted to the smell of our pussies. You'll see dirty little whore … hmmmm I love to feel your cock under the soles of my heels… you like when I press on your cock like that?" The pain makes me cry out immediately followed by a lash on my buttocks.
He Must Suffer To Understand The Consequences Of His Actions
"Shut up dirty whore … you suffer in silence. Chloe, would you get the paddle on the table behind you? The wide, black one. Now the punishment can really begin." Mistress Chloe comes to stand behind me. I am still on my knees, stuck by Michelle's sole that crushes my cock. The pain gives me a hard-on. I've never been that hard before. Mistress Michelle takes a candle on the table and turns it on.
"My bitch you must be punished for what you have done." And especially so that you don't do it again. I am, we are your Femdom Mistresses. You owe us respect and obedience, whatever the circumstances. On and offline. Unfortunately for you, bitches like you only understand pain … So we're going to make you suffer. This is for your training my whore. And also because it makes us wet. Is that not the case Chloe?"
"Hmmm this filthy whore has just made me cum and I am still soaked. You're right … it excites me to death to train him. I just love it!!! Thank you Michelle!" "You're gonna see, you'll still love the rest of your punishment my dirty fucking rebel. For every blow that Chloe will give you I will pour a little wax on your penis. It's perfect! Chloe, don't forget that this is a punishment …. he must suffer."
The Punishment Continues
Femdom Chloe strikes the first blow with the paddle. More sonorous than painful. I let out a little groan, then a cry when Femdom Mistress Michelle drips wax on my penis. "More Chloe …. make his ass red! Go on … then we will fuck him with an even bigger strap-on dildo." The lashes rained on me. The lashes came stronger and stronger while Michelle covers my penis with wax. I moaned continuously After a dozen shots, Mistress Michelle removes her soaked thong and stuffs it in my mouth. "Well, my whore … you disturb us with your moans. Go ahead Chloe, continue …. he still deserves a dozen more. Stronger, I want to hear of the sound of the leather biting his skin."
Mistress Chloe does not hold back. I scream under the following blows while my penis is completely covered with wax. I lost count of the number of blows that my ass sustained. I am in pain…. Mistress Michelle pulls me up by my hair, "Hmmmm..your ass is very red …. go sit on that chair whore… Wait…you have to get rid of the wax first … Chloe, go behind him and hold his arms. Hold tight, this little slut may struggle, or rather… our little submissive slave. Chloe comes to hold me down.
Can He Bear More Pain?
"Tighten his ankle restraints to keep his legs spread apart. I do not want to risk him struggling a lot!! His cock is always hard, I don't understand. The pain should have made him lose his hard-on…" I feel Michelle's fingers on me. With her other hand, she grabs a whip. "Clench your teeth, my whore!!!!
No sooner has she finished her sentence than I felt the first blow of her whip land on my cock! I screamed and tried to escape the bite of the leather. But with Chloe holding my arms, I could not do anything. One Two Three…. Mistress Michelle aims well, and the wax cracks and falls on the floor piece by piece from my penis. I cry with every blow, I'm in tears …
"There's no more wax now, did you get hurt my pet?" asks Mistress Michelle, in a sarcastic tone I groan, the pain is still unbearable. Michelle pulls me by the hair and bends me over the chair, my torso resting on the chair, my ass well offered to her. Then she removes the thong from my mouth.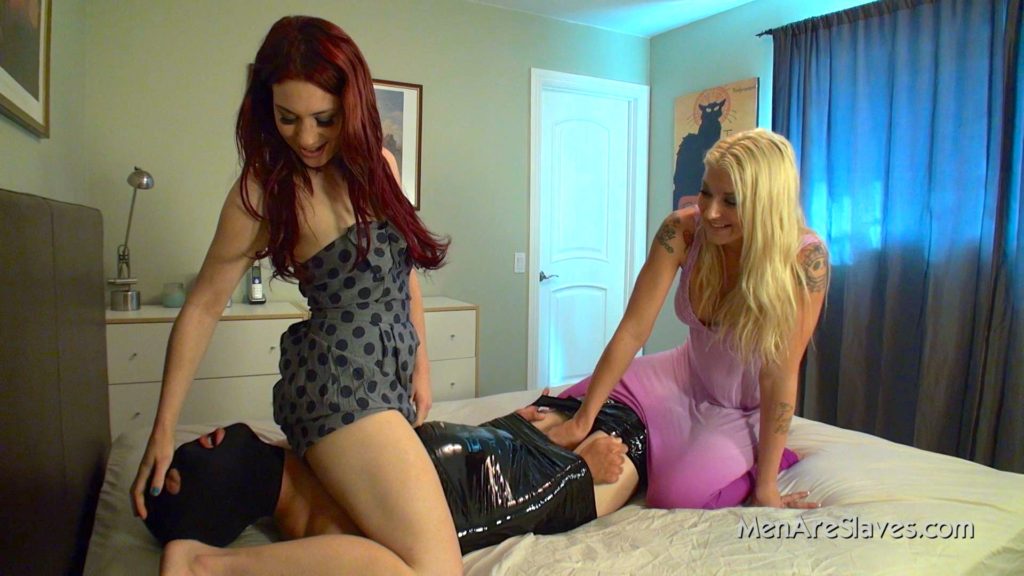 My Darkest Fantasies Realized
"Dirty little trainee. I'm sure you want to get fucked by your Mistresses. You're just a bitch who loves getting his pussy fucked, aren't you?" I do not answer quickly enough to the taste of Michelle. I'm in a daze, lost. Where is Jessica? Where is my love? I found it strange how cold, distant she was the last time I saw her… I do not understand. I would like her to be here. I would like to be able to plunge my eyes into hers, to find the strength to undergo my punishment.
But I'm alone. Is this the condition of submission, of slavery? Loneliness in the face of pain, humiliation, servitude? Maybe I have not yet crossed the course, not yet understood or learned my condition? For now, only the concretization of my darkest fantasies brings me pleasure. I will get to experience even greater pleasure in serving my Mistress? I am scared. Afraid of not getting there.
Chloe Pegs Her First Submissive Man
The idea of being blackmailed into submission by my femdom mistress terrifies me. But I have had little time to think about it. I am no more than a submissive man punished by his Mistresses. Michelle and Chloe put on strapon dildos. Michelle took the biggest one. The dildo was black and veiny. It seemed gigantic to me. I will never be able to endure such a big dildo. She will tear my anus for sure.
Femdom Michelle goes behind me and lubricates me copiously. "You see my bitch I'm already less angry. I am preparing you to get fucked in the ass. I'm going to fuck you like the dirty whore that you are! You deserve it! Come over here Chloe, you're gonna start since I have the smaller dildo!!!" My two Femdom Mistresses burst out laughing … "You're gonna sodomize your first submissive man. You will see how much you love pegging a man." I feel her cock sit on my puckered anus. Michelle guides her.
Suck Me Bitch!
"Take it in your hand and put the tip of your dildo on his anus. Insert it gently at first but without stopping. It's the bitch who has to open for you. Go ahead, force it a little bit more, you'll see he can take it. Hmmm good!. Now go back and forth slowly with small movements … look, he's opening up more. Fuck him a little bit more… go deep, fuck this slut!" I feel Mistress Chloe's hands on my hips. I try to open myself up as much as possible without suffering too much.
I moan as loudly as possible. I feel my asshole tearing up but regardless, I wanted to keep going. I want my Femdom Goddess to fuck me, fuck me like a good little slut that I am. I want to feel her inside of me. Mistress Michelle presents her dildo to my mouth. "Suck my cock, bitch! It's the next size up, I'll dilate you with that, you'll see … go slut, lick my balls… imagine it is a real cock. I'm sure you're dying to suck a real cock, right my little Whore?" "Yes Femdom Mistress Michelle, you are right, I want to … ".
Slave To The Cock
I did not say that just to please her. I have had this fantasy for a long, long time. Being forced to suck a cock, be the slave of a hard cock. Mistress Chloe keeps fucking me. She calls me names more humiliating than what I had been called before. She withdraws, leaving me with the impression of having a gaping asshole, then she inserts it again, with less and less delicacy. She fucks me unceremoniously.
She tells me that I am her bitch, her pig … she is going to fuck me with big cocks, she will make me a prostitute and introduce me to her black friends who have elephant-sized cocks that will love to fuck me and make me enjoy getting fucked. She slaps my ass to the rhythm of my sodomy. "I see you love it," said Michelle. I told you, you would enjoy fucking a whore. Come on … my turn now. It's time to really fuck this bitch's ass.