Breaking The Spell Dominant Mistress Bella Has On Me
I saw My Dominant Mistress Bella three or four times a week. On my days off I sometimes tried to break the hold she had on me by establishing a normal relationship with other women. White women. I dated a few, but they seemed utterly unexciting compared to my dominant Mistress Bella, their imaginations were as pale as their skins. Besides, I never knew when Bella might call. Sometimes she summoned me to her two or three nights a week.
If I were to be out with some white girl when my dominant Mistress wanted me, I knew I would be punished brutally. And there was another problem, in order to serve as Bella's maid, I had to shave both my legs and armpits. How could I take another woman to bed when she might notice such things? Even in the dark, she would be certain to perceive that I had a stubble elsewhere other than on my chin.
Becoming Her Full-Time Slave
I concluded, finally, that the only way to rid myself of my vice was to indulge in it. I begged my dominant Mistress Bella to let me become her full-time slave, to let me move into the basement apartment. She nodded as though she had known that I would eventually want to move in. But she steadfastly refused me permission to move in. My training hadn't yet been completed. "Don't worry, my little white punk," she said, "When you're ready, I'll let you know."
I sensed that she was planning something significant, some conclusive test that would prove to her and to me that my degradation was complete. She wasn't sure, despite everything she had done to smother the last spark of my manhood. I knew that tonight, with her guest Cal, I would receive my final examination. I wondered as I set the table for them, what specifically she had in mind. It would be some ultimate sort of degradation, no doubt, but I was so naïve I couldn't imagine what?
Though I was anxious, she was happy, I could hear her singing gaily to herself in the bedroom as she changed into her sexiest gown. I had laid it out for her, a pink thing that she'd bought at Bullocks. She, at last, waltzed out of the bedroom, a Black Goddess, beautiful and happy.
Dressed For Dinner As Fifi
"Goodness, punk," she said, "you had better get changed. Cal will be here in an hour." "Changed, Mistress?" I said. "Into what?" "Oh, your Fifi outfit, I guess," she laughed. "Cal just loves seeing you little white boys in drag, honey." I nodded, not surprised, and went into the spare bedroom to change. My maid's outfit was just back from the cleaners hanging in the closet. I put on my make-up and my false eyelashes, expertly applying eyeliner and lipstick. Suddenly, I realized that I wanted to look especially good tonight.
I was less concerned by the prospect of having a stranger, a man, at that, see me dressed as a maid than of embarrassing Bella by being unattractive. How I had changed, I thought. Now the only pride I seemed to have left was that which I took in pleasing my Mistress. I got into my pretty uniform, donned my frilly cap and apron, and brushed my hair again. My hair, I knew was my most feminine feature long and blond, I had had it styled according to Bella's instructions.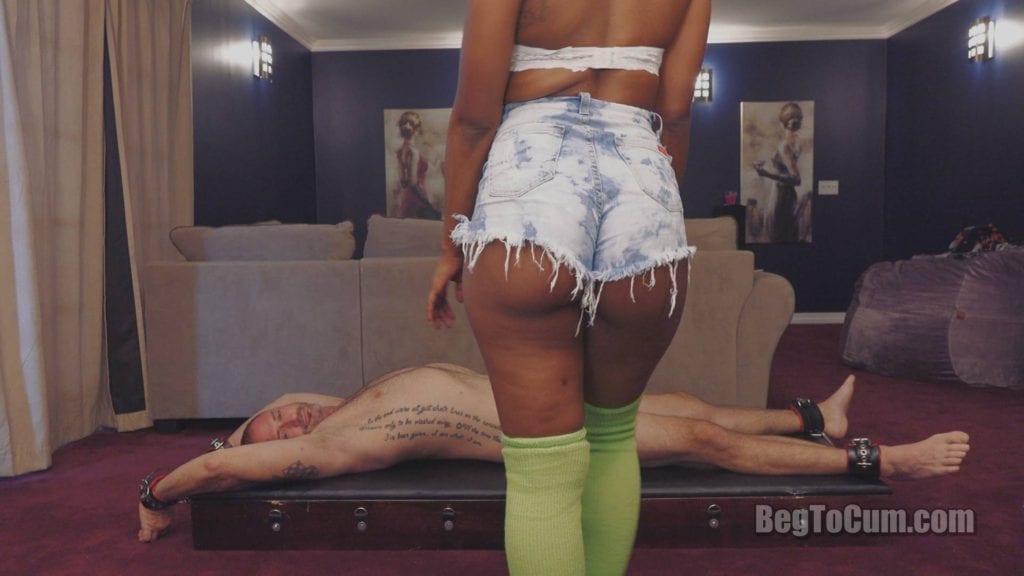 I am Changing For Her
I had suffered acute embarrassment in the beauty parlor, and people sometimes looked at me a bit strangely when I was dressed as a boy. But when I was Fifi, my hair was perfect. I took one last look at myself in the mirror and hurried back to the kitchen to check the roast. It was coming along just fine. I smoothed my dress nervously over my false breasts and asked Bella if I might have a glass of wine before our guest arrived.
"Oh, all right, honey, if you must." She looked me up and down and smiled. "My, you look really pretty tonight. You have a genuine talent for impersonation, little one. One of these days, I'll buy you some real dresses and take you out on the town." I blushed and thanked her. Back in the kitchen, I gulped down my wine and sneaked another glass. God, what was my dominant Mistress Bella turning me into? Was there anything I wouldn't do to earn her praise? The very thought of disappointing her, embarrassing her, or failing her in any way was almost enough to bring me to tears. My self-image, my self-esteem, and my emotional happiness were now tied completely to satisfying her every wish and command.
Cal Arrives For Dinner
Cal, when he arrived, turned out to be less fearsome than I had expected. He was big, black, and handsome but he was also genial and suave, taking my curtsy when Bella introduced us, as a matter of course. Like Bella, he had obviously been into this scene before. He settled onto the sofa with Bella and looked at me with obvious approval.
"So this is the new slave you have been telling me about, Bella," he said. "Man, you found a pretty little one this time, didn't you? It's hard to believe he was ever a boy. Turn around baby, and show me your ass." I glanced at Bella hoping she would countermand the order. She told me to do what he said. I turned around blushing furiously while they sat there leisurely inspecting me.
Cal Caresses Fifi
"Lift your skirt, Fifi," my dominant Mistress Bella said, "and show our guest your pretty pink panties." I wished I were dead, but I did it. Luckily the skirt on my uniform was so short that I had no trouble flicking it up to expose my pink-clad bottom. Cal clicked his tongue and reached forward to play with my buttocks. He slipped his black hand down inside the waistband of my panties and caressed my ass as he sensuously circled my sensitive rosebud and then gently slipped a long black finger up inside me as I gave out a little gasp and instinctively pushed back against him.
I felt so humiliated as my face turned a crimson red with embarrassment at my shameful willingness to be treated like this. Since my private and secret experimentation with my own fingers had unleashed in me a surprisingly erotic desire for the pleasure of this type of play, I could not avoid nor deny being aroused as he worked two fingers and then three in and out of my now very sensitive, tight, white little asshole as he gauged my sensual responses to his bold intrusions.
My Little White Cum Slut
"Hey, that's real pretty, Bella," he laughed as he pulled his hand back out of my panties. "My God, she's a virgin, isn't she? She's so tight and responds so eagerly, doesn't she?"Bella laughed too. "Yes, Baby, but you'll need to go slow with her. She hasn't even seen a black cock. Not a stiff one at any rate. Have you, honey?" I lowered my skirt and turned around, "No, Mistress."
"Good girl," Cal smiled. "She seems obedient too," he said to my dominant Mistress Bella "Oh, yes," Bella said, "I've trained her well," She looked straight into my eyes. "Haven't I, you little white cum slut?" "Yes, Mistress." I stammered as I cringed at her reference to my being a cum slut and I panicked at the thought that she might decide to share with Cal how she made me drink my own cum. I really was so young and naïve that it never even occurred to me that she would share something so private, personal, and embarrassing with another man.